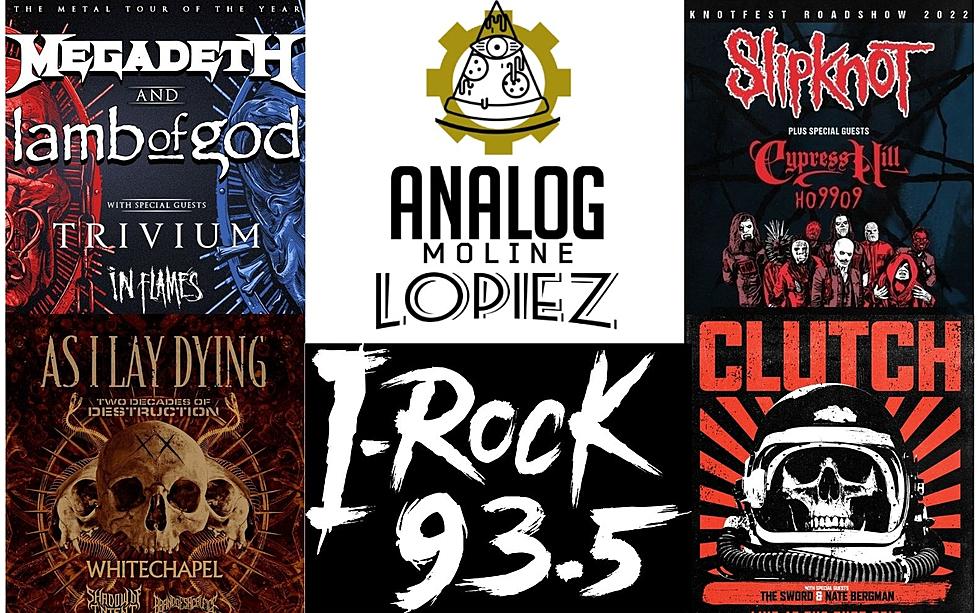 Awesome Concert Tickets, Games & Pizza At Analog Arcade Bar
Analog
Update!  In addition to Slipknot, Megadeth, Clutch, and As I Lay Dying tickets, we'll have Shaman's Harvest/Crobot tickets, Midwest Monster Fest tickets and Monster Jam tickets!
The only way to make games, pizza, and beer even better is by adding in hard rock.  Join I-Rock 93.5 Saturday, April 9 from 6:00 p.m. to 8:00 p.m. at Analog Moline & Lopiez Pizza (1405 5th Ave, Moline, IL 61265) to play games, eat, drink and win concert tickets.
Analog Arcade Bar is packed with new and classic video games, pinball machines, skeeball, beer pong, and many more games for everyone.
With Lopiez now inside Analog Moline, you don't have to eat gross frozen pizza like you were in your mom's basement while playing video games.  Now, you can order a slice or full pie and keep the games going.
Sign up here to win one of the pairs of concert tickets!
*Must be present to win.
*Winner names will be selected by computer at 8:00 p.m.
*Online drawing is for below concert tickets only.
*All other prizes will be won from playing games at Analog.
*One entry per person.  Multiple entries will result in disqualification.  Don't be a d.
So what concert tickets can you win?
Well if you haven't figured that out based on the picture and the posters...here you go.
There will be numerous ways you can win the tickets.  Dumb luck...which works best for most of us...by signing up here on the app while you eat, drink and play.  There will also be "Guitar Hero" and "Beer Pong" challenges for other prizes like I-Rock 93.5 flags, and all the other random stuff I find (steal) from around the Rock & Roll Mansion.
Update 2!  That other "random stuff" now officially includes Hy-Vee gift cards, Video Games Etc. gift cards an overnight stay at Chula Vista Hotel and more!
Bring the kids!
Analog Moline is open to all ages until 9:00 p.m.  And if you remember from what you read in the first line of this, we'll be there from 6:00 p.m. to 8:00 p.m.  So, bring the "Guitar Hero" ringers (AKA, your teenager) and have them win you some tickets.
Analog features two levels of games.  Check out the latest games they've got going here.  And with Lopiez in the building, come hungry.

It will be just like a Saturday night when you were young(er) with games and pizza.  But this time, we're adding in drinks and a chance to win tickets to all those hard rock shows you want to see.
Korn and Chevelle at The TaxSlayer Center
The TaxSlayer Center in East Moline was rockin on March 25 with Korn and Chevelle. The two dynamic bands teamed up along with Code Orange for a night of rock for the Quad Cities. If you have not seen Korn live, it's a must for you however you can. The energy will fill any size venue you get to see them in.
Keep Looking at Photos of Tool at The TaxSlayer Center
It was an amazing night of sound and visuals at Tool at the TaxSlayer Center in Moline. Everyone in the building wanted to take pictures during the show, but with the Tool no photo rule, only the final song was really captured. However, with a photo pass, we were able to get more pics for you to remember the night. Of course you know how dark it was, and that they had a curtain up during the photo time but our photographer still captured some amazing pictures from Tool.