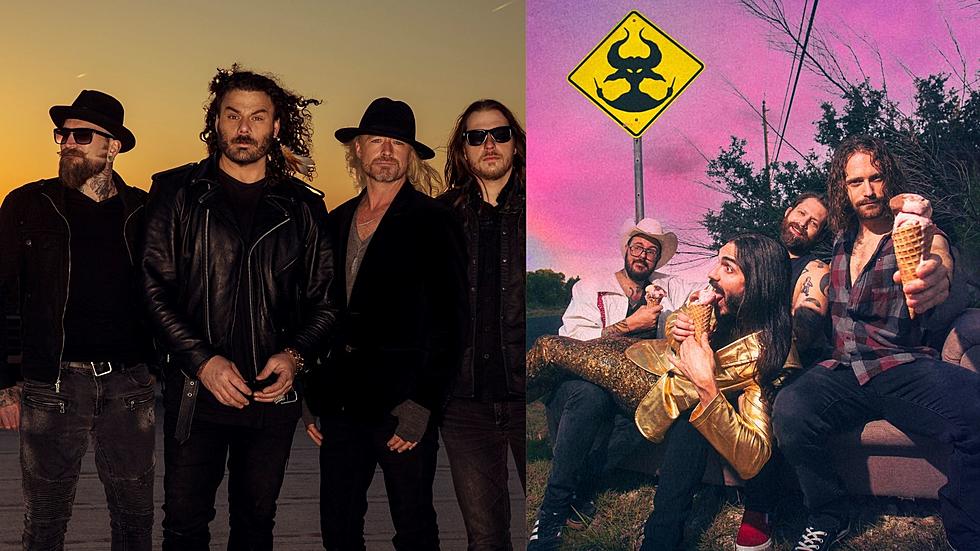 I-Rock 93.5 Concert Announcement: Shaman's Harvest & Crobot Coming To Quad Cities
Shaman's Harvest and Crobot
A warm summer Friday night at The Rust Belt with rock.  Let's do it.  June 17, I-Rock 93.5 welcomes Shaman's Harvest, Crobot, Any Given Sin, and The Forty Twos.
This is going to be a party night with tickets starting at just $20.  The tickets are on sale now right here.  Plus of course, you can win them by listening all week (6/13-6/17) and you can win Party Pit passes by registering below.
Shaman's Harvest
With a combined 250 million-plus streams, 100,000 albums, and 415,000 singles sold, Shaman's Harvest is back with their 7th album which just dropped on March 11, 2022.  Frontman Nathan Hunt says, "This was the hardest record we've ever made, on every level."
The Missouri hard-rockers assembled this project during a global pandemic that debilitated the entire music industry. "Hard" has kinda been universal lately. But the road to Rebelator was even rockier than the band expected: natural disasters, logistical nightmares, an extreme case of collective writer's block. "We struggled the whole way."
Every creative step seemed to be hampered by an outside distraction—or even an act of God.  "A tornado ripped through our town, 2 miles from our studio, leveling everything in its path" recalls guitarist Josh Hamler.  "Luckily, no one was killed.  Everything can be rebuilt, but we completely lost our creative vibe following the tragic event".
But through it all, Shaman's Harvest came out the other side with a new album and another Top 25 song in "Voices".
Crobot
Riff-monsters Crobot conjures up the kind of rock 'n' roll that has grooves so powerful they throw you around the room and hooks high enough to shake the heavens. They take the sweet-sounding nectar of the gods and pour it down your throat until you're wailing along like a banshee.
With tens of millions of streams, countless shows, and acclaim from the likes of Metal Hammer, Classic Rock, Kerrang, BBC Radio, SiriusXM Octane, Loudwire, Guitar World, and more, Brandon Yeagley [vocals], Chris Bishop [guitar], Tim Peugh [bass], and Dan Ryan [drums] realize their vision like never before on their fifth full-length, Feel This [Released June 3 via Mascot Records].
Feel This is the follow-up to 2019s Top 10 Heatseekers album Motherbrain – whose cumulative streams have surpassed 30 million. 20 million of which were for the goliath single "Low Life" - a US Top 10 at active rock radio on the Billboard Mainstream with a 29-week run.
Any Given Sin
Every once in a while, a singer comes along that single-handedly resets the bar for what a rock vocalist should be. Someone with such raw emotion and power that it makes the hair on the back of your neck stand up. Maryland-based rock band ANY GIVEN SIN's Vic Richie is that singer. ANY GIVEN SIN spent much of 2019 generating buzz with the release of their single "Dynamite," which quickly became the number one most spun song on SiriusXM's Octane. The band soon solidified its position on Octane, landing the coveted Accelerator Artist title, and blazing past some of the biggest names in rock on the weekly BIG UNS Countdown. As the number two most requested song on the channel, it ended up at number twenty-nine on Octane's Top 100 year-end countdown. The success of their first single was quickly followed up with the release of their second single, "Another Life," which, in turn, became the number one most spun song as well. Any Given Sin recently released their third single, "Insidious." The band has been working with some heavy-hitters in the rock world including Trevor Kustiak (Evans Blue), John Moyer (Disturbed), and most recently, Chris Dawson (SAUL, Seasons After), who produced both singles, "Another Life" and "Insidious." Complete with epic, crunchy guitar riffs and put-a-hole-in-your-soul, massive drums, this is a true-blue American rock band with both authenticity and power.
The Forty Twos
During one of the most difficult times our generation has ever faced, four individuals found themselves at a complete standstill. All the things that they knew were coming to an end and a season of change was setting in. Hailing from the plains of the heartland, hard work is no stranger to The Forty Twos. When the music came to fruition not only was there a new chapter in all their lives starting to unfold also a new WHY came to be. Heart-stopping drums wrapped up in screaming guitar melodies cranked up to 11 quickly became the standard at The Forty Twos rehearsals. However, the 'why' was discovered after some time. In a world of disconnection and mind-numbing distractions, this music will bring you together with everybody in the room while also making you face emotions old and new alike.
Get in the Party Pit with I-Rock 93.5.  Listen to win, and sign up below to win your tickets!
LOOK: Here are the pets banned in each state
Because the regulation of exotic animals is left to states, some organizations, including The Humane Society of the United States, advocate for federal, standardized legislation that would ban owning large cats, bears, primates, and large poisonous snakes as pets.
Read on to see which pets are banned in your home state, as well as across the nation.
LOOK: What major laws were passed the year you were born?
Data for this list was acquired from trusted online sources and news outlets. Read on to discover what major law was passed the year you were born and learn its name, the vote count (where relevant), and its impact and significance.