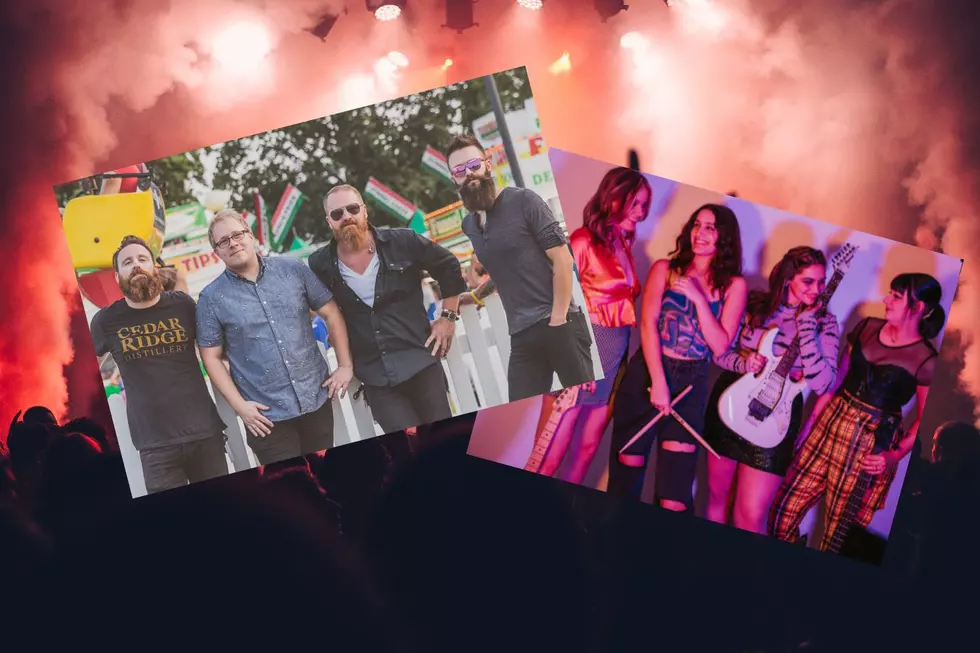 Two Eastern Iowa Bands Ready To Rock The Quad Cities This Weekend
The Pork Tornadoes & Been There Done That
Two bands are ready to rock the Quad Cities this weekend and it's a show you want to be at. One of the bands is the Quad Cities' only all-female rock band and the other is the Midwest's favorite party band. Both will be taking the stage in East Moline, IL this Saturday night and you have a chance to go for free.

Get ready for awesome music and a party, Quad Cities. Two incredible bands will be taking the stage this Saturday night at the Rust Belt in East Moline, IL. The Pork Tornadoes and the Quad Cities' own Been There Done That (BTDT) rocking your socks off and it's a show you don't want to miss.
The show is happening Saturday, October 15th at the Rust Belt (533 12th Ave East Moline). This is an all-ages show with doors opening at 7 p.m. Been There Done That  will take the stage at 8 p.m. with The Pork Tornadoes to follow as the headliner. Tickets for the show are just $20.
The Pork Tornadoes
The Pork Tornadoes are a powerful party band that has played all around the Midwest at the best and biggest bars, venues, and festivals. Their live show does the talking for them, as well as their signature taglines "Your Girlfriend's Favorite Band" and "BeardPop". The shroud of mystery surrounding the band, the terribly- poor choice in the band name, and the head-scratching, enormous amount of video views.
Having played more than 600+ shows in the last 12 years, this band has perfected their live show into an experience you won't find anywhere else.
The band is led by singer Mason Greve, who is arguably one of the best vocalists in the State of Iowa and was one of 100 finalists on NBC's The Voice in 2014. Putting their own spin on an eclectic mix of songs from Justin Timberlake, Beyonce, Katy Perry, and Taylor Swift to Lizzo, The Killers, Coolio, and Phil Collins, The Pork Tornadoes are truly one of the most versatile bands around.
The Pork Tornadoes' debut EP peaked on the Apple iTunes Pop charts at #20 and was streamed over half a million times in 2020. They recently achieved viral success with the 5th-most viewed cover of 'Tennessee Whiskey' on Youtube and an impromptu performance of 'In the Air Tonight' with a drum line that was featured in Rolling Stone.
Regularly setting attendance records and shattering bar sales numbers, this band is a force like no other, creating a party wherever they go for their ravenous fan base, who sings along and begs for more.
Been There Done That
(BTDT to their fans) is the QC's only all-female rock band. They've been turning heads since they formed the band at the ripe old ages of 11-13! Talented beyond their years, and ultra-competitive, Been There Done That has a long list of accomplishments, including the 2018 Winner of Iowa Rock & Roll Music Association's Youth Rocks Contest, Winner of 2016 & 2019 QCRA Battle of the Bands, Secured a spot on 97x's 40th Anniversary album and a spot on I-Rock 93.5's Local Stage CD, as well as a bonus track. BTDT's lead singer was a co-winner of 2020's Voice of the QC contest and the band opened the local iHeart Radio Socailly Distant Festival.
These talented young ladies have collectively found their signature sound with their own brand of power pop/rock and crowd-pleasing covers.
BTDT features Ava on lead vocals & rhythm guitar, Hazel on drums and vocals, Katie on lead guitar, and Izzy on bass and vocals. Been There Done That is not just another pretty face on the music scene, for 6 years they've been turning heads with all generations of music lovers and have an exciting future ahead. The band's first EP "Pretty Lies" and their latest album "Blame the Stars," which came out in June 2022, are both available across all digital platforms.
10 Best Places To Get Coffee In The Quad Cities
This list is 10 of the best places that you can only find in the Quad Cities. This list is in no particular order, but here are 10 of the best places to get coffee right here in the Quad Cities.
Barbecue, Pizza, & Beer-Illinois' Route 84 has Some Hidden Gems This Time of Year
Road trips aren't complete until you've stopped into some hidden gems along the way.