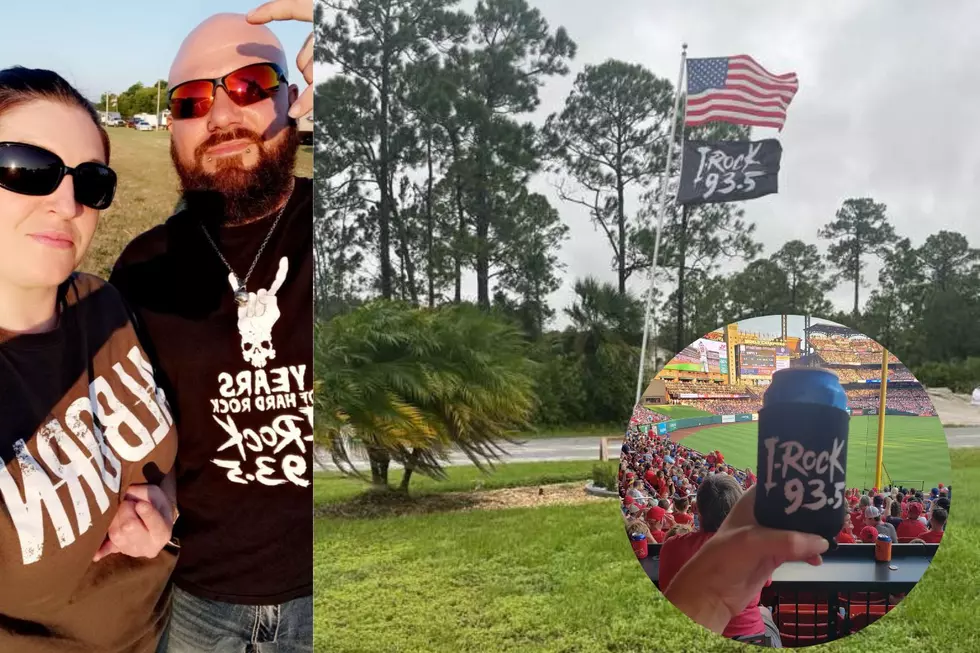 Look At The Cool Pictures Of I-Rock 93.5 Across America
Townsquare Media
It's important to have goals in life.  No matter how big, small, or bizarre they might be.  After being sent some pictures from I-Rock 93.5 listeners rocking the shirt/flag while on trips to other states/countries, we decided to set a goal for ourselves...that we need you to accomplish for us.
The I-Rock 93.5 Logo Across America
That is the goal.  Fly the colors with the flag.  Rock the shirt as you sightsee.  Drink that tropical drink on the beach with the I-Rock 93.5 koozie.  However it gets done, the goal is to get the logo in all 50 states.
As you can see below, states are getting checked off the list.  In fact, we are now officially 1/2 way there.  So if you are taking a trip to...well pretty much anywhere, take the I-Rock 93.5 shirt with you.  Even if the state is "checked off the list" below, still take the colors with you.  You'll look cool and we'll share it with the I-Rock family.
But I don't have an I-Rock 93.5 shirt or flag or koozie
Yeah, I know, they go fast every time I get them.  Funny how the other stations in the building still have them in stock.  Either they get more (probably) or people just don't want them like they do the I-Rock 93.5 shirt. (also probably)  So once again, the station has no shirts.  But lucky for you, we have a merch store to buy your shirts for the low price of $17.00.  Don't want a shirt?  Then grab a tank, hoodie, hat, beanie, or flag.

No matter how you get that merch with the I-Rock 93.5 logo, I appreciate it very much.  I figured I'd be the only one rocking this shirt till they shut the station off.  But the Quad Cities rocks and we have more people rocking the shirt and flying the flag than I ever imagined.  Thank you for being so damn hard rock.  You rock.
Check out all the traveling around America below and when you travel, send in your pictures on the I-Rock 93.5 app or on our Facebook page.  Thank you!
Keep Looking At All The States I-Rock 93.5 Has Rocked
I-Rock 93.5 is the Quad Cities Hard Rock station. You have made that happen by listening and downloading and liking and showing up to all our crazy stuff. But you keep taking it one step further. You like to wear the I-Rock 93.5 shirt, or in some cases take the I-Rock 93.5 flag, with you when you travel. Which is awesome.
Now, we are on a mission to get a picture of our shirt/flag/koozie in every state. And as you can see below, we're off to a good start.
Next time you travel take I-Rock 93.5 with you and then send us the picture on the I-Rock 93.5 app or on our Facebook page and we'll share it with the world to show how much you, and the Quad Cities rocks.
The Best Tips For Quad Citizens Thinking About Going To Disney World.
It might be a regular trip for you or a once-in-a-lifetime journey. Either way, there are some tips and tricks to make the trip more worth it for you and the family.