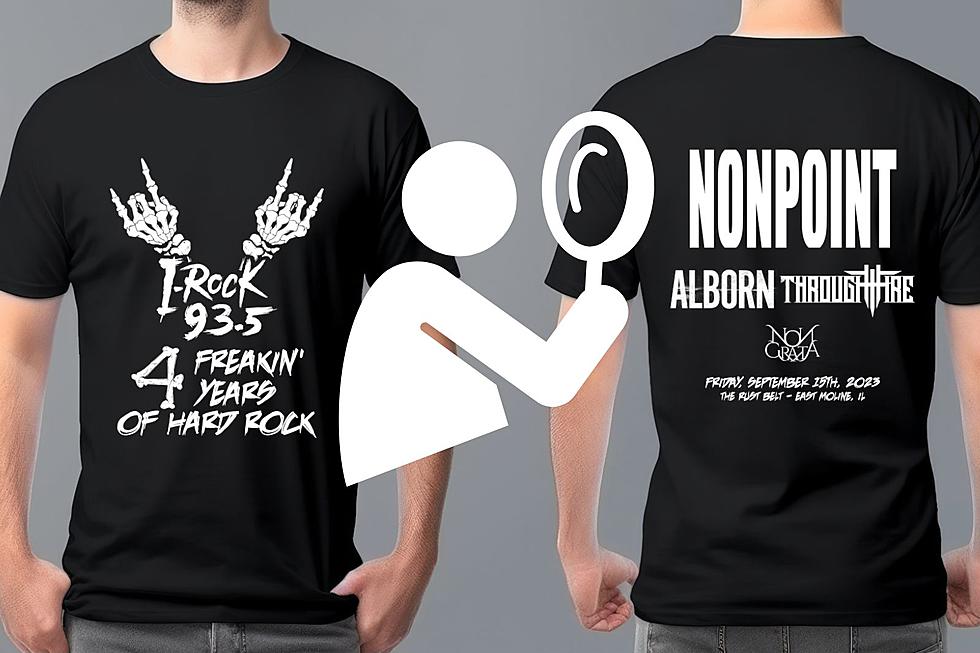 Explore With Your Phone At The Rust Belt To Win Awesome Merch
Townsquare Media / Canva
Friday the 4 Freakin' Years of Hard Rock party is going down at The Rust Belt in East Moline.  It's a FREE, all-ages show with Nonpoint, Alborn, Through Fire, and NonGrata.
You'll also be able to win more free concert tickets, and autographed guitars from all the bands and now you'll be able to catch some free merch from the bands and I-Rock 93.5 as well.
Wadzzo Will Get You Some Free Merch
Wadzzo is an app that is basically like Pokemon Go.  Remember that...gotta catch em all.
Wadzzo gives any band or business the ability to place a digital item at any GPS location in the world.  Fans can visit those locations, collect, and claim the item to their Collection in the Wadzzo app.
In this case, the items you'll be collecting will be merch from Nonpoint, Alborn, Through Fire, and NonGrata at the Rust Belt.  Shirts, stickers, hats, who knows what you'll find when you open the app on your phone.
QC Roots for Wadzzo
While Wadzzo is a global app, it started right here in the Quad Cities.  One of the people involved was on the stage at The Rust Belt for our 3 Shocking Years of Hard Rock Party.
Jose Urquiza tells I-Rock 93.5 he was already building an app like this specifically for artists and bands when the Wadzzo partners approached him about building a similar app but for businesses.  Those partners in Wadzzo are all from the Quad Cities.
So then they all decided to join forces and created Wadzzo which benefits all brands, including bands and artists.
Time For You To Win
It's really simple.  Download the Wadzzo app (which is free) and then when you get to The Rust Belt on Friday, September 15 for the free party, open the app, collect, and win.
You will probably have your phone out any way to take pictures of the bands, some nerdy guy on the radio and to get that hot guy/girl's phone number...so go ahead and win with it as well from Wadzzo.
The Best Illinois Concert Venues
With concerts back in full swing, we give you the best venues for seeing live music in Illinois. Any missing? Send the name of the venue and some of your pictures to ryan.mccredden@townsquaremedia.com.
Most "Redneck" Towns In The Midwest
Since the popular Youtube channel run by
Nick Johnson
has made a video about almost every state when it comes to redneck towns we decided to take the number spot from each of those videos and put them in a list of the most redneck towns in the Midwest. In no particular order here are your most redneck towns.