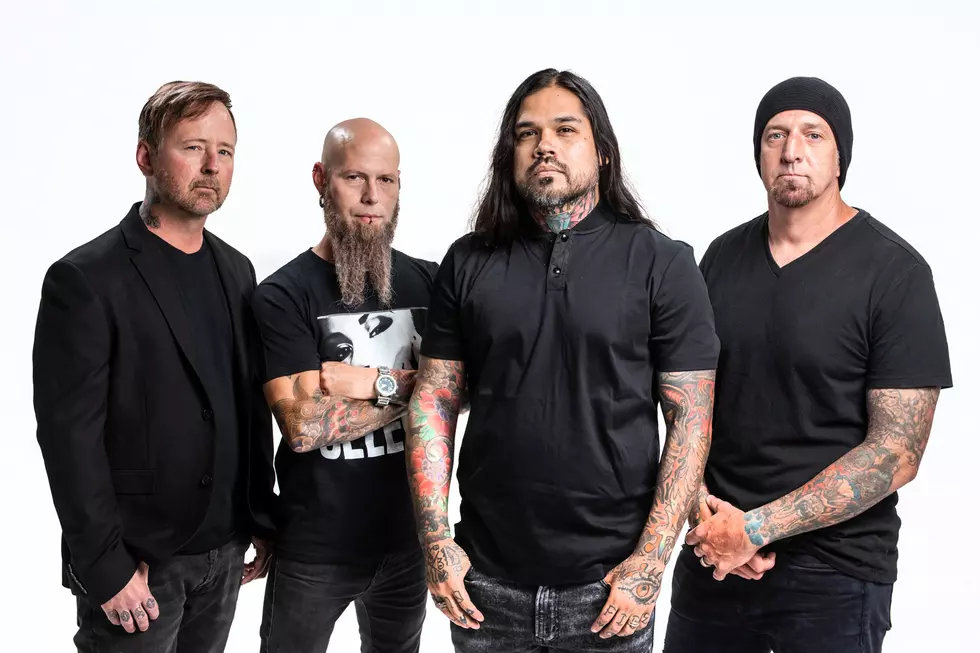 I-Rock 93.5 Concert Announcement: Drowning Pool Coming To The Quad Cities
T-Boy / UMe
Let the bodies hit the floor.  Drowning Pool is coming to The Rust Belt in East Moline on November 13.  You can be there with Drowning Pool, Otherwise, Kurt Diemer and Tallah.  Tickets start at just $20 and are on sale now.  Plus, you can win them by listening to I-Rock 93.5 and signing up below to win a pair of Party Pit tickets.
Drowning Pool
Drowning Pool have long been hailed as champions of blue-collar hard rock and metal, not just because of their consistently incendiary live shows and vastly underrated catalog, but because of the trials and tribulations that have marked their career. They aren't unique in that regard. What they are is resilient, their everyman, working-class ethos and stubborn perseverance creating a bond few bands ever realize.
Nearly a quarter-century after starting together as a trio, founding guitarist CJ Pierce, drummer Mike Luce and bassist Stevie Benton remain together. They haven't separated, so they can't play the reunion card. And at the helm of the band for the past decade, Jasen Moreno is not only Drowning Pool's longest tenured frontman, but he's also the band's first singer to record three studio albums. As anyone that has seen the band in recent years can attest, there is magic when the four guys share a stage.
Otherwise
The Las Vegas quartet push the boundaries of their signature style in terms of both songcraft and sonic experimentation alike.
Most importantly, the boys hold nothing back…
"Rock 'n' roll was always meant to be dangerous," Adrian proclaims. "We grew up in the last era where nineties bands were Soul Rebels. They stood for something. They didn't conform. Since the greatest risks yield the greatest return, why play it safe? We decided to swing for the fucking fences this time. In between the last album and now, we changed everything. I had two sons, and it took their births for me to go, 'Fuck it, we've got to shoot for the goddamned stars'."
Kurt Diemer
To call him a Renaissance man would be a bit melodramatic, but in the few short years since - armed with an inability to take no for an answer, a drive to constantly improve his craft, and an insatiable desire to network and keep expanding his rolodex - Kurt Deimer has filmed a feature-length movie aimed to launch his 'Hellbilly Hollow' horror franchise, recorded more than two dozen songs with legendary producer Chris Lord-Alge (whose credits include Green Day, Joe Cocker, James Brown and the Rolling Stones), and is co-managed by Andy Gould (former manager of Rob Zombie and Guns N Roses).
Tallah
Making metal disturbing again…
Emerging from Pennsylvania in 2018, nu-core gang Tallah combine the percussive force of second-generation drummer Max Portnoy with the pure fury of vocalist and YouTube sensation Justin Bonitz and the white-lightning speed of guitarist Derrick Schneider.
What The Quad Cities Did For Fun in the 90's
Many times over the years, I'll be talking with friends about years gone by and I'll say "take me back".
Every generation goes through this, I assume. Looking back at a more simple time where responsibilities haven't set in and life seems fun. Opportunities are endless.
Let's go back to the 1990's to Wacky Waters, 50 Cent Beer night and revisit Mallards Mania!
100 Interesting Facts About The Quad Cities You May Or May Not Know
The Quad Cities is filled with a very rich history. From inventions to crossing the Mississippi River, to American Presidents and Walt Disney, there are many facts about the Quad Cities that many people do not know. While there are many more stories and facts to share about the Quad Cities, you'll find in these 100 facts that all roads, somehow, lead back to the Quad Cities.