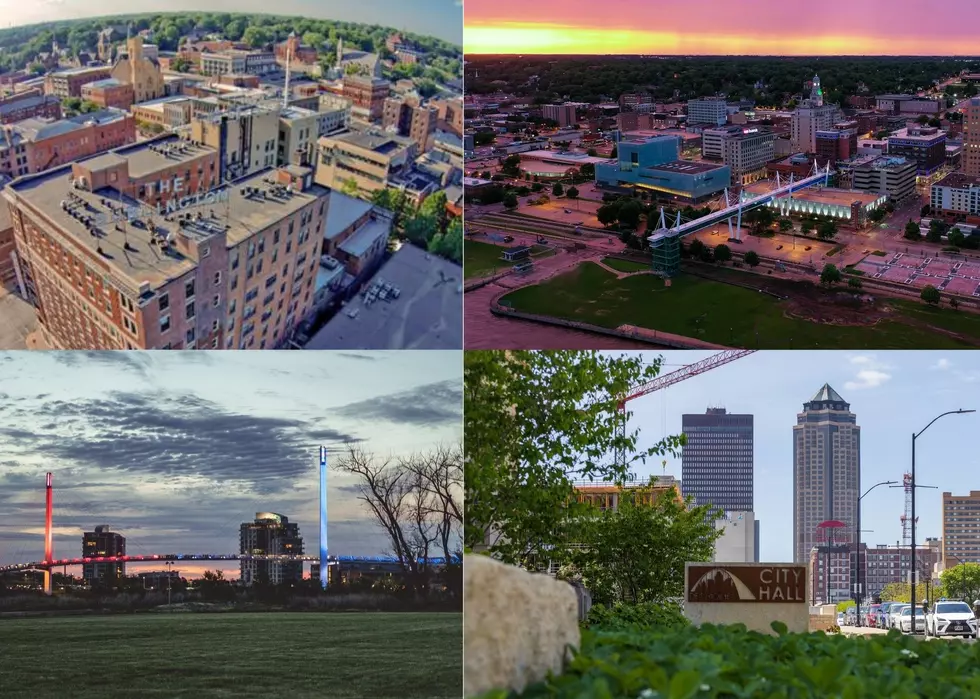 These Are The Top 10 Most Dangerous Cities in Iowa And It May Surprise You
City of Burlington, Iowa Government Facebook/City of Davenport Government Facebook/City of Council Bluffs- Municipal Government Facebook/City of Des Moines- Government Facebook
I've heard many comment on how crime-ridden Davenport is growing to be but a new study shows it is not the most dangerous city in Iowa.
Here's the ranking from RoadSnacks, which looked at FBI data from 2020, specifically the number of violent crimes per capita and property crimes per capita (according to the study, Iowa didn't provide stats for this last year, but the most recent updates will come out this September). So without further ado:
10. Fort Madison
Fort Madison fell in its dangerous cities ranking from number 8 to number 10 but it still reported 42 aggravated assaults, 160 larcenies, 60 burglaries, and 17 car thefts. Conveniently for criminals, it's where the Iowa State Penitentiary is.
9. Waterloo
Waterloo's stats show 623 violent crimes per 100k and 2,556 property crimes per 100k.
8. Keokuk
Keokuk has the unique distinction of being at the intersection of Missouri, Iowa, and Illinois. The population is only 10,091 but it still had 68 violent incidents.
7. Burlington
Burlington has the 5th highest pace of larcenies in Iowa. On property crimes per 100k, it clocked in at 3,500 in a town of nearly 25,000.
6. Sioux City
Sioux City ranks high in burglaries. It has 1,933 larcenies, 15 arson incidents, and in 2020, 270 cars were stolen in the city. It's also the 7th highest on property crime.
5. Des Moines
Iowa's state capital had 5,053 larcenies in 2020. It ranked 4th in most property crimes per 100k. Before these stats, it was ranked number 2 so it's down a few spots.
4. Fort Dodge
Fort Dodge has a population of nearly 24,000 people but it had 827 incidents of property crime in 2020. It ranks highest in the state for murder.
3. Davenport
Here ya are, QC. We moved up in ranks from number 4 last year to number 3 with the latest numbers. In 2020, there were 537 aggravated assaults, 67 reports of rape, and Davenport has the 2nd highest property crimes per 100k in the state.
2. Ottumwa
In Ottumwa, you have a 1 in 25 chance of being a victim of property crime. 230 violent crimes were reported in the town with a population of 24,293.
1. Council Bluffs
Taking the top spot on the most dangerous cities in Iowa list is Council Bluffs. It's 2nd highest in the state for violent crime and 47th highest in the state for murder. It's the highest-ranking on property crime in Iowa.
In case you're wondering, the safest city in Iowa, according to the stats, is Orange City.
10 Things No One Warned Me About Before Moving to the Quad Cities
It's been several months now since I moved to the QC from Arkansas. Here's what I've learned that no one warned me about before I made the move.
10 Ways to Help Your AC Help You Stay Cool This Summer
Energy is expensive. Don't make your air conditioner do ALL the work. Here are some things you can do to make sure your AC unit doesn't struggle.
Because when it struggles to work...you struggle to pay the bill!