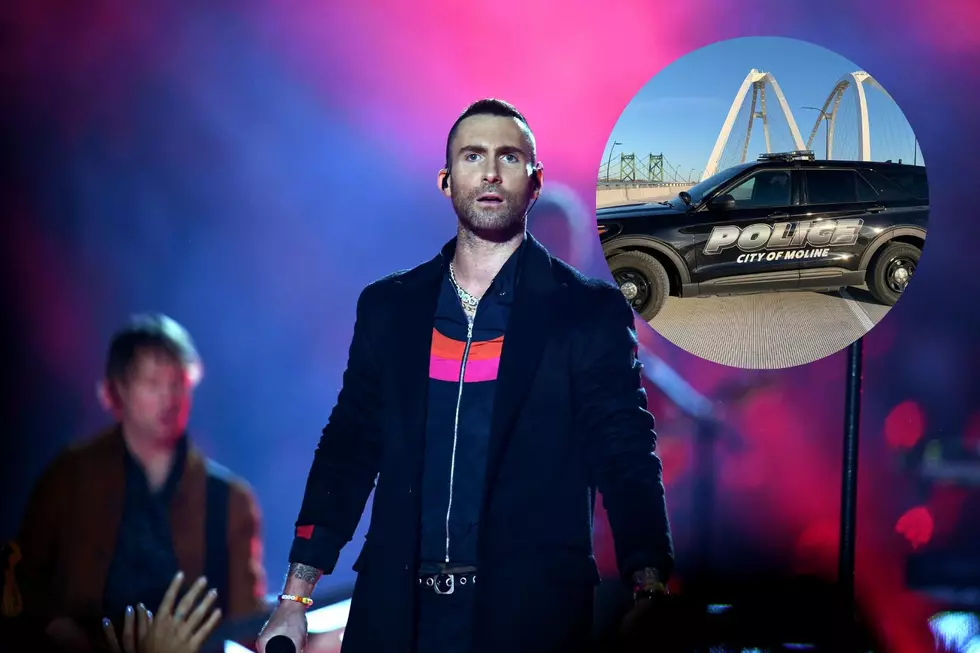 Moline Police Department Trolls Adam Levine In Recruitment Ad
Getty Images, Moline Police Department via Facebook
Whoever is running the social media accounts for the Moline Police Department needs a raise or something. Once again, the department is going viral but this time with a simple recruitment ad. Well, maybe not so simple if you don't know what's going on with Maroon 5's Adam Levine. The Moline Police Department used his recent cheating scandal to recruit officers and troll him all at the same time.
Let's just say, it's pure gold.

In a social media post on Thursday, the Moline Police Department decided to do some recruiting of new officers for the department. Instead of listing benefits, hours, and salary, they took a different approach and it is going viral.
For those who don't know, the band Maroon 5's lead singer, Adam Levine, is currently in hot water after an alleged affair with an Instagram model that took the internet by storm and went viral on TikTok.
Levine, who is married to Victoria's Secret model Behati Prinsloo, was messaging an Instagram model by the name of Sumner Stroh. She made a TikTok showing Levine's cringy messages to her and that video went viral very quickly.
Now that you're all caught up, here is what the Moline Police Department decide to post using this current celebrity news to recruit officers.
In the social media post, the department said,
Most of you have probably heard the news today. A big-time musical artist sliding into Instagram models DMs. Who would've ever guessed?
The post continues by saying that because the department is top-notch investigators, they believe they uncovered a few of those texts. Jokingly, of course.
The fake texts to recruit officers are the best. Here are the four "messages they found",
To IG model #1 "Hey girl, you look great with that duck lip pose, you think I would look fly in a Moline Police uniform?"
To IG model #2 "Hey you silly cat you, hey thinking about applying to the Moline Police Department, we can live 40 miles from the city, but don't think that covers Hollywood, you down?"
To IG model #3 "Hey pooky bear, so hear me out. Found this place, their high school mascot is a "Maroon" and it's in a place called the Quad Cities but there are actually "5" of them. Call it destiny but I want to be a police officer there."
To IG model #4 "Hey singing is fun and all, but I'm afraid of what comes after singing? Do I just date Pete Davidson like everyone else does after a long relationship and famed career? No no no, I wonder if they will let me sing the National Anthem at 5Ks and National Night Out events if I am a Moline Police Officer?"
They even threw Pete Davidson under the bus! Like I said, pure gold.
The post goies on to say,
If you are interested in a fun and exciting career without the risk of being on TMZ, feel free to slide into our DMs and we will answer any question you have.

Plus we won't out your DMs to TMZ, we don't want you to be 'Marooned'.

And for the record, yes we will let you sing the National Anthem if you have the actual ability to.
I love that they even shout out the Moline Maroons. Again, whoever works as the social media coordinator for the Moline PD seriously needs a raise and isn't allowed to quit.
If you or someone you know wants to apply to be a Moline Police Officer, click the link here and join them today,
"The home of the Maroons"
Quad City Haunted Houses
Spooky season is here Quad Cities! Haunted houses are open and we know you want to get your scare on. We have the full list of Quad City haunted houses you need to visit before Halloween.
Illinois Arcade House
If you want a place to entertain or be entertained...a short drive to Bloomington will put you right!