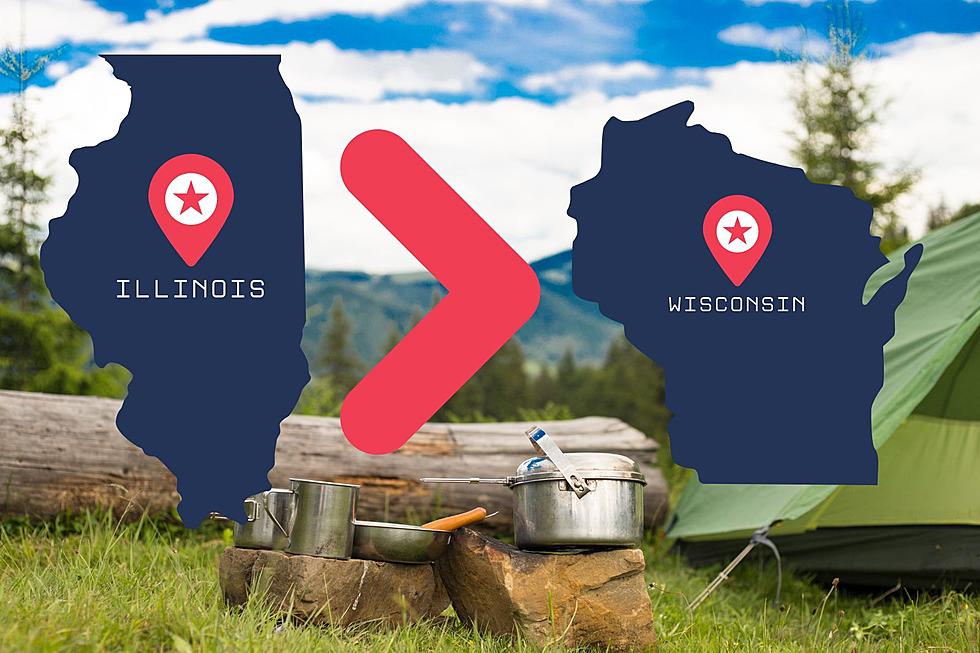 For Camping, Illinois is Better Than Wisconsin New Study Shows
Canva
Everyone has their own idea of what camping is. For some, it's in a tent, off-the-grid, with none of the amenities from home.
Others consider camping staying in their $100,000 RV that has heated floors, a King sized memory foam mattress, and satellite television with Wi-Fi.
No matter what you like to camp in, the location where you set up is the most important decision.
What are the best states in America for camping?
LawnLove has compared all 50 states using more than two-dozen metrics to determine which are the best and which are the worst.
Some of the categories that were scored for the camping study included the number of campgrounds available, affordability, safety, and quality of camping sites.
According to this study, here are the Top 5 U.S. States for Camping:
Where do the Midwestern states rank for camping?
The highest rank of states in the Midwest was Michigan at #7 with an overall score of 48.08 with high scores for safety, but low on affordability.
Minnesota was ranked #10, and Ohio at #11 in the study.
With an overall score of 41.67 Illinois ranked at #15 with supplies, safety, and affordability. Wisconsin scored 38.97 and ranked #28 with high scores for safety and supplies.
Illinois has the lowest average price for camping rentals in the U.S., while Wisconsin has the third-highest average price.
Ranking in the bottom 5 of the study was West Virginia, Wyoming, Rhode Island, Delaware, and South Dakota land at the bottom alongside North Dakota in last place.
These states aren't necessarily bad for camping. In fact, with lower populations, you might even have less competition and a better chance of scoring a peaceful campsite. Their low rankings are due to a lack of camping locations, attractions, amenities, and supplies compared with the more populated, higher-ranking states.
To see the entire study of Best U.S. States for Camping, CLICK HERE.
RANKED: Here are the most popular national parks
To determine the most popular national parks in the United States, 
Stacker
 compiled data from the 
National Park Service
 on the number of recreational visits each site had in 2020. Keep reading to discover the 50 most popular national parks in the United States, in reverse order from #50 to #1. And be sure to check with individuals parks before you visit to find out about ongoing, pandemic-related safety precautions at 
www.nps.gov/coronavirus
.
LOOK: Here are the best small towns to live in across America