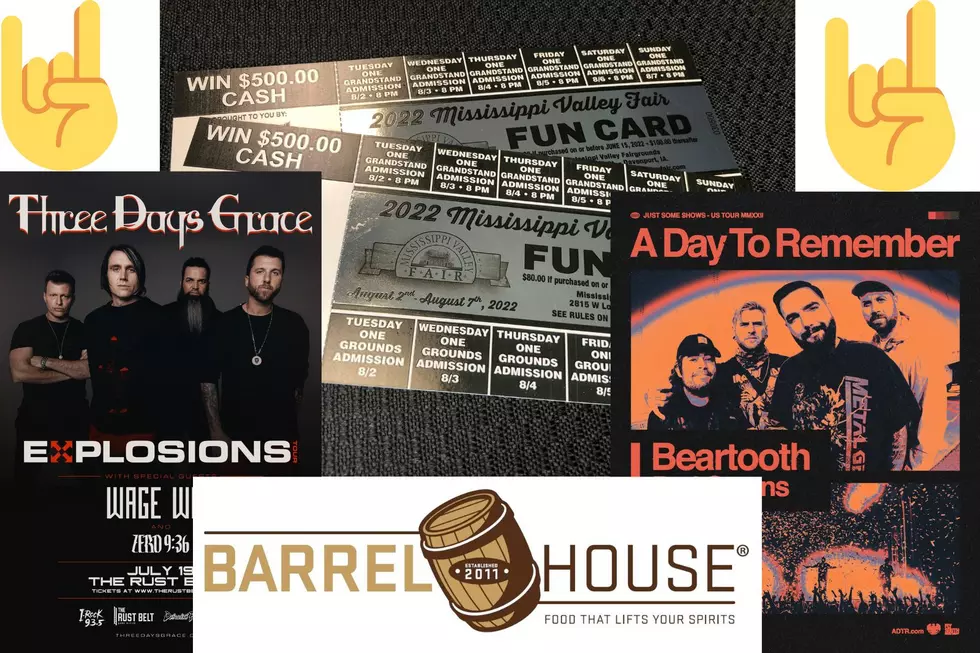 Barrel House Is Your Place To Win Mississippi Valley Fair Fun Cards & More
MVF, 3DG, ADR
Summer is off and running, and some awesome big parties are coming to the Quad Cities.  Saturday, July 16 from 2-4:00 p.m. at the Barrel House in downtown Davenport (211 E Second St) you can win tickets to two of the biggest parties....plus a ton more!  Yeah...it will once again be a prize every 9 minutes!
Back in June I-Rock 93.5 went to Barrel House to celebrate its grand reopening.  And we had so much fun, that we are going back.
What can you win at Barrel House on July 16?
First off, it's you can win a pair of fun cards for the Mississippi Valley Fair.  The MVF will be August 2-7 with 6 days of food, drinks, rides, attractions, and music.  Fun cards are $100 each, so with some quick math, you can win $200 worth of Fun Cards at Barrel House!  This is your ONLY chance to come out and win fun cards.  Your only other chance to win, before it's fair time will be right here.
But wait, that's not all!  Just 3 days after we get together at Barrel House, Three Days Grace is going to rock the Rust Belt with Wage Ware and Zero 9:36.  So let's get you into that show as well....with...
Party Pit tickets!  Yeah, buddy.  Not only will we have a pair of tickets that you can win while at Barrel House but these are going to be party pit tickets so you can get right down front for the show.  The only other way to score party pit tickets is to buy them or win them by signing up here.
What else will be there for you at Barrel House on July 16?
With a prize every 9 minutes that means we need...quick math...13 prizes!  So, here is what we've got for you:
Mississippi Valley Fair Fun Cards
Party Pit tickets to Three Days Grace
Six Flags tickets
A Day To Remember tickets
Texas Hippie Coalition tickets
Gift cards to Barrel House
Brewery Swag
These beer neon signs...
See you at Barrel House in downtown Davenport July 19 from 2-4pm.
*Contest ends at 4:00 p.m. on July 16
*Must be present to win
*One entry per person
Have Your Dream Farmhouse Stay in this Artsy, Renovated Barn Airbnb in Iowa
An Airbnb outside of Ames, IA is a converted barn with a bed you have to see!
EXCLUSIVE: Take A Look Inside The New Daiquiri Factory In Davenport
The Daiquiri Factory is opening up its new location in downtown Davenport on Thursday, May 19th, 2022. We got an exclusive sneak peek inside the DaqFac's new location and Davenport's soon-to-be hottest spot for drinks and food.