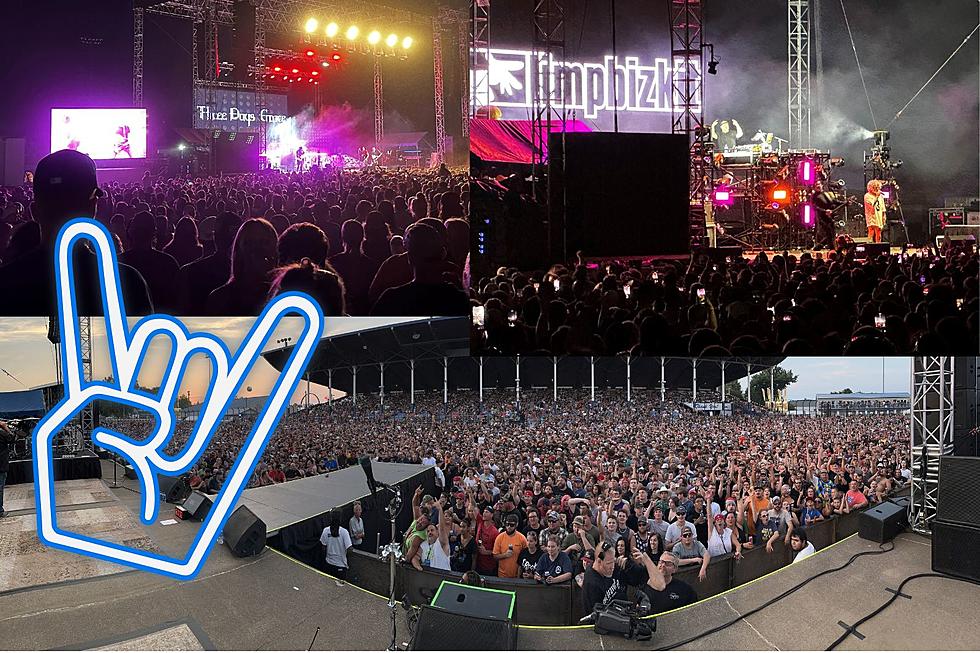 These Are The Bands That Could Rock The 2024 Mississippi Valley Fair
Townsquare Media/Canva
It was a week of food, drink, and rock at the 2023 Mississippi Valley Fair in Davenport, Iowa.  So, what can we do to top it in 2024?
This year the MVF had 4 nights of country with the bonus Monday show, 2 nights of rock, and 1 night of pop/rap.   We would of course love it if rock got more than two nights.  Three would be great.  Or four.  Or five.  Or six!  In reality, rock will never have more than country, but two seems like a good choice moving forward. Who could be those that take the big stage next year?
Who Won't Play The Mississippi Valley Fair in 2024
There are some bands that just won't fit at the MVF.  They are for different reasons as well.  Starting with the obvious.  The grandstand holds about 20,000 people.  Metallica is playing in front of 80,000 people at Soldier Field.  Their days of 20k are long gone.
The same thing goes with the Foo Fighters.  Way too big, not playing the Mississippi Valley Fair.
Not The Right Fit For MVF
There are some bands that could easily fill the grandstand but from a "fair fit", just won't work.  Pearl Jam, Red Hot Chili Peppers, and Green Day are the top ones here.  The style of these bands is not going to play at any type of fair across the country.
The others to add here would be Avenged Sevenfold, Falling In Reverse, and Evanescence.
Another one I'm going to toss on this part of the list would be Tool.  Tool needs a giant stage and darkness.  Like full darkness and a giant screen.  Maybe MJK and the guys could strip down, but don't see that happening.
A Great Fit For Us, But Too Heavy For Everyone Else
I'll give Slipknot a sliver of hope just because of the Iowa connection.  However, it feels like the MVF doesn't want to go that crazy on the dirt floor.
Probably need to also put Pantera in this part of the list.  Who knows if they'll even keep going after this run they are on, and we know they would be amazing at the fair, but again, feels like they would be too heavy for the crowd.
The final band I'll put on the "too heavy and would scare granny" list would be Korn.  Personally, yeah this would be perfect.  I mean come on...Korn at an Iowa fair.   Holy hell.  The advertising writes itself.
Could also toss Megadeth and Lamb of God in here as well.
These Band Could Rock The MVF In 2024
Now that we've taken out some of those names let me give you the top 9 that are the right fit.  They rock...but not too heavy.  They are big enough to put 20,000 in the grandstand but not so big that they normally play in front of 80,000.
Bush
Bush checks a lot of the right boxes for the Mississippi Valley Fair.  Especially the fact they span from new rock to older rock.  Any artist that can bring in generations for the fair is huge.  The only downside, in the past year they just played Dubuque and Cedar Rapids.  That shouldn't stop it but could be a deterrent.
Rob Zombie
Might be too heavy?  Or maybe just too scary for some of the old folks at the fair.  But man that would be a lot of fun.  The only issue for Rob Zombie is that he is a guy that wants to be playing in the dark.  So it has to be at least 8:30 start time for them.
Halestorm
Much like this year with Limp Bizkit and Three Days Grace, if you have a band like Halestorm, then you need to have one other bangin' band for the rock fan to say "Yes, I'll spend $100 to see those two rock bands in one week.".
Pretty Reckless
For the record, I'm all day every day with this at MVF, Vibrant, Rust Belt, Capitol, the Rock and Roll Mansion...the street...literally anywhere let's make it happen.
Breaking Benjamin
There are rumors of Breaking Benjamin putting out a new album in early 2024.  Seems like coming to the Quad Cities to rock that album would make sense.  If the fair put together a package of Breaking Benjamin one night and Halestorm or the Pretty Reckless the next that would be a great one-two punch of rock for the Mississippi Valley Fair.
Offspring
These guys could for sure carry the week as the main rock band.  Are they up for playing fairs though?  I questioned if they belonged here or on the "don't play fairs" list.  But I think with how the MVF is set up they would come with all their hits for a great show.
Five Finger Death Punch
It's really a tie for me for the number one choice for the 2024 rock acts at the Mississippi Valley Fair.  Starting with Five Finger Death Punch as they are a perfect size and fit for the crowd.
Staind
Now that they are back, and back with a number one song, Staind would be great at the Mississippi Valley Fair.  They can get it heavy, they can slow down so you can bust out those lighters, and they can bring in the masses to pack the grandstand.
Papa Roach
Finally...let's just keep the nu-metal theme going!  Papa Roach would be perfect at MVF.  It's been a while since they played in the Quad Cities and Jacoby's kid still goes to school here so even more of a reason for them to play here.  This right now is the leader on the board.
Who Is Missing From The List?
I can tell you two that you might be thinking of but here is why I don't think they would work.
Shinedown just played the MVF in 2021 and they just played the Jones County fair this year.  I don't think they would be back here or in the area in general for the same type of show.
And while Godsmack has been on the list for bands to rock the MVF, they aren't this year since they will be rocking the Vibrant Arena on September 28.
It's always a balance and something I know Shawn and the team at the Mississippi Valley Fair are already working on.  When they have it ready you'll hear about it first from us!
The Best Iowa Concert Venues
Now that we are going to shows again, we wanted to share the best concert venues in Iowa with you. Which venues need to be added to the list? Send the name and some photos of your time there to ryan.mccredden@townsquaremedia.com
The 30 Best Quad Cities Restaurants To Cure Your Hangover
The morning after a good party can be rough. Nothing can cure a bad hangover like some good food. Here are the places you said are the best cure a Quad Cities hangover.