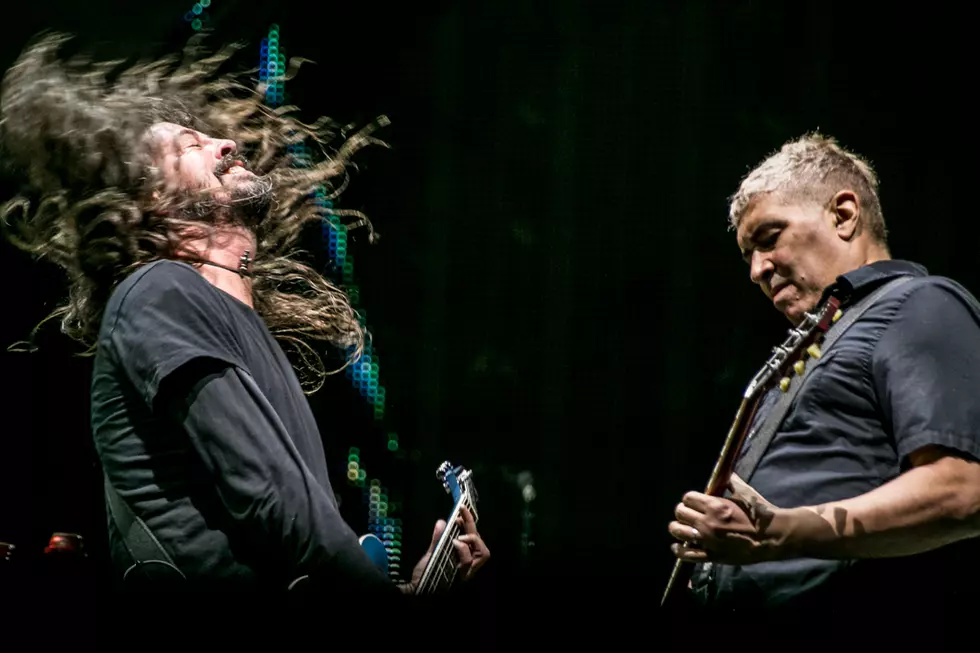 Number Ones at 1:00: 2010-2014
Kathy Flynn, WickedGoddessPhotography.com
All this week at 1:00 we are going to countdown the years with number ones. Number one songs or albums from each year. We'll talk about the songs, artists, and history of rock at that time as we countdown to Memorial Day weekend.
2010 - Ozzy Osbourne - Let Me Hear You Scream
The start of a new decade and really, I could fill this page with all the depressing s&$t that took place.  To much death in rock.  But I'm not going that way.  Let's talk about Mike Portnoy joining Avenged Sevenfold to record their 5th album.  Rammstein is banned from Belarus by the "Council of Morality" due to their "violence, masochism, homosexuality and other abnormalities".  On the charts, Three Days Grace dominated the year with 3 songs reaching number one.  Ozzy cranked out his second (yeah, he's only had 3 number 1 US billboard hits) with this one that spent 4 weeks at number one.
2011 - Chevelle - Face To The Floor
Slipknot heads out on tour for the first time since the death of Paul Gray.  Damn, I said I wasn't going to talk about death.  System of a Down went on tour for the first time in 5 years.  Cold released their first album in 6 years.  Korn releases the "much scrutinized" Path Of Totality album.  13 bands reached the number one spot this year with Chevelle taking the top spot for 12 weeks.
2012 - Adelitas Way - Criticize
The most epic moment for rock in 2012 was with Green Day.  OK haters, just listen here.  This was the year Billie Joe had a meltdown on stage at the iHeartRadio (boooo) Music Festival.  The bands time was cut short to make more time for Usher.  Billie stopped in the middle of Basket Case, smashed his guitar, went on a rant with all sorts of cussing in it and said he "wasn't Justin Bieber".  Of course the next day he entered rehab, cause that is what you do when you are a celebrity and do something wrong.
Three Days Grace and Shinedown were the big winners in 2012.  But I went a different route here and on the air.  Adelitas Way snuck in for one week with this song at number one.  And while Slash had many hits way before 2012, his first song with Myles Kennedy, "Your'e a Lie", went number one for 2 weeks.
2013 - Avenged Sevenfold - Hail To The King
Three Days Grace lead singer Adam Gontier leaves the band for health concerns.  STP fires Scott Weiland and Chester Bennington takes over as the bands lead singer.  21 different songs would take the number one spot in 2013.  Many would only be on top for a week or two.  But the clear winner of the year was Avenged Sevenfold as Hail To The King took the top spot for 10 weeks.
2014 - Foo Fighters - Something From Nothing
Motley Crue signed a "Cessation of Tour" agreement which had them retire from touring after 2015.  Fast forward to 2020, and if it wasn't for coronavirus they would have been in violation of that contract.  You know what...I blame them.  They signed in blood and the world was like, no.  You can't tour anymore.  Bam.  Virus.  Oh, and Slipknot was back with their first album in 6 years.  On the charts, it was another year with a lot of bands taking the top spot on the US billboard charts.  Then the Foo Fighters release a new album and said, it's cool...we got this.  And they did with their first single taking the number one spot for 13 weeks.

Enter your number to get our free mobile app