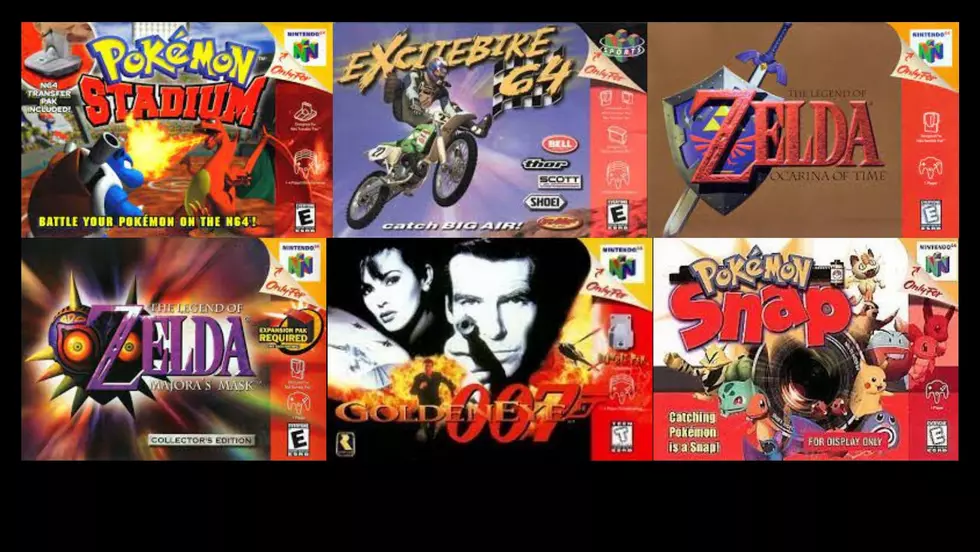 Nintendo Announces Next Wave Of N64 Games To Switch
Credit: Nintendo
I love the new world of gaming. Why? I'll tell you, because none of my favorites ever truly went away. That's right each iteration of the greatest games ever produced for every single platform can either be played with emulators or even better the companies that started it all, have went back and made sure their classic are playable. Take for instance the latest news from Nintendo.
It's great because you can play some of your favorites form yester-year, but not so much as you will have to pick up the Nintendo Switch Online plus Expansion Pack service. The individual subscription runs $50 a year, with the family plan costing $80 a year. Basically for $6.67 a month you can play all your old school N64 favorites which have been ported over. In addition to N64 games, the Expansion Pack plan offers access to a library of classic Sega titles, as well as select Switch DLC like Mario Kart 8 Deluxe's Booster Course Pass and Animal Crossing: New Horizons' Happy Home Paradise. Three additional titles were added to the Genesis library on September 15th Alisia Dragoon, Beyond Oasis, and Earthworm Jim.
It's time to enjoy those N64 favorites again. Titles like; 1080 Snowboarding (coming in 2023), Banjo-Kazooie, Dr. Mario 64, Excitebike 64 (coming in 2023), F-Zero X, GoldenEye (coming "soon"), Kirby 64: The Crystal Shards, Mario Golf, Mario Kart 64, Mario Party (coming in 2022), Mario Party 2 (coming in 2022), Mario Party 3 (coming in 2023), Mario Tennis, Paper Mario, Pilotwings 64 (coming in 2022), Pokemon Puzzle League, Pokemon Snap, Pokemon Stadium (coming in 2023), Pokemon Stadium 2 (coming in 2023), Sin and Punishment, Star Fox 64, Super Mario 64, The Legend of Zelda: Majora's Mask, The Legend of Zelda: Ocarina of Time, Wave Race 64, WinBack: Covert Operations, Yoshi's Story.
Check out the Nintendo Direct Feed from YouTube to see the highlights from the latest announcement, with the BIG GoldenEye reveal.
MORE: See 30 toys that every '90s kid wanted