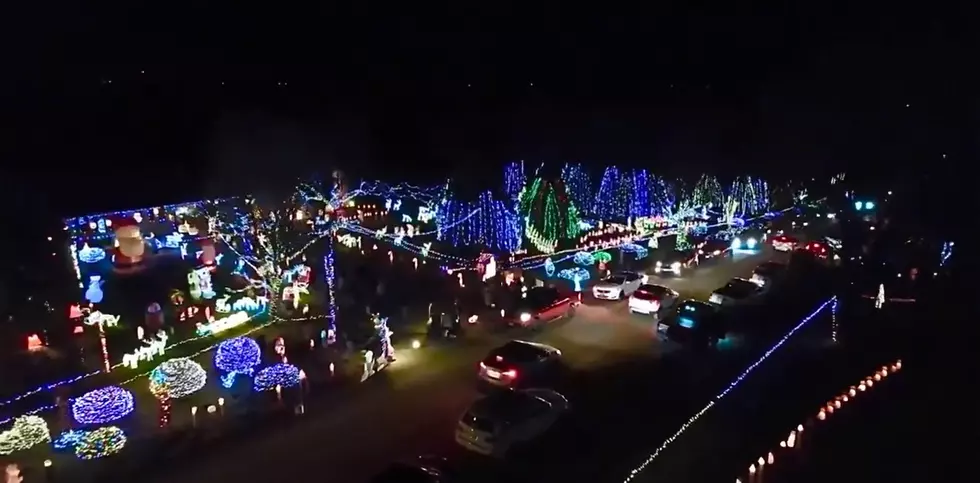 Massive Iowa Christmas Light Display Celebrating Its 26th Year [VIDEO]
KCCI, YouTube
A longtime Iowa holiday light display doesn't just delight people during the holidays. It benefits area adults, and even children, throughout the entire year.

Rob Scheitler has always loved Christmas. He hung some outdoor lights while growing up on a farm as a kid. Little did he know what his love of the season would result in.
When Scheitler built his western Iowa home more than 25 years ago, he wired it specially, for a holiday light display. He likely didn't know just how big that display would become. It's so large that, even with LED lights, Schleitler says his electric bill is $300 to $350 higher during the month-long display.
Scheitler lost count of the number of extension cords that it takes to power the more than 250,000 lights. There are also 800 blow mold decorations, inflatables, sculptures, music, and more in the display that he, his wife Joyce, and daughter Shaunna put together each year. They call it Christmas Acres. You can drive by on the highway, or park and take the walking path through the display. Everyone who visits Christmas Acres, which is a free display, also receives a candy cane.
Donations are accepted each year and given to the Christian Needs Center in Le Mars. It provides free food and clothing to community members in need. Last year, Christmas Acres donated more than $40,000 with some extra funds even helping to pay off lunch balances for kids in area school districts.
Christmas Acres is open from 5 p.m. to 10 p.m. daily from Saturday, November 19 through Saturday, December 31. It is closed on nights it's snowing heavily or raining. Christmas Acres is located west of Le Mars, in northwest Iowa. Enter your address to get directions here.
The town of Le Mars hosts a huge celebration of Christmas on Saturday, November 26. Christmas in Hometown Le Mars has a full calendar of events from 8:30 a.m. through 7 p.m. The city hosts its Lighted Christmas Parade the following Saturday, December 3, beginning at 6 p.m.
25 Local Small Businesses to Shop This Holiday Season
If you're looking to support some small businesses here in the Cedar Rapids area this holiday season, you have a TON of options! This week, we asked Iowans on Facebook what local stores are their favorite for picking out Christmas gifts. Here are 25 of the responses:
10 Cozy Cabins & Cottages to Stay At This Winter in Iowa
Looking for a little "staycation" this winter in Iowa? There are lots of cozy cabins and cottages on Airbnb that you can stay at! Here are 10 of our favorites: