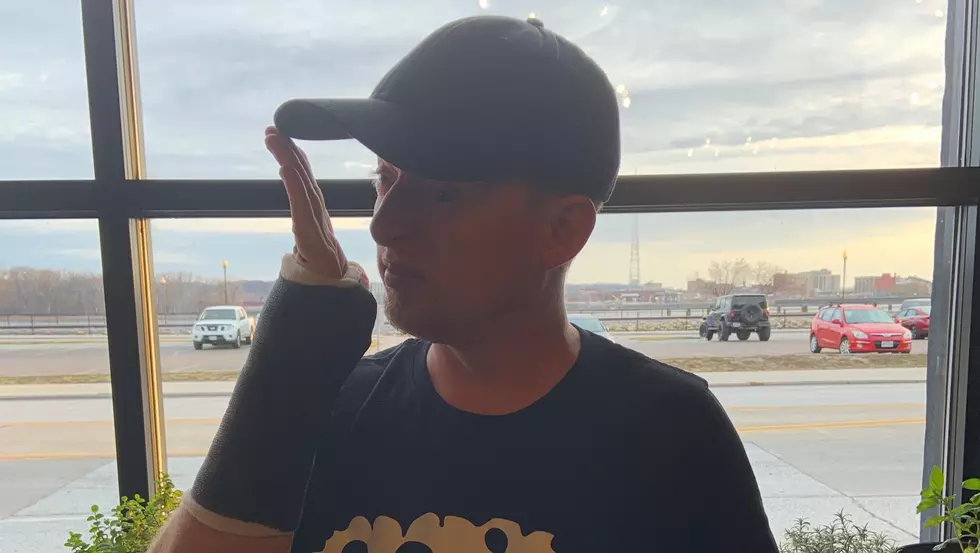 Smell My Cast Hole For The University of Iowa Children's Hospital
Trevor at the Lever
If you have the opportunity to turn a bad situation into a positive then you absolutely should.  That is what Local Stage host Trevor at the Lever is doing with your support.
If you've ever broken a bone and had to put a cast on, you know smelling anything around it can get nasty.
Here is how we got to Trevor's cast hole.
Believe it or not...Trevor is a funny guy.  And he shows it off on occasion with his improv group "Holy Smokes".
Unfortunately, there was an incident at a recent show that left him in a cast.  That would have been one awesome show to see.  I thought the pits at the Rust Belt got rowdy!
But now that it's broken and in a cast, Trevor is going to put it to good use.
Here is how Trevor will turn broken into something good.
Hi, my name is Trevor Goodall and I have a broken wrist. I don't want to let a bad thing bring anyone down. So what I am doing is using this to raise money for the kids.
My goal of $2000 is hopefully just the start, and once it is reached, QC comedian Wayne Lyter is being called out to smell the "cast hole".
He is known for his weak stomach so this is a big deal for humanity. Of course, the children that this campaign will help support are an even bigger deal. The Fundraiser will end before the cast is removed on 11/22/2022. Maximum ripeness.
The tiers are as follows:
$2000 - Smell The Cast Hole
$2250 - Water Dunk - Funk Enhancer
$2500 - Added Milk Spritzer
$2750 - Added Beef Jerky Stick
$3000 - Added Grilled Hot Dog
$3250 - TBD
$3500 - TBD
$3750 - TBD
$4000 - TBD
carbongallery id="636917d37624061ce64dd850"]
This Twitter Account Is Renaming Everyday Objects And They're Hilarious
We found this hilarious Twitter account called @TheCorrectNames. The account took photos of objects and animals and gave them the "correct name." We couldn't help but laugh when reading through these.
We wanted to share these funny new names with you, so here are 50 things that have been given the "correct names."
(WARNING) Some may be inappropriate.