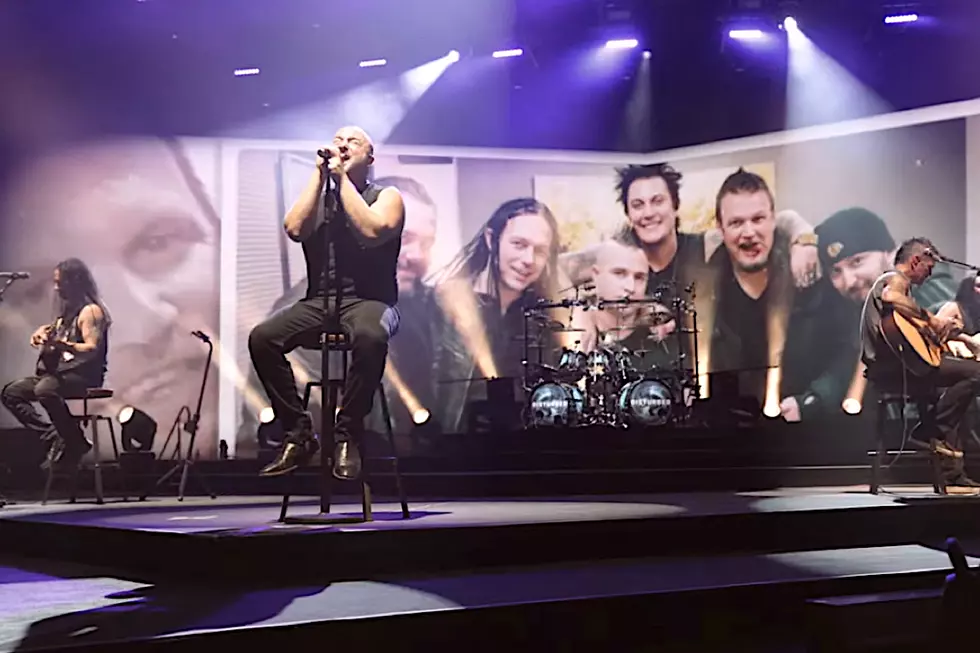 Join Disturbed in Reflecting With the 'Hold on to Memories' Live Video
YouTube: Disturbed
Disturbed cap an exciting year for the band by getting reflective in a new live clip for "Hold on to Memories." In addition, the group invites listeners to hang on to their memories by creating a custom music video.
Released Thursday (Dec. 19), the Rafa Alcantara-directed visual for the concert performance of the Evolution track arrives as "both a remembrance of those who are no longer with us, as well as a celebration of their life and the light they brought to those closest to them," a press release stated. In the clip, Disturbed are shown playing the song in front of a backdrop that displays fond photographic memories from throughout the band's existence.
"The people who have left us are never completely gone," Disturbed singer David Draiman shared alongside the video, which can be seen down toward the bottom of this page. "They stay in our memory, and I encourage each and every one of you to live every day of your lives like it's the last day of your life, making memories that last forever with the people you care about and love. Shine your light on this world, everyone."
Disturbed fans also have a chance to get in on the nostalgic action. Along with the clip, the band has launched an interactive video creator where one can upload eight photos of their dearest memories to make a video montage to "Hold on to Memories." Click here to access the Disturbed music video creator.
Earlier this year, Draiman also checked in with Loudwire to elucidate on his unique take on life and so much more. Now, listeners can relive their favorite memories and look to the future in the Disturbed way.
Added Draiman on Thursday, "Make memories that will last forever and cut through the darkness."
Disturbed, "Hold on to Memories" (Official Live Video)
See Disturbed in the 66 Best Rock Songs of the Decade