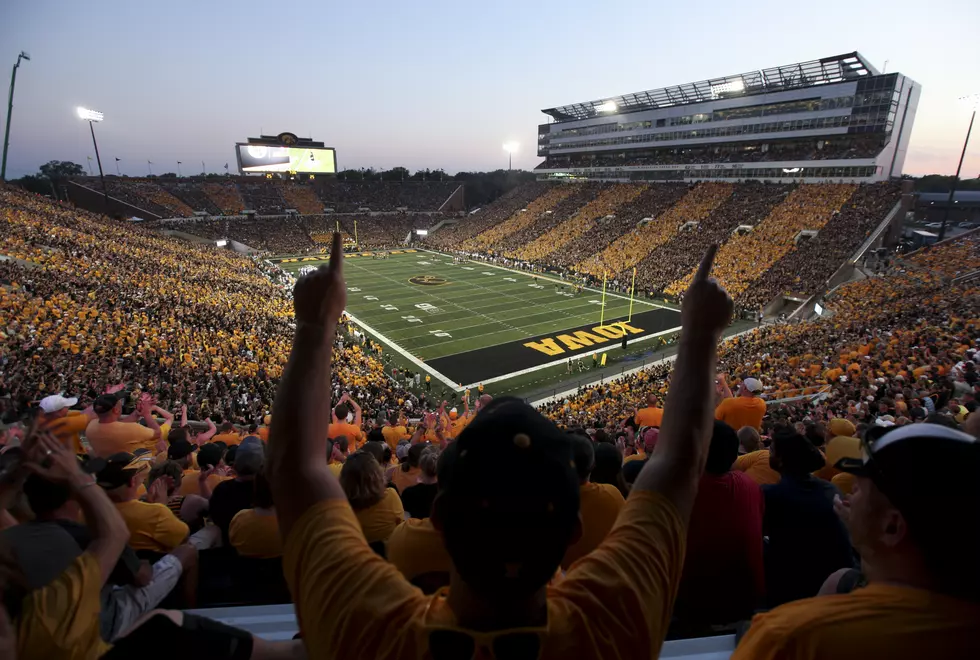 Iowa Hawkeyes Now Part Of Big Ten, ACC, And Pac-12 Alliance
Getty Images
There is now a super alliance in college football. On Tuesday, the Big Ten, ACC (Atlantic Coast Conference), and Pac-12 announced that they have formed an alliance bringing 41 institutions together for a new approach surrounding the evolution of college athletics and scheduling. Because the Iowa Hawkeyes are part of the Big Ten, they will be joining this new alliance and we could see matchups that feature the Hawkeyes that we've never seen before.

In a press release on Tuesday, officials from the Big Ten, ACC, and Pac-12 made an announcement that has shaken up college athletics and its future. These three Power 5 conferences have created an alliance that will bring 41 world-class institutions together on a collaborative approach surrounding the future evolution of college athletics and scheduling.
The alliance will be guided in all cases by a commitment to, and prioritization of, supporting student-athlete well-being, academic and athletic opportunities, experiences, and diverse educational programming.
The three conferences are grounded in their support of broad-based athletic programs, the collegiate model, and opportunities for student-athletes as part of the educational missions of the institutions.
The alliance of the Big Ten, Pac-12, and ACC, was unanimously supported by the presidents, chancellors, and athletics directors at all 41 institutions.
The Iowa Hawkeyes being a part of the Big Ten conference means they will be one of the 41 institutions join this alliance. This also means that we could see new matchups in basketball, football, and other sports that we've never seen before.
The three conferences will continue to be competitors but are committed to collaborating and providing leadership on various opportunities and challenges facing college athletics, including:
Student-athlete mental and physical health, safety, wellness, and support
Strong academic experience and support
Diversity, equity, and inclusion
Social justice
Gender equity
Future structure of the NCAA
Federal legislative efforts
Postseason championships and future formats
In the press release, officials say that the alliance includes a scheduling component for football and women's and men's basketball designed to create new inter-conference games, enhance opportunities for student-athletes, and optimize the college athletics experience for both student-athletes and fans across the country.
The scheduling alliance will begin as soon as practical while honoring current contractual obligations.
A working group comprised of athletic directors representing the three conferences will oversee the scheduling component of the alliance, including determining the criteria upon which scheduling decisions will be made. All three leagues understand that scheduling decisions will be a  process given current scheduling commitments by the institutions.
The football scheduling alliance will feature additional attractive matchups across the three conferences while continuing to honor historic rivalries and the best traditions of college football.
In women's and men's basketball, the three conferences will add early and mid-season games as well as annual events that feature premier matchups between the three leagues.
The ACC, Big Ten, and Pac-12 conferences include:
World-leading academic institutions committed to the shared values of supporting the next generation of leaders.
Innovative research that benefits communities around the world.
27 of the 34 Autonomy 5 members in Association of American Universities (AAU).
34 institutions ranked in the Top 100 national universities by US News & World Report.
Broad-based athletic and academic programs.
A long heritage of leadership in diversity, equity, and inclusion.
Over 27,000 student-athletes competing on 863 teams in 31 sports.
A combined 1,019 NCAA Championships.
Longstanding relationships across bowl partnerships, men's and women's basketball challenges, and Olympic Sport events.
194 Olympic medals won in Tokyo by current, former, and future student-athletes.
Some of the most iconic and historic venues in college sports.
Hundreds of millions of dollars in direct annual institutional support of student-athlete scholarships.
Over $15 billion in annual federal research support, nearly one-third of the total across all colleges and universities.
Below are quotes from the ACC, Big Ten, and Pac-12 CEO chairs:
Duke University President & Chair of the ACC Board of Directors Vincent E. Price
"The alliance is first and foremost a statement about the vital connection of academic excellence to college athletics.  Our members include 41 of the top public and private universities in the world which will soon have new ways to compete at the very highest levels in sports, and to collaborate in education, research and service to society.  Together we will be able to use our strong voice and united vision to create the best possible experience for our student-athletes and institutions."
University of Wisconsin Chancellor and Big Ten Conference Council of Presidents/Chancellors (COP/C) Chair Dr. Rebecca Blank:
"The Big Ten Conference has always prioritized academic excellence as well as athletic excellence for student-athletes. Today's announcement reinforces the values of integrity, fairness and competitiveness among all members of this alliance and provides additional opportunities for our student-athletes to enhance their collegiate experience."
University of Oregon President & Chair of the Pac-12 Board of Directors Michael Schill
"The Pac-12 is thrilled to join with so many world-class universities in a collaborative effort to support our student-athletes through an unwavering commitment to excellence in academics and athletics.  Together we can help shape a future for college athletics where broad-based athletic programs in concert with educational opportunities allow us to support the next generation of leaders."
Iowans In The 2020 Tokyo Paralympics
The 2020 Tokyo Paralympics begins Tuesday, August 24, 2021, and ends Sunday, September 5, 2021. This year 240 athletes make up Team USA. 5 of those athletes are from Iowa.
LOOK: 50 images of winning moments from sports history
Sometimes images are the best way to honor the figures we've lost. When tragedy swiftly reminds us that sports are far from the most consequential thing in life, we can still look back on an athlete's winning moment that felt larger than life, remaining grateful for their sacrifice on the court and bringing joy to millions.
Read on to explore the full collection of 50 images Stacker compiled showcasing various iconic winning moments in sports history. Covering achievements from a multitude of sports, these images represent stunning personal achievements, team championships, and athletic perseverance.