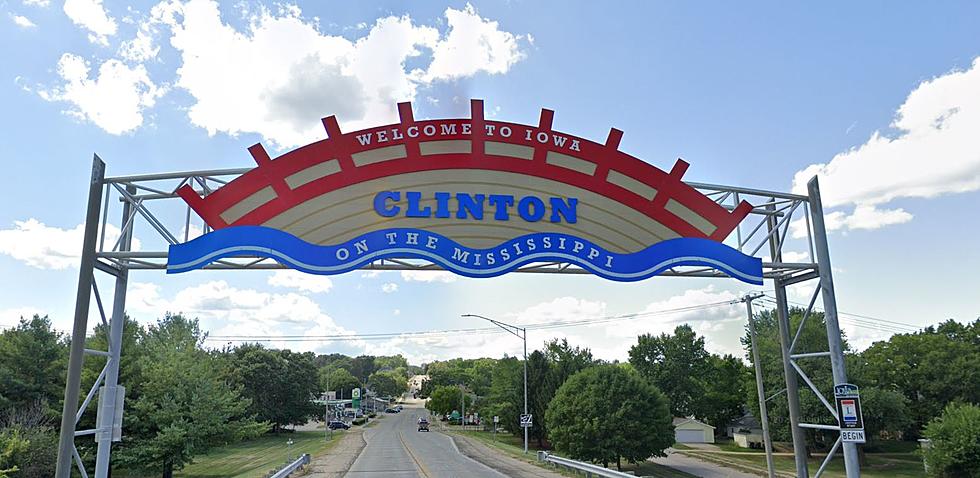 Clinton's North Bridge To Be Closed Starting At 8 a.m. On Tuesday
Google View
If you live in Clinton or Fulton, you're going to need to find a different way to cross the Mississippi River on Tuesday during the day. The Iowa 136 bridge, or the North Bridge, will be closed this Tuesday for crews to do some repairs. Luckily, it's only going to be closed for just one day.

On Friday, the Iowa Department of Transportation announced that the Iowa 136 bridge (North Bridge) over the Mississippi River in Clinton will require a temporary closure of the North Bridge due to bridge deck joint repairs, according to the Iowa Department of Transportation's De Witt maintenance garage.
The bridge connects Clinton and Fulton, IL, and the closure begins on Tuesday, June 14, at 8 a.m. The bridge is expected to reopen to traffic at 3 p.m., weather permitting.
Officials say that during this closure, traffic will be detoured around the work zone using U.S. 67, U.S. 30, and IL 84.
Iowa DOT officials want to remind motorists to drive with caution, obey the posted speed limit and other signs in the work area, and be aware that traffic fines for moving violations are at least double in work zones. As in all work zones, drivers should stay alert, allow ample space between vehicles, and wear seat belts.
It's almost mayfly season and earlier this week, Iowa DOT crews turned off the lights on the Iowa 136 bridge in anticipation of mayfly hatches. Officials say that mayflies are attracted to the lights on the bridge and cover the bridge deck which can cause dangerous driving conditions for motorists. The lights on the bridge will remain shut off until after Labor Day weekend.
The latest traveler information is available anytime through the Iowa DOT's 511 system. Visit 511ia.org, call 511 (within Iowa) or 800-288-1047 (nationwide), and stay connected with 511 on Facebook or Twitter. The Iowa 511 app is free to download on your smartphone.
For future traffic updates in Iowa, subscribe to Your 511 and sign up to receive the email/text alerts at https://new.511ia.org/#login.
8 Ways To Beat The Quad Cities Heat
When temperatures in the Quad Cities get hot, there are the best ways to keep you cool and safe from the summer heat.
See The Renderings for Downtown Rock Island's Beautiful Arts Alley
Downtown Rock Island's Arts Alley is set for a facelift later this year. See what they have in mind!