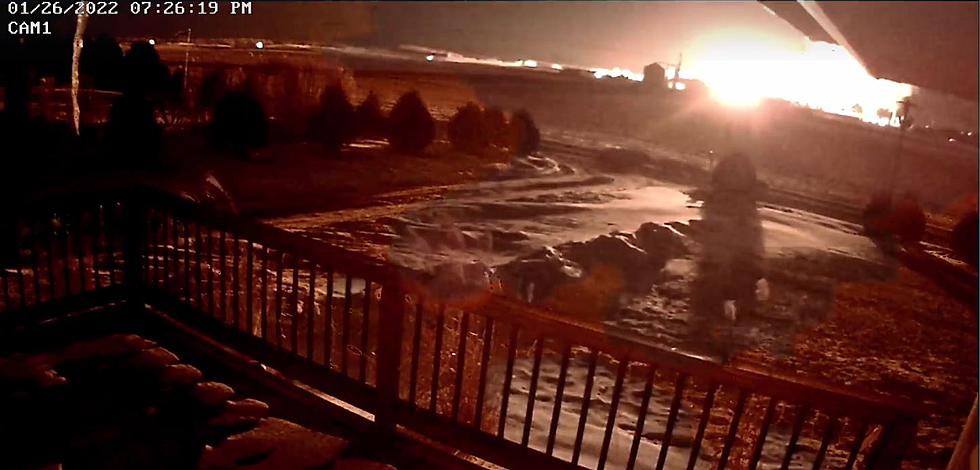 [WATCH] Clinton, IA Factory Explosion Caught On Video, No One Injured
Bryan Goldensoph via Facebook
1/28/22 - Updated to include full LyondellBasel statement.
If you're a resident of Clinton, you may have heard or seen a massive explosion near Highway 30 on Wednesday night. That explosion caused quite a stir on social media for residents in the Gateway area. Luckily, the explosion was very harmless and no one was hurt.

On Wednesday night, January 26th, residents in Clinton and the Gateway area heard a loud boom and possibly saw a massive explosion near Highway 30 entering the town. The explosion and boom came from the LyondellBasel Complex, a chemical plant that's right off of Highway 30 in Clinton.
At around 6:45 p.m. on Wednesday, residents in the Clinton area heard a 'loud boom' that echoed throughout the city. Bryan Goldensoph, a resident of Clinton who lives near Lyondell Basel, caught the explosion on a home surveillance camera and posted it on Facebook.
The local newspaper, The Clinton Herald, contacted LyondellBasel to find out what happened. LyondellBasell spokeswoman, Megan Borchers, told the newspaper that the incident happened due to an operational event around 6:45 p.m.
Borchers said in a statement,
At approximately 6:45pm on Wednesday, Jan. 26, the LyondellBasell Clinton Complex experienced an operational event involving one of the low density reactors resulting in a loud noise. Our safety equipment operated as designed.
The plant is stable, and no injuries occurred as a result of this event. There is no cause for concern to the community and we apologize for any inconvenience this may have caused.

 
Luckily, no one was injured in, or due to the loud and bright explosion.
Be a Couch Potato in Your Own Private Spud
Have you ever wondered what it would be like to spend your vacation inside a potato? For $124 a night you can reserve this Airbnb that's just outside of Boise, Idaho. It might be the perfect couple's getaway. Take a look inside the Idaho Potato Hotel.
LOOK: What major laws were passed the year you were born?
Data for this list was acquired from trusted online sources and news outlets. Read on to discover what major law was passed the year you were born and learn its name, the vote count (where relevant), and its impact and significance.