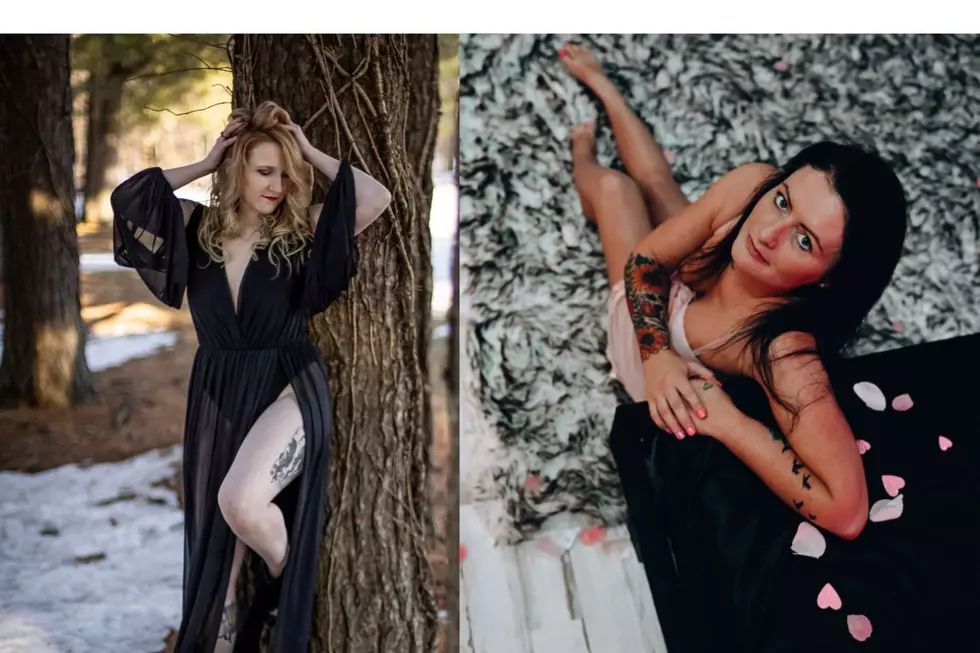 These Awesome Iowa Women Are In An Inked Cover Girl Competition
Brittney Mills/Boudoir by Dana Nicole Photogaphy
The Quad Cities love their tattoos.  We have a lot of great shops and artists in town.  And we have a lot of people that have everything from a simple design on their arm to some of the most full and intricate work you will see.
These Quad Cities women are looking to take their love of their tattoos to the cover of Inked Magazine, win $25,000, and get more tattoos.  And you can help this become reality by voting for them below.
Inked Cover Girl Search
Inked magazine is holding a competition for their next cover girl.  One amazing lady will win an exclusive tattoo session with Ryan Ashley, get a photo shoot with celebrity photographer Christopher Kolk, be on the cover of the magazine, and take home $25,000.
Not only is that all awesome and would be amazing for somebody right here in Iowa to win, but it's also for a great cause.  MusiCares is a foundation that the co-host of Inked Dave Navarro works with.  They provide services and resources for music people in their times of need.
Meet the Quad Cities' own Lora Lester and Brittney Mills
Lora says "I am trying to build confidence, and be okay with my own body and this is a giant step in that direction for me."
Brittney said, "I would love to show off my hand-drawn artwork. I get tattoos that I design and draw! Trying to get my artwork out and tattooed on others!"
Neither Lora nor Brittney reached out to us for help in the competition.  Both were found and we always want to see the rockers of the Quad Cities be successful, so we want to help them out.  You can vote for both of them below.
Lora says her favorite tattoo is her anchor. "It reminds me of what a strong woman my mother was and what a strong woman I am trying to make sure my daughter sees in me."
Lora is a single mother of two and if she won the $25,000 she would use it as a down payment for a house so she and her kids could have something of our own.
Brittney says out of the 20 tattoos she has there are three that are her favorite.  The fruit bat on her arm, Ghostface, and Billy from Saw. Those are the most standout and I love the color and shading in them.
Brittney is an artist with over 600 tattoo designs, paintings, and other works. She works a lot to provide her family with extra cash. Brittney is very into music and constantly goes to festivals and tries to meet as many artists as possible. But that's not all, she is also in school and on the side learning 3 extra languages including ASL, French, and Cherokee.
If she won the $25,000 Brittney would pay off medical bills from my precancerous surgery and help her dad fix up his house!
Vote for both Lora and Brittney below.

Here is one of Brittney's pieces!
Now is your time to take Lora and Brittney one step closer to that victory of becoming the next Inked Magazine Cover Girl.
You can vote for Lora daily right here. 
You can vote for Brittney daily right here.
And you don't have to choose one over the other.  They are in different groups!  So vote for both daily and let's keep the QC rocking and inked.
Keep Looking: Clothing Optional - Sexual Freedom Campsite In Wisconsin
A short drive from the Quad Cities will take you to the land of beer and cheese known as Wisconsin. A bit more of a drive to the Northwoods of Wisconsin and you will find an isolated 60 acre "No Clothes Necessary" campground. Welcome to "Camp NCN North".
Camp NCN No

rth calls itself an "Adult Campground" where clothing is optional and sexual freedom is encouraged.
Keep Looking At The Quad Cities Biggest, Best and Craziest Bloody Marys
Bloody Marys have transformed from a simple glass of tomato juice, vodka, and some spices to an art form that can include everything from flavored salts to a full-on breakfast in the glass. Or in some cases, breakfast, lunch, and dinner. Check out what you told me were some of the best around the Quad Cities. Do you know of a location missing from our biggest and best list, send a picture and the location to ryan.mccredden@townsquaremedia.com