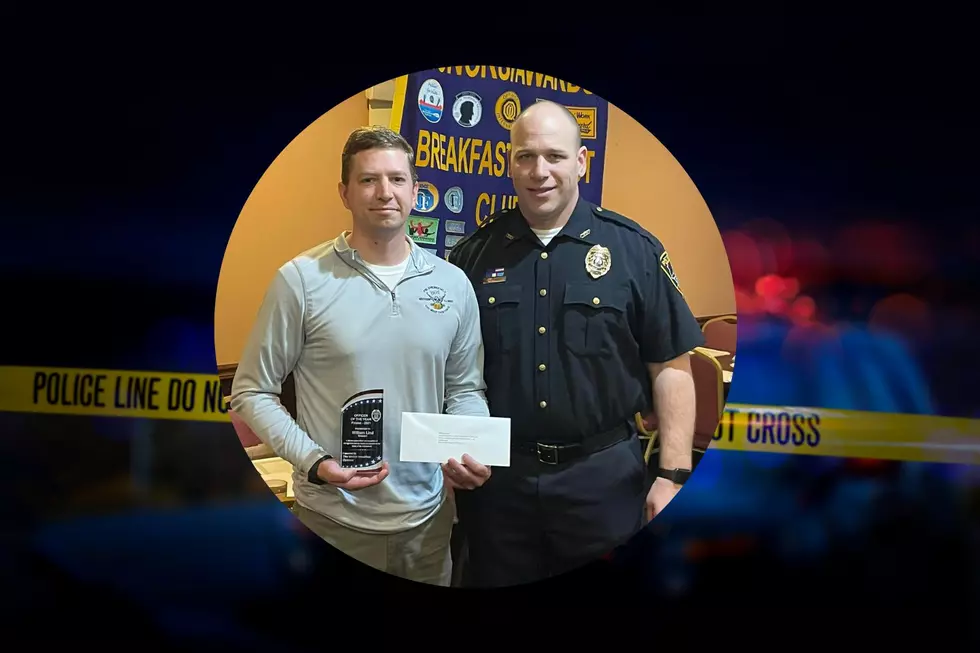 Attacked East Moline Police Sergeant's Family Releases Statement
East Moline Police Department via Facebook
Sergeant William of the East Moline Police Department is still recovering from critical and life-threatening injuries he sustained after being attacked earlier this week. During his recovery, Sergeant Lind's family released a statement thanking everyone for the support they received during this difficult time.

The Lind Family's Statement
In a release on Friday, the family of East Moline Police Sergeant William Lind, who was attacked on Monday by a man wanted for arson, released a statement to the public thanking everyone for their support.
The statement reads,
"We are so thankful for all the love and support we have received from family, friends, medical staff, the east moline police family, and community. It has given us the strength we need to navigate this journey. We want everyone to know we see you, feel you, appreciate you, and thank you from the bottom of our hearts. Billy has a long road ahead of him, but we are so blessed that there IS a road."

Sincerely, Family of Sergeant William Lind.
As we still know it, Sergeant Lind remains at OSF Saint Francis Medical Center in Peoria, Illinois recovering from the critical and life-threatening injuries he received on Monday.
In a press release on Wednesday, East Moline Police Chief, Jeff Ramsey, gave an update on Sergeant William Lind who was attacked Monday after making contact with a suspect.
Chief Ramsey says Sergeant Lind is still hospitalized in the Intensive Care Unit at OSF Saint Francis Medical Center in Peoria, Illinois. Sergeant Lind's medical care team told Chief Ramsey his status is considered,
"Critical, but stable, with no prognosis as it is too early to determine."
Chief Ramsey thanked the community for its continued support. He continued by saying,
"This incident has had an impact on the family, first responders, and community as a whole."
The East Moline Police Department plans to provide more updates as they become available.

Adrian W. Rogers, the man who attacked Sergeant Lind, was also formally charged with Aggravated Arson, and Arson by the Rock Island Police Department after being arrested Monday evening in Colona, IL following the attack
According to the Rock Island Police Department's report, on Monday, October 24, 2022, at approximately 3:40 p.m., the Rock Island Fire and Police Departments responded to a report of a structure fire in the 1600 block of 12th Street. Upon arrival, Fire and Police personnel observed a single-family resident on fire. The occupant of the home evacuated safely with no injuries reported, but significant fire damage was caused to the house.
The release continues to say that during the investigation, it was learned that Rogers entered the home and intentionally set the house on fire. Roger had fled the scene prior to the arrival of officers and firefighters.
In a press release at 1:50 a.m. on Tuesday morning, the Moline Police Department said on Monday, October 24, 2022, at approximately 6:31 p.m. while on patrol duties, Sergeant William Lind with the East Moline Police Department located a suspect in an aggravated arson who was wanted on probably cause pick-up out of Rock Island City and was walking in the 1900 block of Morton Dr. in East Moline.
Sergeant Lind made contact with this suspect who was identified as Adrian W. Rogers, 52. Shortly after naming contact with Rogers, Sergeant Lind was physically attacked by Rogers, who then fled the area on foot.
Assisting Officers arrived on the scene and found Sergeant Lind unconscious with injuries to his head.
EMS from Genesis Illini along with the East Moline Fire Department responded to the scene and transported Sergeant Lind to Genesis Illini Hospital in Sivis.
Due to the severity of Sergeant Lind's injuries, he was transported to another hospital out of the area for further treatment. Sergeant Lind is in critical condition and his injuries are considered life-threatening. The incident was captured on Sergeant Lind's body camera.

The press release goes on to say that officers and investigators from the East Moline Police Department along with several surrounding agencies immediately began an intensive search for Adrian Rogers.
At approximately 10:50 p.m., Rogers was located in Colona, IL, and was taken into custody by the Colona Police Department.
Rogers's formal charges are as listed:
Attempted Murder (Class X Felony)
Aggravated Battery to a Peace Officer (Class 2 Felony)
Aggravated Arson (Class X Felony)
Residential Arson (Class 1 Felony)
Rogers' bond was set at $1 million and is being held at the Henry County Jail.
The East Moline Police Department went on to thank the Silvis, Moline, Illinois State, Colona, and Hampton Police Departments, along with the Rock Island County Sheriff's Department, FBI, East Moline Fire Department, and Genesis Illini for assisting on the incident.
The East Moline Police Department said their thoughts and prayers are also with Sergeant Lind and his family during this difficult time, as are ours along with many police departments and residents in the Quad Cities, throughout Illinois and Iowa, and the country.
Sergeant William Lind is truly one of the finest of the East Moline Police Department. Sergeant Lind was selected as the 2021 Officer of the Year for East Moline at the Breakfast Optimist Club back in April.
We wish Sergeant Lind a speedy recovery and once again, our thoughts and prayers are with him and his family during his recovery.
Where The Buffalo Roam: This Iowa VRBO Western Cabin Is On A Buffalo Ranch
Illinois Arcade House
If you want a place to entertain or be entertained...a short drive to Bloomington will put you right!