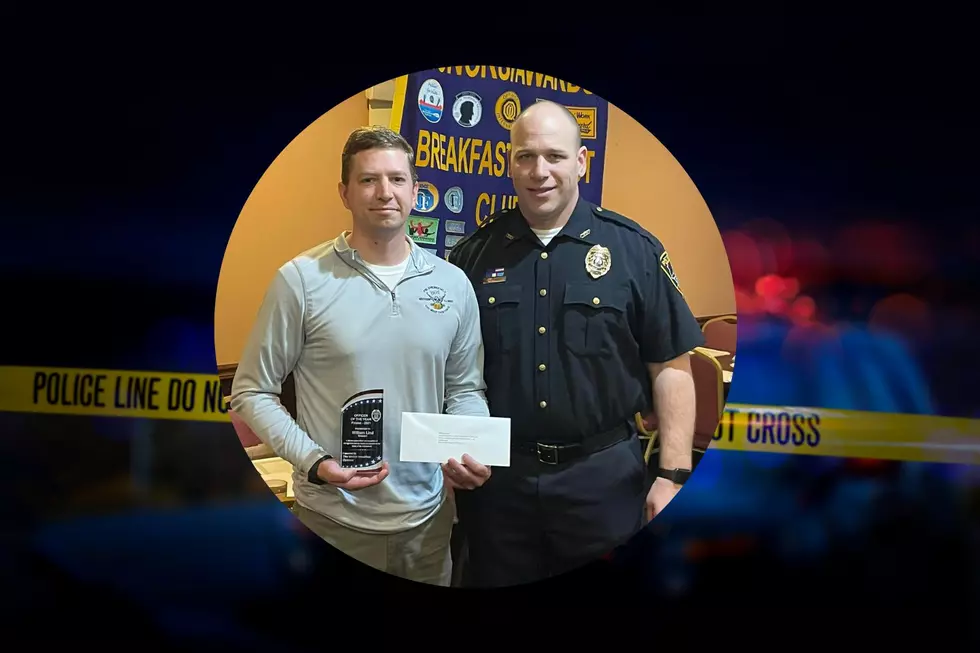 East Moline Sergeant Is In Critical Condition After Attack
East Moline Police Department via Facebook
Monday evening, one of East Moline's finest was horrifically attacked and is now in critical condition with life-threatening injuries. Sergeant William Lind with the East Moline Police Department is currently in the hospital fighting for his life after being attacked by a suspect in an aggravated arson.

In a press release at 1:50 a.m. on Tuesday morning, the Moline Police Department said on Monday, October 24, 2022, at approximately 6:31 p.m. while on patrol duties, Sergeant William Lind with the East Moline Police Department located a suspect in an aggravated arson who was wanted on probably cause pick-up out of Rock Island City and was walking in the 1900 block of Morton Dr. in East Moline.
Sergeant Lind made contact with this suspect who was identified as Adrian W. Rogers, 52. Shortly after naming contact with Rogers, Sergeant Lind was physically attacked by Rogers, who then fled the area on foot.
Assisting Officers arrived on the scene and found Sergeant Lind unconscious with injuries to his head.
EMS from Genesis Illini along with the East Moline Fire Department responded to the scene and transported Sergeant Lind to Genesis Illini Hospital in Sivis.
Due to the severity of Sergeant Lind's injuries, he was transported to another hospital out of the area for further treatment. Sergeant Lind is in critical condition and his injuries are considered life-threatening. The incident was captured on Sergeant Lind's body camera.

The press release goes on to say that officers and investigators from the East Moline Police Department along with several surrounding agencies immediately began an intensive search for Adrian Rogers.
At approximately 10:50 p.m., Rogers was located in Colona, IL, and was taken into custody by the Colona Police Department.
Rogers's formal charges are as listed:
Attempted Murder (Class X Felony)
Aggravated Battery to a Peace Officer (Class 2 Felony)
Aggravated Arson (Class X Felony)
Residential Arson (Class 1 Felony)
Rogers' bond was set at $1 million and is being held at the Henry County Jail.
The East Moline Police Department went on to thank the Silvis, Moline, Illinois State, Colona, and Hampton Police Departments, along with the Rock Island County Sheriff's Department, FBI, East Moline Fire Department, and Genesis Illini for assisting on the incident.
The East Moline Police Department said their thoughts and prayers are also with Sergeant Lind and his family during this difficult time, as are ours along with many police departments and residents in the Quad Cities, throughout Illinois and Iowa, and the country.
Sergeant William Lind is truly one of the finest of the East Moline Police Department. Sergeant Lind was selected as the 2021 Officer of the Year for East Moline at the Breakfast Optimist Club back in April.
We wish Sergeant Lind a speedy recovery and once again, our thoughts and prayers are with him and his family during his recovery.
Essential Winter Emergency Kit Items
Winter season in the Quad Cities means cold temperatures, heavy snow, and slick roads. Hopefully, you won't ever need to tap into your winter emergency kit, but it's better to have one in your car than to be unprepared. Make sure you have these essential items in your car before winter arrives in the Quad Cities.
10 Best Places To Get Coffee In The Quad Cities
This list is 10 of the best places that you can only find in the Quad Cities. This list is in no particular order, but here are 10 of the best places to get coffee right here in the Quad Cities.