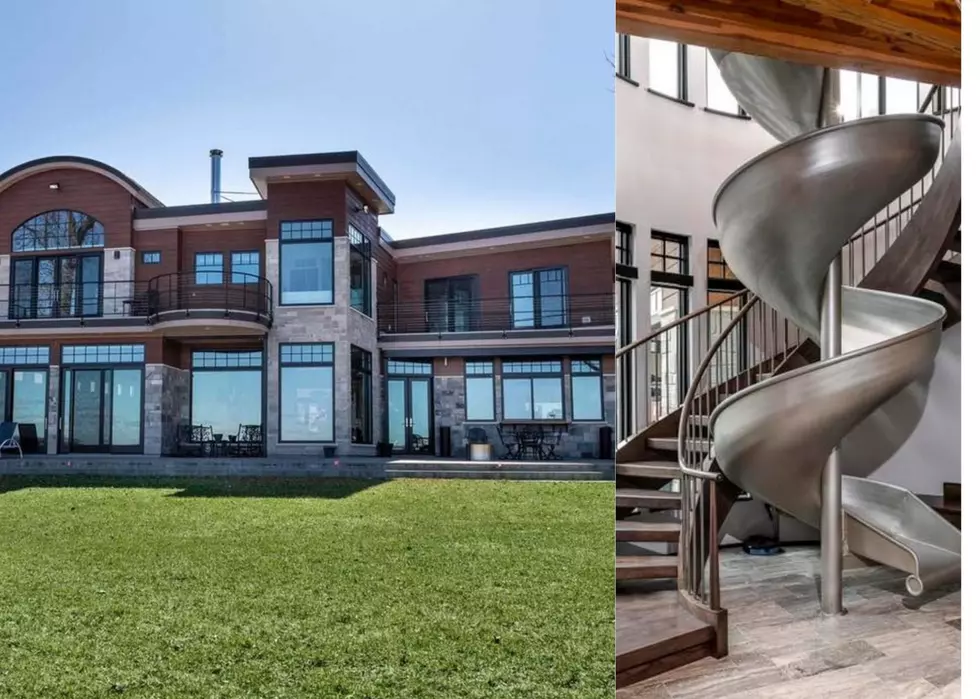 You Can Slide in This Lakefront, Ritzy $4.25 Million Madison, WI Mansion
Zillow Gone Wild Facebook
Zillow Gone Wild has landed on a $4.25 million mansion on the lake in Madison, WI.
The mansion is 5 beds, 6 baths and it's clearly nothing I'll be able to afford in this lifetime. But the best part: it has a slide. That's how you get downstairs in this household. A slide. There's a spiral staircase right next to it (which actually looks pretty artistic, scroll down to see those pics) but I would definitely always slide.
The house was built in 2019 (not enough time to be haunted yet) and has a beautiful lakefront view of Lake Mendota in Wisconsin. It really does sit right on the lake, it's level with it. The Zillow listing for it prices it at $4.25 million. It has a built-in Teppanyaki grill (read: hibachi-style), a Napolean fireplace, a theatre room, a private balcony, and a whole bunch of other fun stuff. The place gives you plenty of room at 6,113 square feet. There are two laundry rooms in it and also an elevator.

It sits on half an acre and has a 3+ car garage and looks like it would be a good home for entertaining with an open kitchen design, lovely back patio, and a big lounge and bar space in front of the windows overlooking the lake. It's so extra to the point that Zillow Gone Wild posted about it on Facebook, though I'm convinced the slide is still the coolest part of the house. Scroll down to see the pictures of the place!
You Can Slide in This Lakefront, Ritzy $4.25 Million Madison, WI Mansion
Vote to make all homes have slides! Check out this sprawling mansion on the lake in Madison, WI!
6 Completely Legit, Non-Satirical Ways to Save On Gas in the QC This Summer
With gas so painfully expensive this summer, we wanted to help you save money on it in ways that you may not have considered.
New Doggy Resort Treats Your Pup Like The Royalty They Are
Here are some features from other K9 Resorts across the nation