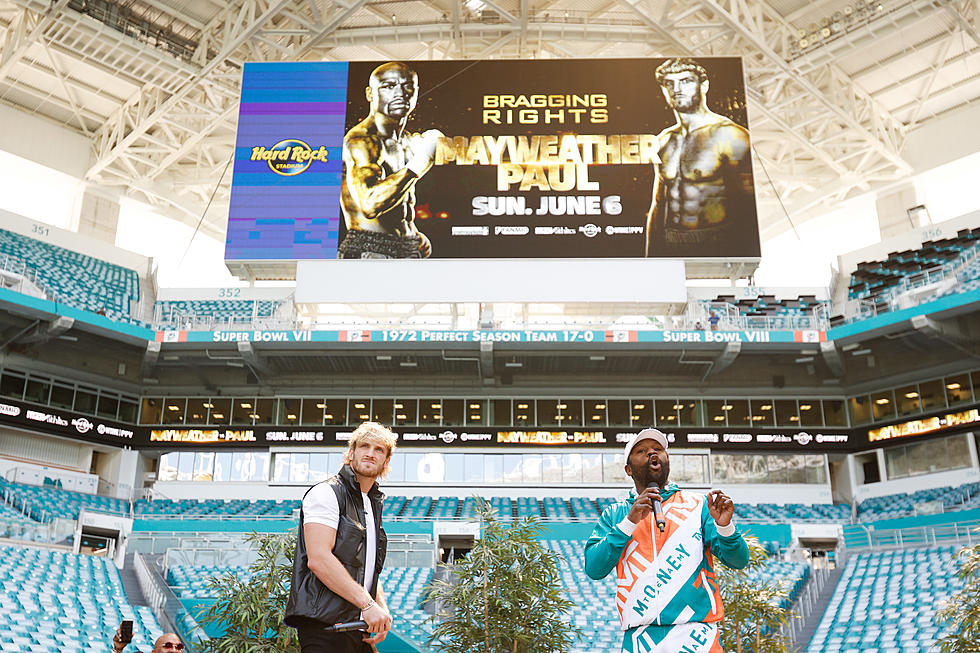 Win An Autographed Floyd Mayweather& Logan Paul Boxing Glove
Getty Images
June 6th in Miami one of the biggest boxing events in quite some time is going to take place when a champ, takes on a YouTuber.  Undefeated (50-0) boxing superstar Floyd Mayweather Jr. will take on social media sensation Logan Paul.
This special exhibition boxing match that look like a mismatch, for either fighter.  You see, Floyd Mayweather Jr. is arguably the greatest boxer of all time.  A 50-0 record will do that for you.  And even at 43, he still has everything it takes to drop his opponent with one quick strike.  However, Logan Paul is 50 pounds heavier and 6 inches taller.  So will Floyd ever be able to get close enough to knock him out.
The match could bring a new generation of fans to the ring as Logan has millions and millions of YouTube, podcast and social media followers.  Or, it could be another boxing gimmick that upsets the true fan and gives nothing special for the new fan.  But as you can see below, the heat is building after Logan's brother Jake got into a post press conference rumble with Floyd.
All the details on the fight and how you can order it are right here.
You can also win an autographed boxing glove from both of the fighters below!
*Contest ends June 6 at 11:55pm
KEEP READING: Here are 50 of the most famous sports goofs