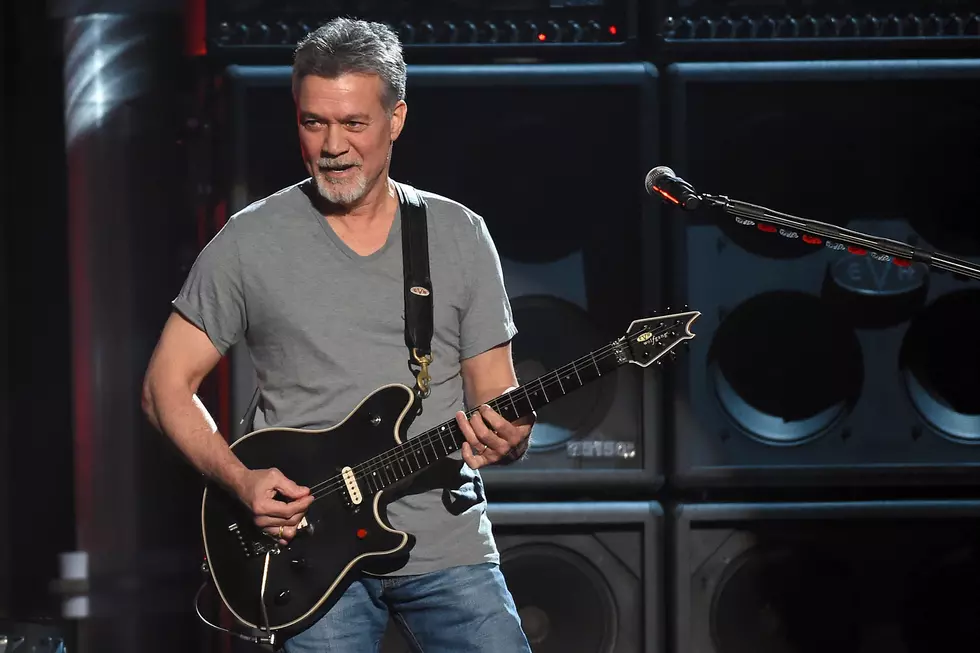 Tool Fan Unknowingly Asks Eddie Van Halen to Take His Picture
Ethan Miller, Getty Images
A music fan eager to get a photographic record of how close he was to Tool's stage appears to have unknowingly interacted with another rock legend, by asking Eddie Van Halen if he could take the picture.
Van Halen was attending Tool's show at the Staples Center in Los Angeles last night with his son (and bandmate) Wolfgang. "A guy asked my dad if he could take a picture of him with the stage behind him, having no idea who he just asked," the younger Van Halen explained in a Twitter post that also featured his view of the interaction, "and that was my favorite moment from the Tool show last night."
There has been much unconfirmed speculation about the elder Van Halen's health in recent weeks. David Lee Roth recently suggested that the guitarist's unspecified issues are a key factor in the band's recent inactivity. "I'm not sure what's happening with Ed, but [he's] probably not gonna answer the bell this time," the singer stated while promoting his upcoming solo Las Vegas residency. "It's not my place to guess."
Coincidentally, Roth was on the receiving end of the same treatment back in July. While in Las Vegas for the Electric Daisy Carnival, an EDM festival, he heard some Van Halen music coming from a room across the hall in his hotel. He knocked on the door to say hi, and he happened upon a bachelor party in progress, only none of the guests knew who he was, and one apologized for the loud music.
Van Halen has not performed together since concluding their Summer 2015 tour with two shows at the Hollywood Bowl. At one point during the first concert, Roth publicly declared his love and respect for his longtime bandmate: "The best years of my life; the high points of all my life -- onstage with you, homeboy. I will always do the half-Jesus towards you, Eddie Van Halen."
Eddie Van Halen Year by Year: 1977-2017 Photos