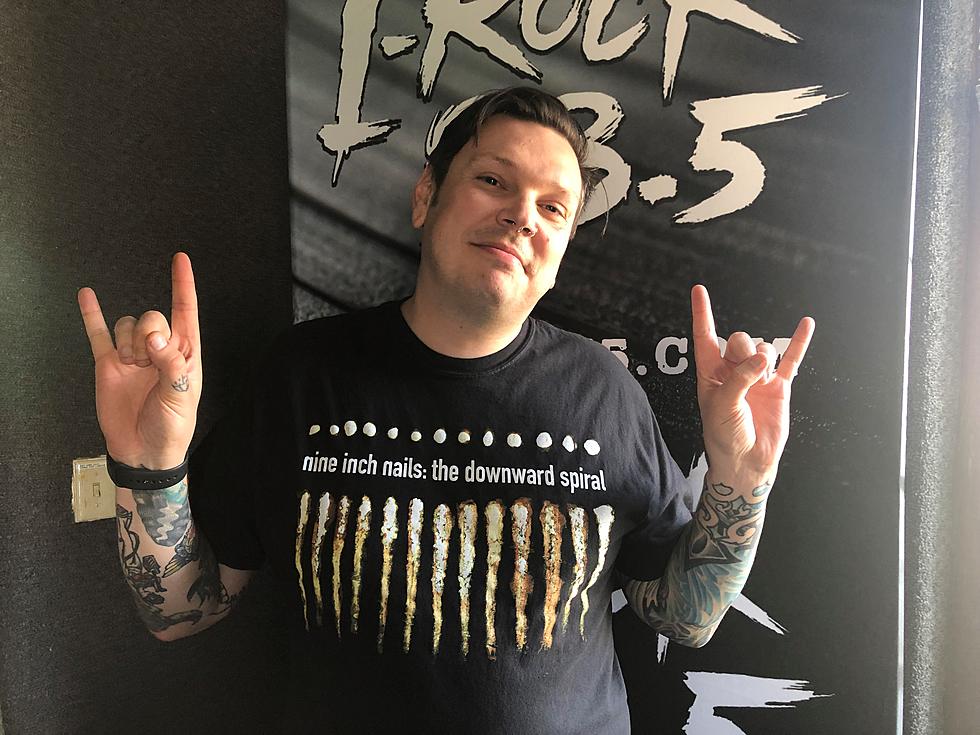 Sam Has The Mother Of All Playlists To Get Your Weekend Started
Sam I-Host
Friday at 6:00 pm you can host your own hour on I-Rock 93.5.  You choose the songs.  Then you come to the Rock & Roll Mansion and host it.  All you need to do is sign up here and then watch your email.
Here is this week's I-Host
Question one - Who are you?
I'm Sam Jacks! Who are you? Just kidding.
I'm a lame old man who has been around the music scene longer than I can remember. I started playing shows at 14 years old and did it until I couldn't anymore. I'm now a dad that loves to take my kids to shows and watch them become elated seeing their favorites live. My son's first show was Fall Out Boy when he was 6, (and he's been to a ton since), but I'm taking my 5-year-old daughter to her first show in July, I'm so excited to see her excited!
Question two - Why do you love hard rock?
I've always been a fan of heavy music. The first album I ever purchased with my own money was Hanson's "Middle of Nowhere" at 11 years old. I'll never forget having a picture of Hanson in my bedroom cause the music was cool, but my friend Brad VanOpdorp ripped it off and replaced the pic with a photo of Pantera from Metal Hammer. (Thank you Brad). The second album I bought was Embodyment's "Embrace The Eternal" and that record is sick. Third in line was Zao's "Where Blood and Fire Bring Rest". Literally, both of those albums are seminal to me and really shaped who I am today (and I still frequently listen to them!)
Question three - Who is your favorite band/artist?
This is beyond a difficult question. I ebb and flow. Lately, I'm only ripping Knocked Loose or Remembering Never. But, if I had to pick an absolute favorite, I'd have to choose Nine Inch Nails. I'm a huge fan of their entire catalog. My favorite thing they've ever done was absolutely the Broken EP (which I know, it's been 31 years), that entire EP is mind-boggling. For them to follow it up with The Downward Spiral was just a kick in the teeth. But then to follow TDS with The Fragile? Cmon. Flawless.
Question four - What is the best concert you've ever seen?
This is super tough for me… being a guy that used to play in a band at a young age and was fortunate enough to be able to have played with a lot of my idols, it's extremely hard.
Since you put me on the spot, I can give you a few:
Eighteen Visions VANITY 20 Year tour: Reggie's, Chicago, IL
Poison The Well: Gabe's, Iowa City, IA (hottest show I've ever been to, in December mind you)
Every Time I Die: Metro, Chicago, IL
Limp Bizkit, MVF (hasn't happened yet, but, I've only been waiting 20+ years)
My Playlist:
Knocked Loose - Where Light Divides The Holler
Orgy - Social Enemies
Limp Bizkit - Boiler
Trophy Eyes - Chlorine
Eighteen Visions - Vanity
The Devil Wears Prada - Trapped
Every Time I Die - Dark Distance
Iggy Pop - Lust for Life
The Misfits - Hybrid Moments
Old Wounds - Your God v Their God
SeeYouSpaceCowboy - Misinterpreting Constellations
Project 86 - The Spy Hunter
Beartooth - I Think I Have A Problem
Top 10 Highest-Rated Restaurants In Davenport According To Yelp
To determine the top 10 highest-rated restaurants in Davenport, we turn to
Yelp
. Yelp tells us exactly which restaurants in Davenport people think are the best. If you're looking for the best places to eat in Davenport according to ratings and reviews from people in the Quad Cities, this is the list for you.
The 30 Best Quad Cities Restaurants To Cure Your Hangover
The morning after a good party can be rough. Nothing can cure a bad hangover like some good food. Here are the places you said are the best cure a Quad Cities hangover.