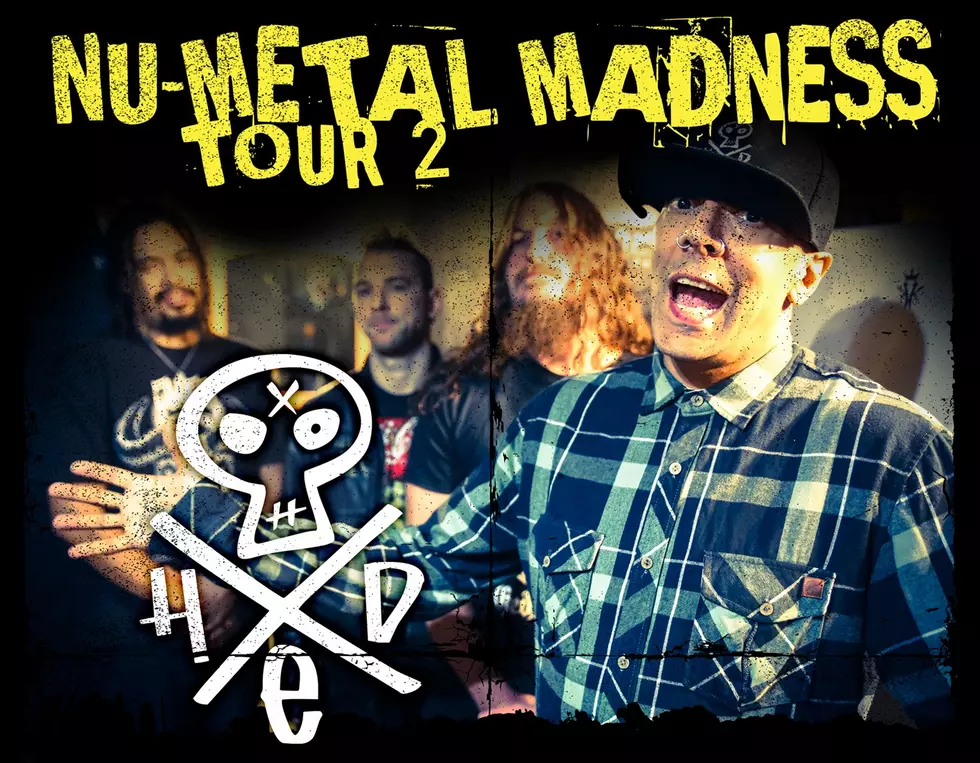 Let's Go Back To The Nu Metal With I-Rock 93.5: (hed) p.e., Crazy Town, Adema and Tantric
Rust Belt
Bust out the JNCO jeans and baseball hat.  Frost up that spikey hair and grow out the goatee.  Then get ready to rock your eyebrow ring.  Cause the Nu-Metal Madness Tour 2 is coming to The Rust Belt in East Moline.
Tickets are on sale now right here.  You can also win your party pit tickets below for the April 6th show.  Tickets start at $20 for these 4 bands that will have you singing along to all the songs you remember.
(hed) p.e.
Since 1994 (hed)p.e. has been turning heads with their original and unique music. With hits like "Blackout" and "Bartender", they have been called everything from rock, metal, punk, reggae, rapcore, and more. With such an extensive career and 10 studio albums, the band has earned their place as one of the most original and well-respected acts on the planet (earth that is!).
"We here at (hed)p.e. come to bring inspirational music for the worldwide family. I want my people to know it's okay to fall, JUST GET THE F**K UP! Our mission: to go forward with our music and shine a light in the darkness. Blending metal, reggae, hip-hop, and punk, we've cultivated a worldwide underground following. Inspiring revolution and reflection every step of the way" says vocalist and founding member Jahred.
Crazy Town
Crazy Town is best known for their 2000 hit single, "Butterfly", which reached number one on the US Billboard Hot 100 chart and helped their debut album, The Gift of Game sell over 1.5 million units.
Adema
Adema was formed in 2000 with their debut album, Adema, which was released in August 2001 producing two major singles, "Giving In" and "The Way You Like It,".
Adema's debut album was certified gold, and the band received a spot on the main stage during the Ozzfest tour. They kept playing live with the Music as a Weapon, SnoCore Rock, and Projekt Revolution tours. In 2002, Adema released Insomniac's Dream, an EP, as a "gift to fans." The single from the album, "Immortal," was written for the video game Mortal Kombat: Deadly Alliance. Besides the single, it included a track from international versions of Adema, a cover of Alice in Chains' "Nutshell", and four remix versions of songs from Adema. 2002 also marked Adema's inclusion in the Resident Evil Soundtrack, contributing the track "Everyone" from their debut album. Adema's second album, Unstable, was released by Arista in August 2003.
Tantric
Tantric has defined themselves through 6 studio albums as a groove-laden, guitar-rich rock band with dense vocal harmonies and infectious vocal melodies. Frontman Hugo Ferreira's unique soulful baritone vocals, ranging from angsty rasps to melodious melancholy are a testament to the signature Tantric sound.
Tantric has endured for a career of 15 years, and although the band has gone through many label and lineup changes over the years, Ferreira has managed to keep the entity that is Tantric alive and well. "I consider Tantric a boat that I float in—it's a vessel that carries the music. So I never feel restrictions. It doesn't have any rules. Tantric music can be super-heavy, light–or both It's really an open book with no ending in sight", says Ferreira
Win your party pit tickets below and let's take it back to the early 2000s with the Nu Metal Madness tour.
Have You Seen All of these License Plates in Iowa?
Here are 25 different license plates you can see throughout Iowa.
10 Things That Shock Folks During Their First Year in Iowa
For anyone moving to Iowa from... well, anywhere, there are a few things that will surprise you.