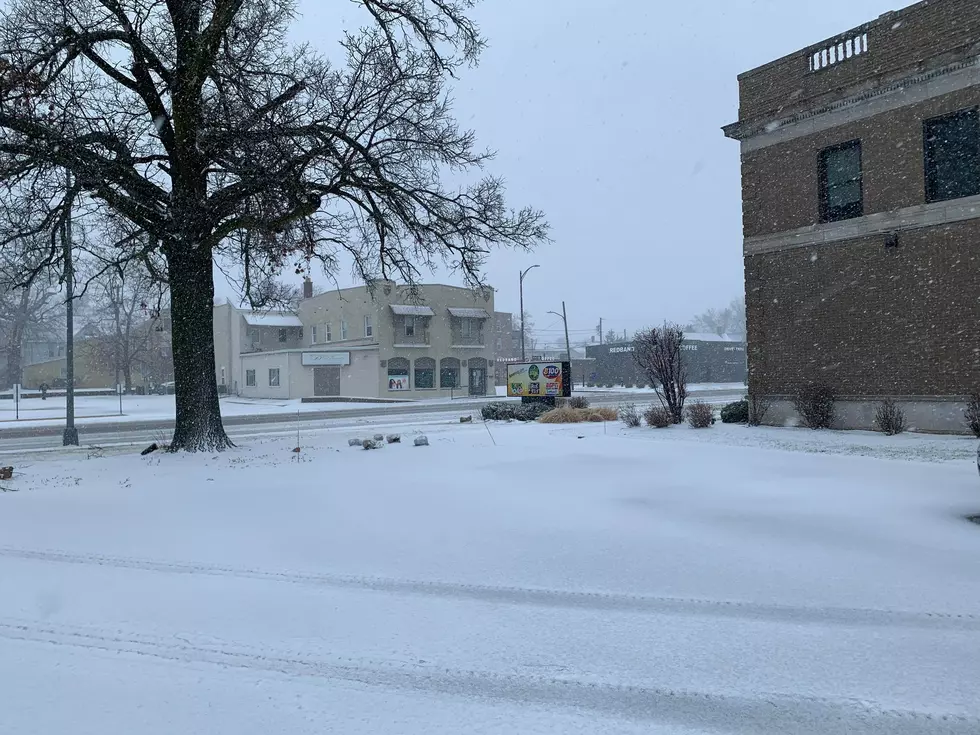 The Quad Cities Is Likely To See More Snow Friday Night, Saturday Morning
The cold temperatures haven't been in the forecast as much lately, but snow chances are creeping back in. The Quad Cities will most likely see more snow accumulation Friday night into Saturday morning, but we most likely won't see the bulk of the snowfall.

It's wintertime in the Quad Cities and snow is on the ground. More snow is expected before Spring gets here, and another round of that snow is expected this weekend. Luckily, it isn't shaping up to a snowstorm as we got at the start of 2022.
Before we get to the snow that will most likely fall this weekend, we want to let you know that the National Weather Service of the Quad Cities (NWS) is predicting snowfall early tomorrow morning.
NWS officials say that another "clipper system" will bring the chance for light snow late tonight into Thursday morning. Some portions of the area may even see some wintry mix. Light snow accumulations may also produce a few slick spots for your Thursday morning commute.
Back to the snow we most likely will get Friday night and Saturday morning.
Officials from the National Weather Service of the Quad Cities accumulating snow appears to be likely for many areas Friday night into Saturday morning.
As of Wednesday, there is still a lot of uncertainty on the track of the storm and the amount of snow we will see, but officials say that currently, the potential for several inches of snow appears to be the greatest west of the Mississippi River.
If you have travel plans that are westward this weekend, we will keep you up to date on the snow as it approaches the Quad Cities.
Here is the forecast for Thursday through Saturday as of Wednesday, January 12th,  according to the National Weather Service of the Quad Cities:
Thursday

A 40 percent chance of snow, mainly before 9am.
Mostly cloudy, with a high near 35. Northwest wind 5 to 10 mph.

Thursday Night

Mostly cloudy, with a low around 24.
Northwest wind around 5 mph becoming east after midnight.

Friday

Snow likely after noon. Mostly cloudy, with a high near 29.
Chance of precipitation is 60%.
New snow accumulation of less than a half inch possible.

Friday Night

Snow likely, mainly before midnight.
Mostly cloudy, with a low around 18.
Chance of precipitation is 70%.
New snow accumulation of 1 to 3 inches possible.

Saturday

Partly sunny, with a high near 23.
Keep Looking: Clothing Optional - Sexual Freedom Campsite In Wisconsin
A short drive from the Quad Cities will take you to the land of beer and cheese known as Wisconsin. A bit more of a drive to the Northwoods of Wisconsin and you will find an isolated 60 acre "No Clothes Necessary" campground. Welcome to "Camp NCN North".
Camp NCN No

rth calls itself an "Adult Campground" where clothing is optional and sexual freedom is encouraged.
LOOK: What are the odds that these 50 totally random events will happen to you?
Stacker
took the guesswork out of 50 random events to determine just how likely they are to actually happen. They sourced their information from government statistics, scientific articles, and other primary documents. Keep reading to find out why expectant parents shouldn't count on due dates -- and why you should be more worried about dying on your birthday than living to 100 years old.