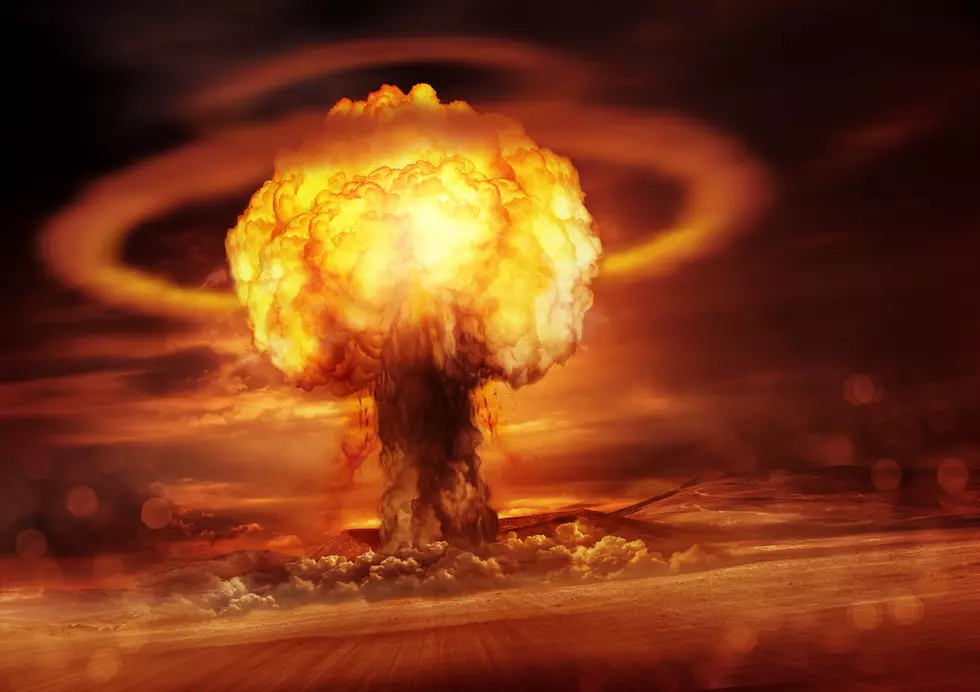 Nuclear Attack: 15 Worst Places You Can Be Include This Illinois City
solarseven
If you live in the Quad Cities that means you technically live in two states that are home to high-ranking nuclear targets. Iowa and Illinois are on this list. I know this isn't a super fun topic, but it's interesting to see what the top 15 targeted states are.
The threat of nukes has been in the back of many Americans' minds since the cold war. Many of us have spent our entire life at least a little worried about it.
With this threat on people's minds, 24/7 Wall St ranked different areas to determine the worst place to be during a nuclear attack on the United States. Both Iowa and Illinois were found on this list. Many most likely could predict Illinois being on this list, but Iowa was a shock.
Iowa's Ranking
Coming in at number 9 is Omaha & Council Bluffs, NE & IA... so it's not just Iowa, but this spot gets Iowa and Nebraska on this list. Why is this location in the top 10? It turns out the Offutt Air Force Base is actually the headquarters of the U.S. Strategic Command. It's located right between Iowa and Nebraska. You can learn more here.
How They Got These Findings
These are some big claims to make, here is how they got their numbers,
To find the worst places to be if there's a nuclear attack on America, 24/7 Wall St. constructed an index consisting of several measures to rank major U.S. cities likely to be targets based on both Schwartz's and Redlener's lists.
The measures in the index include population density; city preparedness for emergency; economic significance; city preparedness plans; distance to the strategic military target; proximity to nuclear power plants; and ease of evacuation based on commute time as a proxy to congestion and the percentage of a city area that is water.
Illinois Ranking
In the 4th spot is Chicago, Illinois. It's not alone on the list as a whole the spot describes Chicago, Naperville, and Elgin. Making the Chicago area of Illinois a high-ranking target.
With four nuclear power plants within 50 miles of the city – the nearest not 20 miles away – Chicago is another possible civilian target. If these power plants are hit in addition to the city in a nuclear attack, it could exacerbate conditions in Chicago. Any attack on O'Hare International Airport, the world's fourth largest, would severely cripple travel in North America.
In the grand view of things, Elgin would be another speculated area according to 24/7 Wall St. Some quick info about the area is as follows,
Elgin is a city in Cook and Kane counties in the northern part of the U.S. state of Illinois. Elgin is located 35 mi northwest of Chicago
Naperville is a western suburb of Chicago, Illinois. These two are mentioned again because the main target is Chicago, but the other two are so close that they too could be targets.
The city has the third highest GDP of any U.S. metro area after New York and Los Angeles, so its destruction or evacuation would have a major effect on the national economy.

Worst Places To Be for Nuclear Attack In The US
While Chicago isn't in the top three, it is still high up there. The third and second spots are very similar to Chicago. The top three locations on this list were as follows:
3. San Francisco-Oakland-Berkeley, CA
With a high population, an iconic name, and a rough evacuation rate, this spot is number 3.
2. New York-Newark-Jersey City, NY-NJ-PA
Again, high population, an Iconic name, and a rough evacuation rate. They do have their emergency preparedness: "New York's Plan Now types of terrorist attacks, including nuclear preparedness PSA"
1. Washington-Arlington-Alexandria, DC-VA-MD-WV
We all most likely expected this one to be on the list. The number one target is multiple spots in the area.
The nation's capital has more than one highly valued target, not the least of which is the Pentagon, the headquarters of the U.S. Department of Defense, which was already a target of the terrorist attacks on 9/11.
Illinois Arcade House
If you want a place to entertain or be entertained...a short drive to Bloomington will put you right!
Iowa City House Reminds Me of Ferris Bueller's Car Crash Scene