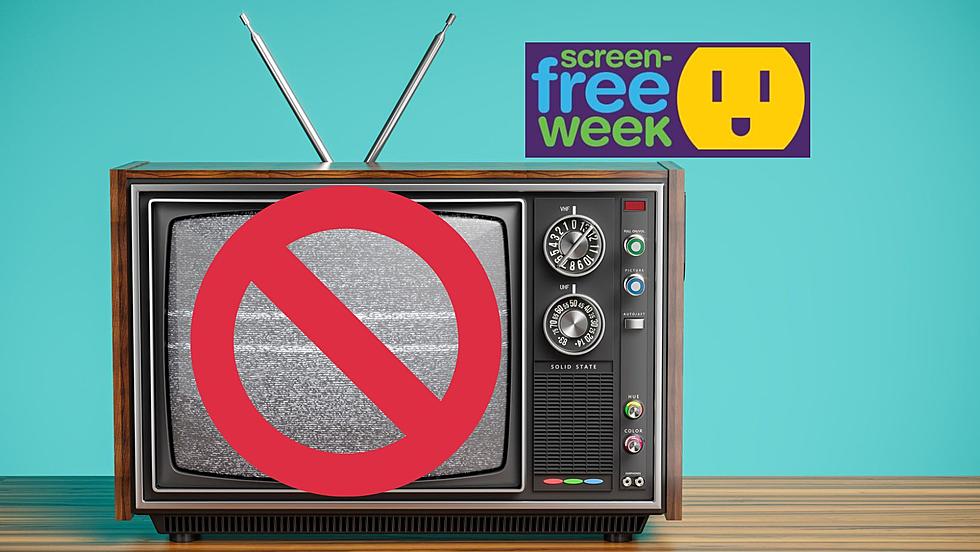 It's National Screen Free Week And We've Been Failing…
Credit: Getty Images / Screenfree.org
Computers, TVs, Phones, Tablets, Gaming consoles... It can be difficult to get away from the screens now-a-days, but this week is the perfect time to try as it's officially National Screen Free Week through Sunday, May 7th.
But what exactly is Screen Free Week and how can we make it work to our advantage? Glad you asked... Celebrated the first week of May, National Screen Free Week is a week-long challenge for families, schools, and communities to disconnect from digital entertainment screens. The goal here is to create or instill in ourselves a healthier relationship with the technologies of today.
Screen-Free Week is an annual invitation to play, explore, and rediscover the joys of life beyond screens. Even though it's about turning off screens, Screen-Free Week isn't about going without. Rather, it's about what you can get when you put down the electronics! An hour dedicated to YouTube becomes an hour outside. Ten minutes off social media turns into a chance to draw or do a puzzle. A movie on a rainy afternoon can be replaced by time spent reading, chatting with your kids, spouse, or friends, or even (gasp) playing make-believe with your kids.
You can celebrate Screen-Free Week anywhere. Just put down those entertainment screens and do literally anything else! You might be surprised at what you find. Plan a day, a few hours, or the whole week; however you participate is great and even better you can tune in to your local radio station (see what I did there) for news and your favorite tunes while you "do."
Honestly, it's all about the kids here. They get WAY too much screen time. It all started back in 1994 when Henry Labalme and Matt Pawa created TV Turnoff Week and through the years, millions of kids and families have joined in turning off their TVs and going outside, playing, and having screen-free fun. Then In 2010, TV Turnoff Week officially became Screen-Free Week.
Looking for ways to enjoy life WITHOUT the screen? Here's a list to get you started:
Visit the National Mississippi River Museum and Aquarium
Go hiking in one of the many area preserves, parks, and wildlife sanctuaries
Take a trip with friends to one of the many local breweries, wineries, or eateries
Visit the Dubuque Arboretum and Botanical Gardens
Get to Crystal Lake Cave
Stroll through the Dubuque Museum of Art
Pay your respects at Veterans Memorial Plaza
Take the family swimming (maybe indoors this week)
Check out Dubuque's now iconic street art while you take in a day of shopping downtown
Get jumping at Vertical in the Kennedy Mall
If you don't mind the chill, there's even some local ziplining to enjoy
Stare in wonder at the stained-glass windows of St. Luke's United Methodist Church

Looking for more ideas? Find loads of resources to plan the rest of this week here; and make sure to check out more local options for getting away from the screens below!
Hiking Trails and Nature near Dubuque, Iowa
Nature and hiking areas around the Dubuque, IA area.
The Dubuque Arboretum & Botanical Gardens
A stroll through the Dubuque Arboretum & Botanical Gardens in Early Spring