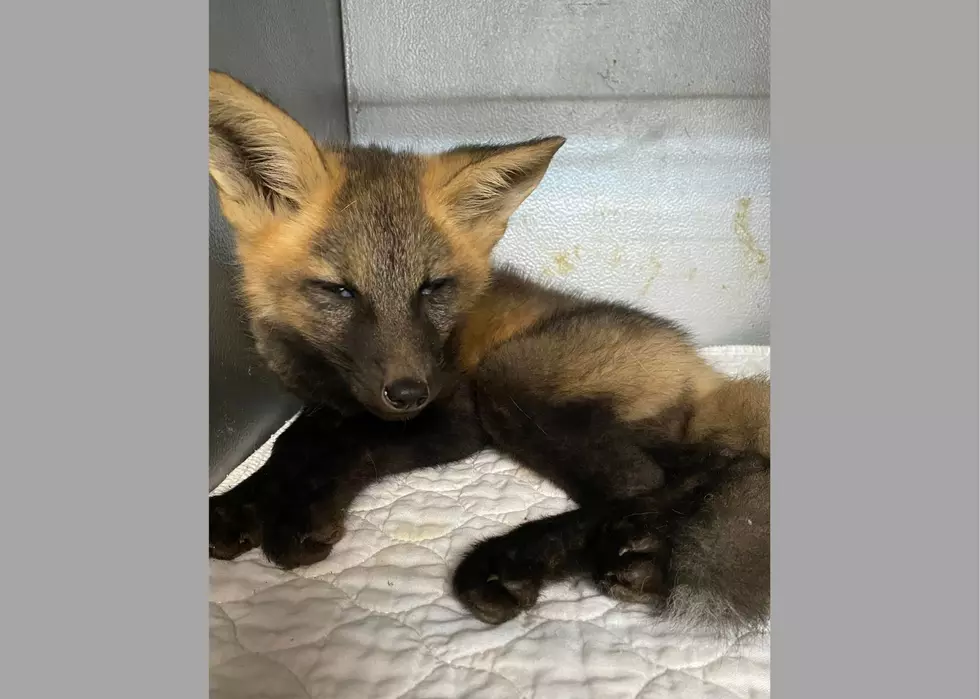 UPDATE: Rare Injured Baby Fox in Kewanee Had To Be Put Down
Hog Capitol Wildlife Rescue and Rehab Facebook
Update: These are the kind of updates I hate to share. The injured baby cross fox that we told you about in the story below had to be euthanized. Here's the Facebook post by the Hog Capitol Wildlife Rescue and Rehab in Kewanee:
It's with an extremely heavy heart that we have to tell everyone, the world is minus one beautiful baby cross fox tonight. Even in the best of care with the highest technology, little man's injuries were far greater than originally thought. He may have been able to live with only 3 legs, but the other ankle being broken put the odds against him. The most humane decision, but also the suckiest was to put him down while he was under anesthesia for exam. It was a very sad day all the way around. We were hoping and confident that the outcome would be better. Rest In Peace sweet angel
The heartwrenching picture they posted with it:
Rest easy, tiny one.
Original Story (from 5/31/22):
An injured baby fox of a rare breed was brought into the Hog Capitol Wildlife Rescue and Rehab and now they need your help.
The baby is a cross fox and according to the wildlife rescue center, he has a badly broken leg, to the point that the bone is sticking out. The assumption at the center is that the little fox was hit by a car. The Kewanee rescue is hoping that either setting the bone or surgery can fix it but they need donations to the fox's vet costs to make it happen. That's where you come in.
The baby was brought into the rescue and rehab center on Sunday morning so you still have time to help him. You can donate to the fox's vet costs and rehabilitation efforts through their Facebook fundraiser, which is at their profile here. Or you can donate via phone at (309) 540-9126. I'm a sucker for baby animals anyway and this little fluffy fox really needs our help right now.
In case you were wondering why the little guy is considered rare: cross foxes (especially babies) are considered rare because they are exactly that-a cross between a red fox and a silver fox, giving them beautiful two-toned markings. All cross foxes have white-tipped tails.
If you have any questions about the fox, the wildlife rescue and rehab center in general, or any other ways that you can help out Hog Capitol, you can reach out to tamara.frank@comcast.net.
New Doggy Resort Treats Your Pup Like The Royalty They Are
Here are some features from other K9 Resorts across the nation
See The Renderings for Downtown Rock Island's Beautiful Arts Alley
Downtown Rock Island's Arts Alley is set for a facelift later this year. See what they have in mind!