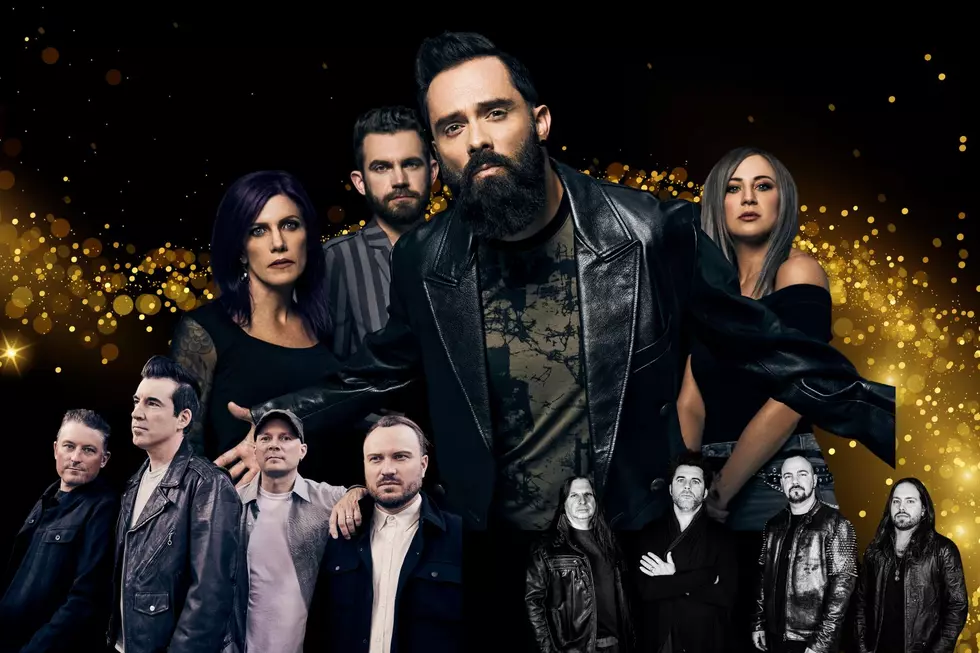 I-Rock 93.5 Concert Announcement: Skillet and Theory of a Deadman Coming to East Moline
Jimmy Fontaine/APA/Canva
The Rock Resseruction tour is coming to the Quad Cities and it will be your chance to see three big-time bands in a smaller venue.
The tour with Skillet, Theory of a Deadman, and Saint Asonia will make a stop in East Moline at The Rust Belt.  Tickets are SOLD OUT.  The last chance to win will be listening today (2/16) and by winning your party pit tickets to see Skillet, Theory of a Deadman, and Saint Asonia below.

Skillet has been to the Quad Cities before.  The last time they were here they played the TaxSlayer Center (that's what it was called then).  Theory of a Deadman have rocked the QC as well with a lot of room for people to see that show.
Now, they will come together and be joined by Saint Asonia to pack The Rust Belt for an awesome night of rock.
Skillet
As one of the best-selling rock bands of the 21st century, Skillet continues to rebel against conventions, doubts, expectations, and rules with the intent to uplift in light. The two-time GRAMMY® Award-nominated, multiplatinum Kenosha, Wisconsin quartet—John Cooper [lead vocals/bass], Korey Cooper [guitar/keys], Jen Ledger [drums/vocals], and Seth Morrison [lead guitar]—never compromise their integrity. Instead, they've traveled their own path to unprecedented heights with an urgent sound, undeniable energy, and unbreakable spirit.
Theory of a Deadman
Rock 'n' roll needs to hit all the right spots. With sky-high hooks, riffs as thick as a 2x4, rumbling grooves, and a razor-sharp sense of humor, Theory Of A Deadman have quietly persisted as an unapologetic, unbreakable, and undeniable hard rock force with major multi-platinum hits and countless sold out shows in each of the past two decades. Picking up the pace for the next chapter, the award-winning quartet—Tyler Connolly [lead vocals, guitar], Dave Brenner [guitar, backing vocals], Dean Back [bass], and Joey Dandeneau [drums, backing vocals]—will once again deliver a barrage of anthems on their eighth full-length offering, coming soon.
Saint Asonia
By turning inward, Saint Asonia amplify every element of their signature sound. Skyscraping hooks soar higher, while arena-ready rhythms rattle harder. The guitars cut deeper, and the lyrics resound louder than ever. The quartet—Adam Gontier (formerly of Three Days Grace) [vocals, guitar], Mike Mushok (Staind) [lead guitar], Cale Gontier [bass], and Cody Watkins [drums] (Art of Dying)n—find power and strength on their aptly titled 2022 EP, Introvert [Spinefarm Records].
Let's rock the Rust Belt in East Moline on Sunday, February 19.  Call it a late Valentine's present for your rock sweetie to see all these bands together.  Sign up below to win your tickets!
*Contest ends 2/16/23 at 11:59 p.m.
11 Celebrities You're Most Likely To Encounter In The QC
Every city has connections to famous people, but the QC has a pretty high volume of famous visitors. Let's take a look at some famous faces you may catch here in the Quad Cities from time to time.
Illegal Pets In The Quad Cities
Every state has laws when it comes to owning pets. No matter how badly you want these pets, you could see some fines for having them.