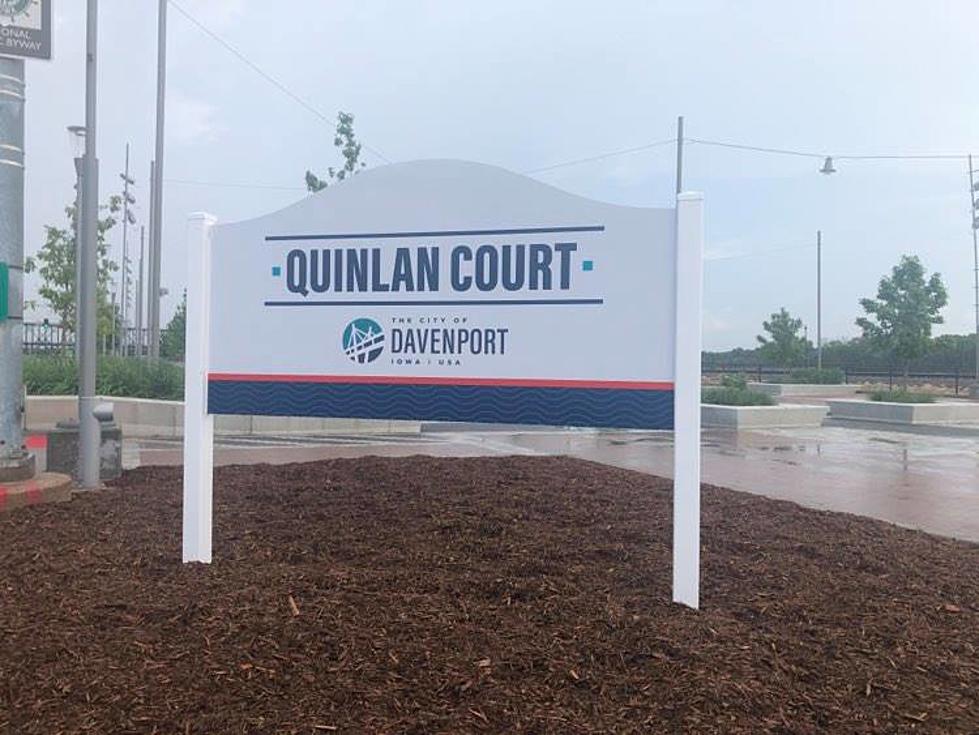 Free Thursday Night Concert Series Coming To Davenport Riverfront
Quinlan Court
The Quad Cities is full of events all summer long. The City of Davenport is adding a new concert series to its newest venue on Davenport's riverfront. The concert series is called Riverpalooza and it will be a weekly concert series that will take place on Quinlan Court.

The City of Davenport is giving us more things to do this summer with its newest concert series called Riverpalooza. According to a social media post from the City of Davenport, Riverpalooza is a Thursday evening concert series that will take place on the new Quinlan Court (103 East River Drive).
Quinlan Court officially opened for events back in June of 2021. Located between Brady and Perry Streets on River Drive, Quinlan Court is a flexible event space that can be used in many ways. Quinlan Court features space for 66 vendor tents, 15 food trucks, or 66 parking spaces. For events at nighttime, there is programmable lighting, and for events with live music, there is a temporary stage option.
Many people will be enjoying Quinlan Court every Thursday with Davenport's newest concert series in Riverpalooza.
Riverpalooza will go on all summer long and the first Riverpalooza of the summer is this Thursday with Class of '82 taking the stage.
The City of Davenport said in its social media post that during Riverpalooza every Thursday at Quinlan Court, there will be food trucks and beverage vendors who will start serving at 6 p.m. This Thursday, Front Street Brewery will be on hand selling its popular beers and that makes sense since Front Street Pub & Eatery is right across the street from Quinlan Court.
Bands every Thursday will take the stage at 7 p.m. and the fun will wrap up around 9 p.m., according to the City's calendar. Below is the list of dates and bands you'll see at Riverpalooza every Thursday at Quinlan Court:
June

June 2 - Class of '82
June 9 - Rebecca Casad & Alan Morrison
June 16 - MVBS with Chris Beard
June 23 - Isaiah Davis
June 30 - Panic River Band

July

July 7  - Dani Lynn Howe
July 14 - Frankie Joe
July 21 - The Tailfins
July 28 - Sam Day

August

August 4 - Totes McGotes
August 11 - The Velies
August 18 - Jef Spradley
August 25 - Barley House Band

September

September 1 - MVBS with John Resch & Doggin' Out
September 8 - Lewis Knudsen
September 15 - Mo&Co
September 22 - FlatTop
September 29 - TBD
Admission for every Riverpalooza concert series event is free. Get out and enjoy summer, Quad Cities!
Keep Looking: Wisconsin Barn Transformed Into Awesome Airbnb with Sand Floor Tiki Bar
Wisconsin is not the place you usually think of when you think of tiki bars, sand on your feet, and getting a tan. But, it is the place you think of when you think of barns. This barn has been transformed into an awesome slice of tropical with all those features and more.
Get Your Share of Local LOL's at New Shirt Shop Empire QC
New teeshirt shop Empire QC is open in Downtown Davenport and it features rotating local designs on teeshirts.