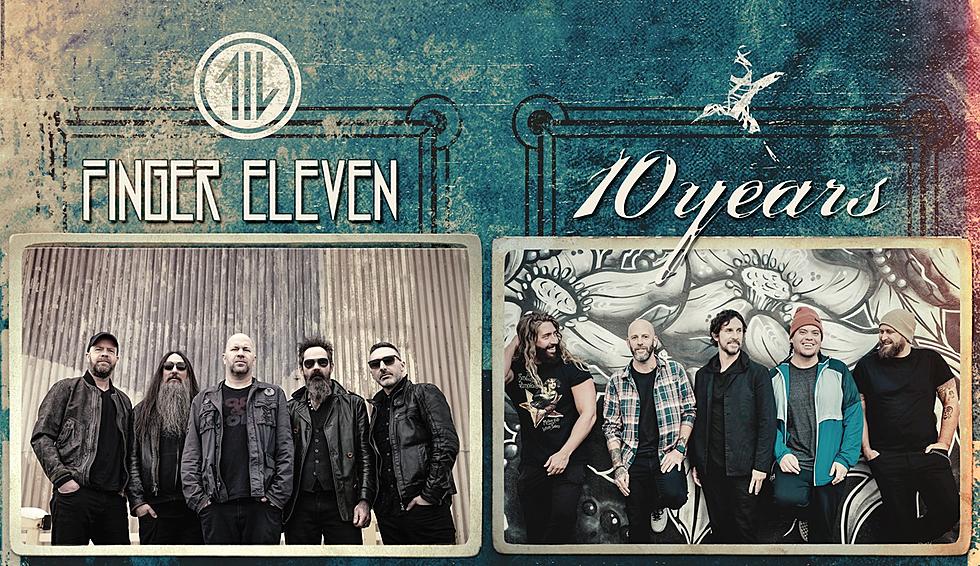 I-Rock 93.5 Concert Announcement: Finger Eleven and 10 Years Coming To Quad Cities
Rust Belt
On Labor Day weekend we'll turn it up to 10...and then to 11 in East Moline.
I-Rock 93.5 is proud to present Finger Eleven and 10 Years at The Rust Belt.  Tickets are on sale now.  The all-GA, all-ages show will happen on a Sunday, but you better not be working the day after!
Check out the details below and sign up to win your tickets from your concert leader I-Rock 93.5.
Finger Eleven
Finger Eleven grew up in Burlington, Ontario, and came together in high school as a funk-styled band. Originally comprising vocalist Scott Anderson, bassist Sean Anderson, drummer Rob Gommerman, and James Black and Rick Jackett on guitars, they won a rock band search contest on local radio and used the prize money to record their first album, 1995's Letters from Chutney.
In March of 2007 "Them vs. You vs. Me" featured much more varied instrumentation and influences -- including dance, funk, and country -- than just the chugging metallic guitars of Finger Eleven's past efforts.  This album would yield their biggest hit in America with "Paralyzer" reaching number 1 and going 5x platinum.
10 Years
For nearly 20 years, 10 Years have quietly pushed themselves and modern rock towards evolution.
10 Years gold-selling 2005 breakthrough The Autumn Effect brought the hit "Wasteland," which went gold and clinched #1 at Active Rock Radio and #1 on the Billboard Alternative Songs Chart.
2017's (How to Live) As Ghosts marked a reunion between Jesse, Brian, and Matt and achieved considerable success. Not only did the album hit the Top 5 of the US Top Hard Rock Albums, but it also featured the hit "Novacaine." The single ascended to the Top 5 of the Billboard US Mainstream Rock Songs Chart.
Violent Allies was released in September 2020 which was a different time for everything.  The album would bring two more top 20 hits with The Shift and The Unknown.
Eva Under Fire
They just can't get enough of the Quad Cities.  Yes, Eva Under Fire will be with Pop Evil on August 15 but they will also be on this tour and will be back in town.
Finger Eleven and 10 Years will rock The Rust Belt Labor Day weekend.  Get your tickets here.
Keep listening and sign up below to win your tickets and get in the show from your concert leader, I-Rock 93.5.
Trivium & Beartooth at The Rust Belt in East Moline
Trivium, Beartooth, Malevolence and Archetypes Collide rocked the Rust Belt on June 2 and now you can clearly see what it looked like through the sweat and pits.
These Are The Top 10 "Trashiest" Towns In Illinois
RoadSnacks.com ranked the top 10 "trashiest" towns in Illinois based on government data.