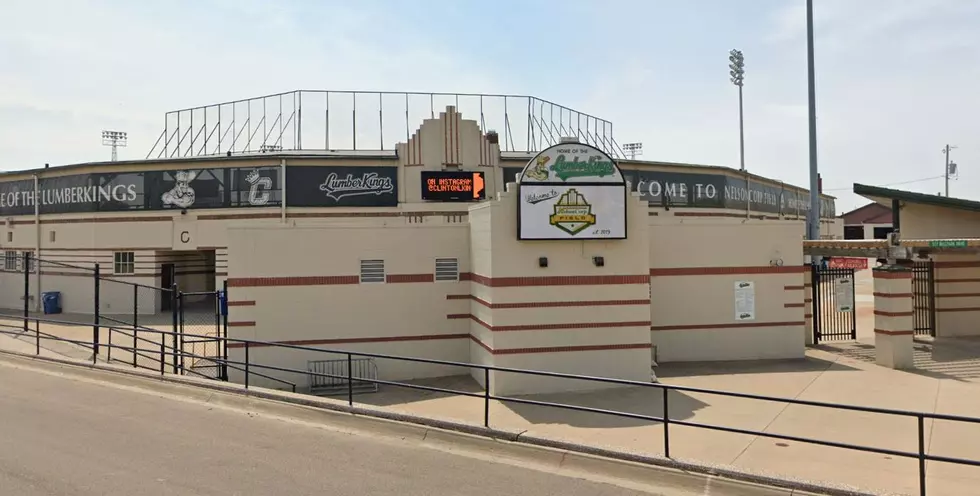 Clinton LumberKings 2021 Schedule Released
Google View

Enter your number to get our free mobile app
There will be baseball in Clinton this year, but majority of the teams they will be playing will be brand new to the ball club. The LumberKings have released their 2021 schedule for their first year in the Prospect League.
Back in January, the front office for the Clinton LumberKings announced that they would be joining the Prospect League. This decision came after the MLB decided to drop several minor league teams from their farm system.
The Clinton LumberKings and the Burlington Bees were among the several teams that were dropped by Major League Baseball.
This Prospect League is a 16-team Collegiate Wood Bat league with teams spread across the Midwest from eastern Missouri to western Pennsylvania. The LumberKings  and Bees are the first two Iowa teams to join the league.
In a press release on Monday, the Clinton LumberKings announced their 2021 schedule. The Prospect League's season runs from May 27th to August 4th with a total of 60 games. Each team will have 30 games at home and 30 on the road. The league is split into two conferences, each with two divisions. There will be a first half and a second half champion in each division. Playoffs start on August 5th, the day after the regular season ends.
In the press release, General Manger for the Clinton LumberKings, Ted Tornow, said,
"We are very excited to announce the upcoming schedule for games here at NelsonCorp Field. It has been a long time since the last game here. We have always said that baseball will be played here during the 2021 season. We have a great facility and we look forward to seeing everyone here on May 27th."
Even though there are 6 new teams in their conference, he LumberKings will begin the season by taking on the Burlington Bees at NelsonCorp Field. The game will take place on Thursday, May 27th at 6:30 p.m.
The full schedule for the Burlington Bees can be found here.
Along with the Clinton LumberKings and the Burlington Bees, the other teams in the Western Conference are:
Alton River Dragons (Alton, Illinois)
Cape Girardeau Catfish (Cape Girardeau, Missouri)
Normal CornBelters (Normal, Illinois)
O'Fallon Hoots (O'Fallon, Missouri)
Quincy Gems (Quincy, Illinois)
Springfield Sliders (Springfield, Illinois)
The eight teams in the Eastern Conference are:
Champion City Kings (Springfield, Ohio)
Chillicothe Paints (Chillicothe, Ohio)
Danville Dans (Danville, Illinois)
Illinois Valley Pistol Shrimp (Peru, Illinois)
Johnstown Mill Rats (Johnstown, Pennsylvania)
Lafayette Aviators (Lafayette, Indiana)
REX Baseball (Terre Haute, Indiana)
West Virginia Miners (Beckley, West Virgina)
Officials from the LumberKings say that a promotional schedule including giveaways, fireworks and post-game concerts, will be released at a later date.
More information and ways to purchase tickets can be found on the Clinton LumberKings website.
Below is the full schedule for the Clinton LumberKings:
The 100 Best Places to Live in the Midwest