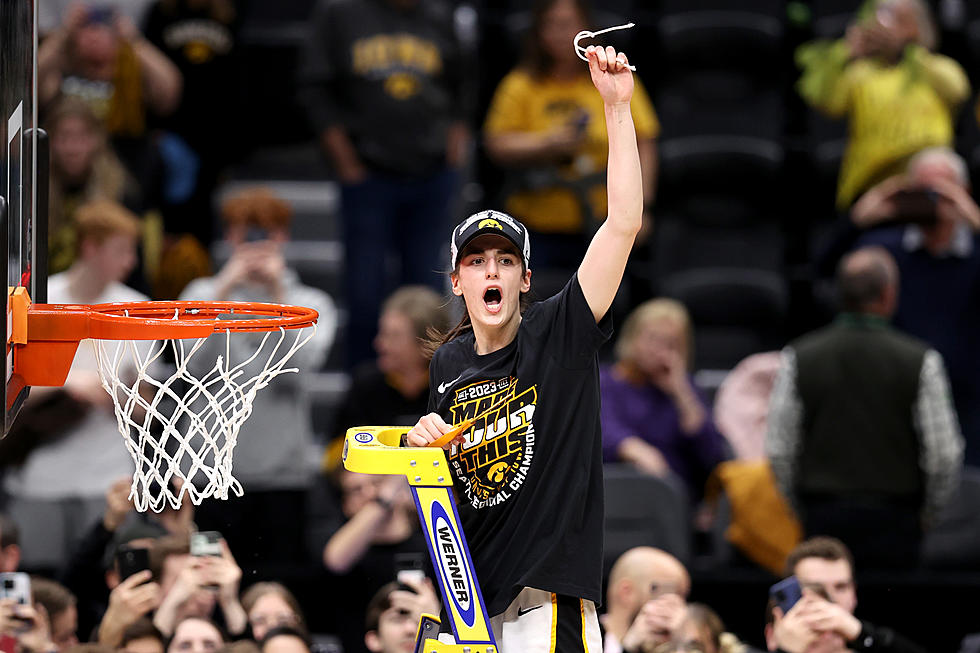 Clark Makes History! Hawkeyes In The Final Four! [WATCH]
Getty Images
On college basketball's biggest stage, with an entire state and much of the nation watching, Iowa's Caitlin Clark turned in perhaps her greatest performance yet to propel the Iowa women's basketball team to the Final Four!
The 2nd seeded Iowa Hawkeyes pulled away from Louisville in the second half and held on for a 97-83 win in the Seattle Region 4 on Sunday night. While the win was a team effort and featured fantastic performances from the likes of Gabbie Marshall and McKenna Warnock, the stage belonged to Caitlin Clark. At one point during the second half, she became the first player in the history of the women's tournament to record a 30-point triple-double. Then, she broke THAT record by becoming the first player, in men's or women's basketball history, to record a 40-point triple-double in the NCAA Tournament!
This Iowa team reached a new high, hitting the 30-win mark for the first time in team history. And leading the way was head coach Lisa Bluder. The head Hawk told the Cedar Rapids Gazette "It's like a storybook, but it's kind of been like that all year long for us. We keep talking about destiny and how it is supposed to happen, and it is happening."
The game was also an emotional moment for Iowa assistant Jan Jensen. The Gazette reports that at 6:45 Sunday morning, she received the call that her father, Dale, had passed away in hospice care from pancreatic cancer. Jensen said that she had talked to him on Saturday, and told him that Iowa was playing Louisville to go to the Final Four. She said that she would call again on Sunday. That phone call would never happen. But Jensen's father was with the Hawkeyes on Sunday, and she pointed to the heavens as she cut down the net in Seattle.
So what comes next for your Iowa Hawkeyes? A trip to Dallas for the Final Four! They'll learn who they'll face in a national semi-final tonight as #1 seed and undefeated South Carolina takes on Maryland. The Hawkeyes get the winner, and you almost get the feeling they want South Carolina. Why not? This Iowa team has the likely National Player of the Year. They play as a team. They never back down. Two more to go, Hawkeyes. Two more to go.

Best Photos From A Magical Weekend at Carver-Hawkeye Arena
On Saturday and Sunday, February 25 and 26, 2023, the Iowa men's and women's basketball teams pulled off last-second victories against Michigan State and Indiana.
On Saturday, the men became just the 4th team in college basketball history to overcome an 11-point deficit with less than 1 minute to play.
On Sunday, the #6 Iowa women defeated #2 Indiana on a 3-point shot at the buzzer by Caitlin Clark.
LOOK: Biggest underdog victories in March Madness
Every spring, legions of sports fans turn their attention to college basketball when
March Madness
takes the national spotlight. Using aggregated Associated Press data, BestOdds has come up with 10 of the biggest—and most unlikely—underdog wins in March Madness history.