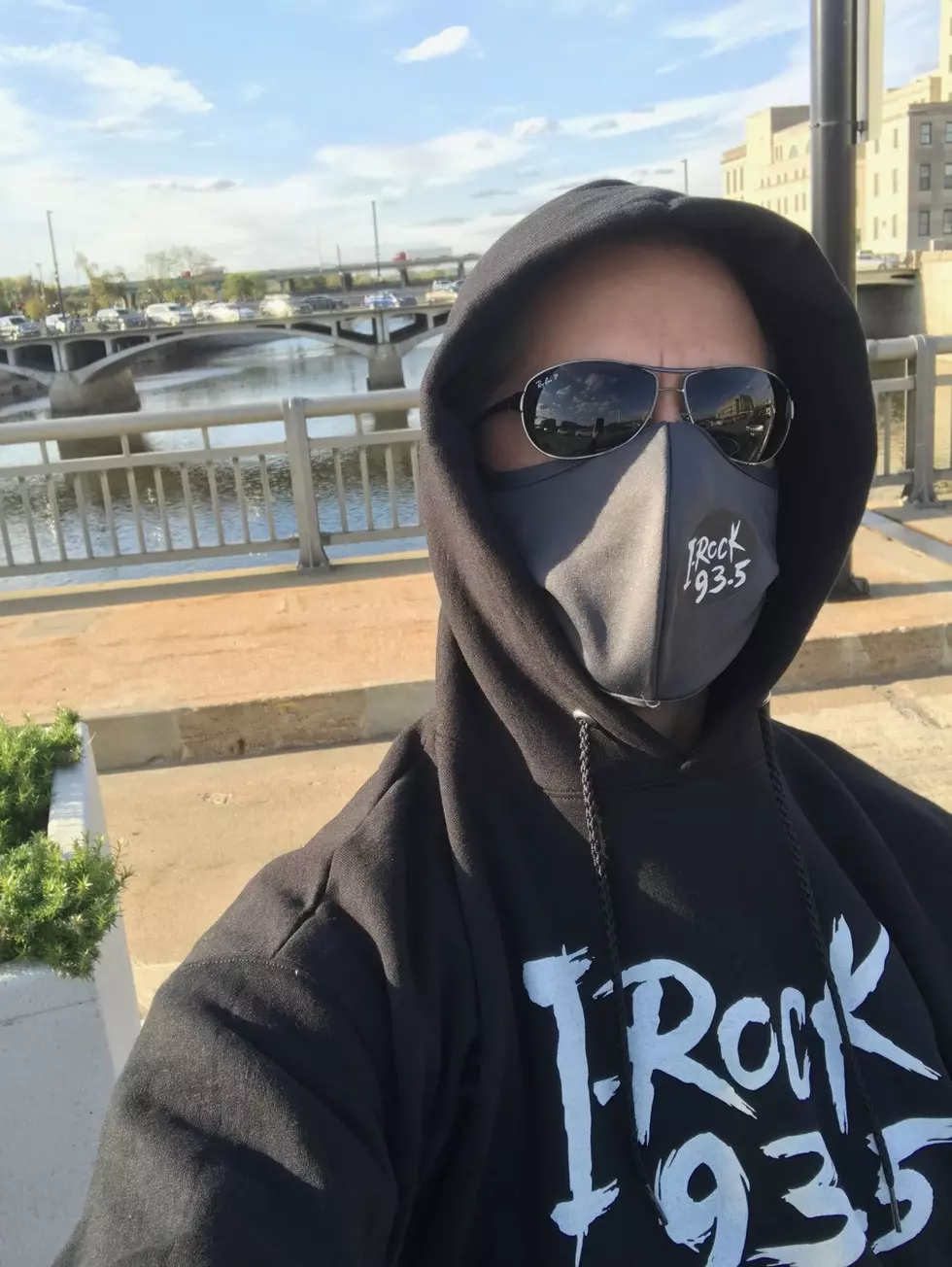 Aaron and Sully: My First Corona Concert
Yeah, I looked like the Unabomber.
Friday was my first experience of going to a concert in this coronavirus world.  I'm ready for more.
Aaron Lewis and Sully Erna came to the McGrath Amphitheater in Cedar Rapids for their "American Drive In" tour.  At first the name was a little confusing cause it sounded like we'd be in our cars watching them on a screen.  If you know that venue, you know the cars wouldn't have worked there.  No, the guys were live in person on the stage right in front of us.
Let's start with the experience of getting to the show.  It was as normal as any show you've ever been driven to.  I didn't know where I was going so I had to circle for parking for a bit, but that's cause I'm always worried about parking somewhere wrong and getting the car towed.  Spoiler to the end of the night...it was fine.
I went to the 5:30 early bird special.  Talking with a co-worker who went to the 9pm show, she said it was totally different than what I watched.  Different songs, different banter, even different instruments.  I didn't get to see Sully play the piano in the early show.
After parking, I started the walk to the venue.  Way before getting to the venue I saw the signs about masks, clear bags, 6ft of distance and don't come in if you are sick.  There was no reason to not know the rules as you walked up.
As I went to get my ticket at will call, I instantly noticed all the markers on the ground to keep us 6ft apart.  And I noticed the workers all wearing masks.  It was like nothing we've experienced at a concert before, but exactly what we've experienced everywhere else the last 7 months of our lives.
The masked usher then pointed me to my seat, however before sitting, I hit up the beer tent.  More masks, and gloves on those serving the beer.  (I would have been wearing mittens.  It was cold and I'm a wus.)  There were markers of standing at the beer tent, merch tent and bathrooms.  It was very well organized and put together.
Then I got to the seat and observed the people.  Did every single person obey the mask rule while walking around.  Of course not.  But I'd say a solid 90-95% did.  I only heard one "bro" the entire night complaining about it.  He was also the same "bro" that left his seats in the back by me and snuck up front.  So he was just a d-bag all around.
Anyways, the seats were grouped in pods of 2 or 4 and separated so you weren't by other people.  Now for a Godsmack and Staind show, this might have gotten a little rowdy and the rule book tossed out the window.  But for this type of show, it worked perfectly.
It was Aaron Lewis and Sully Erna on stage with acoustic guitars.  They were playing deep cuts, songs you know and covers.  But also, it was just them being them.  Telling stories, ripping on each other, talking to the crowd.  Just having fun and playing music.  That is what made this so cool.  If you expected to see a "rock" show you were disappointed.  But you shouldn't have been expecting that.  If you expected to see two great artists exposed with nothing but them and their guitar, it was amazing.
The line of the night during the banter came from Aaron Lewis to the crowd.  "You know, I've been wanting to do this for a long time.  Get out on the road and do the acoustic show with another person.  So I called Corey Taylor but he wasn't available.  Then I called this guy."  Well played anywhere, perfect for Iowa.
The biggest highlights for me, of course Aaron doing "Outside" acoustic.  I just wanted to be Fred at that one point saying "I'm feeling those lighters.".  Even better was Sully playing "Running Blind" and "Touche".  Two songs from the Godsmack acoustic album called "The Other Side".  Two of my favorite songs from them in general and to see those played live was awesome.
The entire experience was different.  From the walk up, to the seats, to the stage to the performance.  Don't expect to be slammed next to somebody in a pit anytime soon.  Heavy shows that make us want to stand, jump and go nuts might still be awhile.  But if this is what concerts will be like for the foreseeable future.  I'm in.
One thing I was thinking about on the drive home, "who else would I love to see like that?"  What other artist(s) could be on stage, with one other guy telling stories, talking to the crowd and playing songs to a spread out crowd, yet still make the room feel full.  To all the promoters out there, here is a short list to get you started:  Corey Taylor (obviously), Dave Grohl, Billie Joe Armstrong, Myles Kennedy, Lzzy Hale, Michael Poulsen, Eddie Vedder, Jack White, Pete Loeffler and Trent Reznor.
I'm sure there are many, many, many more.  My point is, these shows will be a different experience but that is what we are dealing with right now.  Different.  So if it has to be different, bring it on.  I'm ready to go full in with the new till we can get back to the old.
Aaron and Sully in pictures

Enter your number to get our free mobile app
WATCH OUT: These are the deadliest animals in the world