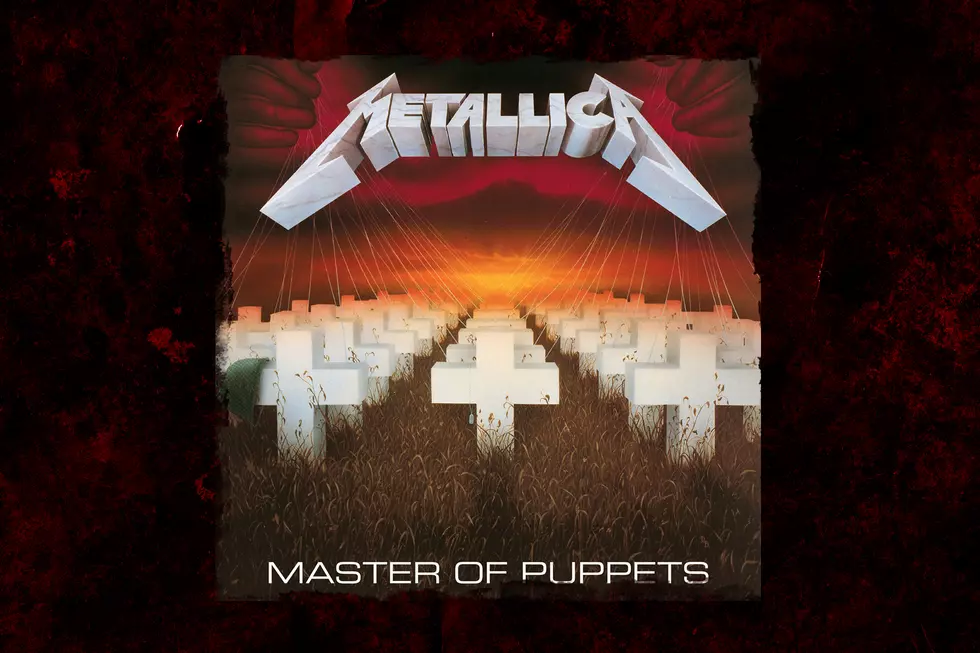 37 Years Ago: Metallica Unleash the Epic Album 'Master of Puppets'
Elektra
They had already established a blueprint. Now, all Metallica needed to do was create the next-level songs for their epochal third album, Master of Puppets, which they started writing in mid-1985 and released March 3, 1986.
It was easier said than done, but Metallica were up to the challenge. They had the momentum of a successful album and world tour behind them, and the confidence of a world class athlete an hour before a big game. Still, what Metallica accomplished in just six to eight weeks of writing was remarkable, especially considering the multifaceted nature of the songs they composed.
Today, Master of Puppets is widely acknowledged as the album that propelled thrash metal into the mainstream. The songs were pugnacious and explosive, but they were also meticulously crafted and expertly arranged. Combining machine gun tempos and barbed, staccato riffing ("Battery," "Disposable Heroes," "Damage, Inc."), rhythmically variegated epics ("Master of Puppets," "Welcome Home (Sanitarium)" offbeat mid-paced sluggers ("The Thing That Should Not Be," "Leper Messiah") and a cinematic instrumental ("Orion") Master of Puppets raised the bar for both thrash and the entire metal genre. But understanding the album's concrete-solid composition and immaculate song structures requires a glance back at Metallica's groundbreaking second album Ride the Lightning.
More than a bridge between their debut Kill 'Em All and Master of Puppets, Ride the Lightning gave Metallica the confidence to bend rules and established a game plan for the future. Both Master of Puppets and Ride the Lightning are landmarks of metal, but they're also practically sister records. They start with classical undistorted arpeggios that burst into jackhammer thrash passages, continue with a multifaceted track featuring abrupt rhythm and tempo changes, then they progress through a slower, ominous chug n' crunch fest. From there, both alternately delve into speedy thrash and more melody-based numbers. And both feature that soundtrack-style instrumental that instantly separates them from any and all competition.
Metallica, "Welcome Home (Sanitarium)" — Live
Not to take anything away from the brilliance of Master of Puppets, but by the time Metallica started writing the album, they knew they wanted to build on the innovations of Ride the Lightning, only with longer songs, better riffs and more unrelenting metal-up-your-ass fury.
"We more or less wanted to redo Ride the Lightning, just a lot better," agreed producer Flemming Rasmussen in a recent Rolling Stone article. "I've always thought Metallica raised the bar every time they went in the studio. They challenged their own technical ability all the time, which is the only way you can get better."
Indeed, before they entered the studio, Lars Ulrich took drum lessons to improve his timing and agility and lead guitarist Kirk Hammett hooked back up with his old guitar teacher, Joe Satriani, for some pointers. The first song James Hetfield and Ulrich wrote at their dilapidated house in El Cerrito, Calif., was "Battery," followed shortly after by "Disposable Heroes."
Metallica, "Battery" — Live
"That song has some of my favorite lyrics that James has written," Ulrich said. "He nailed the whole wasted irrelevance of a soldier going off to war and life playing out before his birth. Musically, it's got a lot of classic Metallica elements: fast parts, mid-tempo verses, halftime things and a lot of interesting progressive stuff that weaves itself in and out of the whole middle section."
Lyrically, Master of Puppets revolved around themes of control and manipulation, a cerebral advance over the less sophisticated penmanship of songs like "Metal Militia" and "Hit The Lights." "Welcome Home (Sanitarium)" a song about an inmate trapped in an asylum was inspired by the Ken Kesey novel One Flew Over the Cuckoo's Nest, "The Thing That Should Not Be" saw Metallica revisiting their fascination with HP Lovecraft and "Leper Messiah" took aim at TV evangelists. But it was "Master of Puppets," which addresses the horrors of drug addiction ("Pain, monopoly / Ritual misery / Chop your breakfast on a mirror") that featured Hetfield's most pointed lyrics to date.
"I just went to this party in San Francisco and there was a bunch of sick freaks shooting up, and it made me sick," he said. "It's not about any drug in general but people being controlled by drugs and not the other way around."
In addition to being the lyrical highlight of Master of Puppets, the title track is the most musically adventurous song. But it's not far ahead of many of the other tracks. Throughout the record, Metallica throw traditional tempos in a blender and toys with extreme dynamics that veer between blinding speed and soft, delicate articulation. "We try hard to stay as unpredictable as possible," Ulrich said in Enter Night: A Biography of Metallica by Mick Wall. "We don't like the idea of playing it safe at all. We always like to try to do things that work out a bit different from what even we imagined them to be."
Metallica, "Master of Puppets"
While Hetfield and Ulrich wrote most of Master of Puppets together at their home, guitarist Kirk Hammett came up with ideas for five tracks. Bassist Cliff Burton co-wrote three and is widely credited for inspiring Metallica to incorporate more elements of classical music into their songs, as evident on "Battery" and "Orion." "I was consumed with [classical music], Burton said in a 1986 interview with Wall. "Taking lessons, getting into theory – it leaves quite an influence. A lot of music will go in one ear and out the other, but you listen to that shit for a month and it stamps you; it leaves its mark."
Metallica originally wanted Rush bassist and vocalist Geddy Lee to produce the album, but since they couldn't coordinate schedules they called Rasmussen, who produced Ride the Lightning. Instead of using Rasmussen's Sweet Silence studio in Copenhagen, Denmark, Metallica wanted to record in a studio in Los Angeles. The producer agreed and flew to L.A. to scout studios with Ulrich. After testing out numerous facilities and being unable to replicate the drum sounds he got on Ride the Lightning, Ulrich decided the band should return to Copenhagen and record at Rasmussen's place. His bandmates reluctantly acquiesced. At least this time they didn't have to spend the nights in sleeping bags on their producer's apartment floor, having booked book rooms in the Scandinavia Hotel in the city center.
Prior to entering Sweet Silence on Sept. 1, 1985, Metallica demoed all of the songs on the album except "The Thing That Should Not Be" and "Orion," which weren't finished. The band worked in Silence from 7PM to about 5AM. before returning to their hotel for free breakfast and sleep. To warm up for the session to come and test the studio sound, Metallica recorded covers of Diamond Head's "The Prince," The Misfits' "Green Hell" and Fang's "The Money Will Roll Right In" before they started tracking their own material. Versions of the first two songs were later recorded and appeared on other releases.
Almost from the start of the session, the band members realized Ulrich's snare sounded like a garbage can lid. So they called their management company QPrime and asked if they could send Def Leppard drummer Rick Allen's high quality Tama "Black Beauty" snare. The company also represented Def Leppard, and since their drummer Rick Allen was recovering from a horrible car accident that left his left arm amputated, QPrime were able to send it to Ulrich. As luck would have it, while Ulrich was waiting for the drum to arrive, he found the same model in a Copenhagen music store, and better yet, the price tag had be unchanged since 1979.
With a drum sound everyone was happy with, Metallica started began tracking. The process was productive, but time consuming since Hetfield recorded at least six guitar tracks for every song in order to get the desired dense tone he was after. And instead of layering a single version of a take, Hetfield insisted on playing every single guitar riff over and over. Many of the rhythms were challenging to play, and the slightest deviation meant redoing the take.
"I'm always saying, 'It's not tight enough,' Hetfield said in Birth School Metallica Death: Vol 1 by Paul Brannigan and Ian Winwood. People think I'm nuts. It's something that absolutely haunts me. After we recorded 'Hit the Lights,' which appeared on the Metal Massacre compilation [in 1982] this guy heard the song and told me, 'Oh, the rhythms aren't very tight are they?' Man. That was it! That started my lifelong quest. That was the Holy Grail for me – being tight."
On the days when Hetfield was perfecting his rhythms there wasn't much for Burton and Hammett to do. So they busied themselves with other activities. "We would stay up 24 hours at a time and just go out walking around Copenhagen kind of drunk, doing whatever we could to bide the time," Hammett told Rolling Stone. "I remember at one point, we found a beach on a map. So we went there but it was so cold and there was absolutely no wave action or anything. Cliff and I were just bundled up on this weird beach in Copenhagen saying, 'God, this place is driving us crazy!'"
On Sept. 14, Metallica took a break to play a set at the Metal Hammer Festival in Germany, where they debuted "Disposable Heroes." Over the remaining three and a half months they were in Copenhagen, Metallica finished writing "The Thing That Should Not Be" and "Orion" and recorded both. The latter, in particular, demonstrated the band's musical depth and diversity.
"For me, 'Orion' was Cliff Burton's swan song," Hammett told Rolling Stone. "It was a great piece of music, and he'd written the whole middle section. It kind of gave us a view into what direction he was heading. If he would have stayed with us, I think he would have gone further into [that] direction. Our sound would be different if he was still here."
Metallica, "Orion"
With Master of Puppets recorded, Metallica left Sweet Silence on Dec. 27. Then they handed over the master tapes to engineer Michael Wagener, who mixed the album at his Amigo Studios in Los Angeles. To date, most fans and critics consider the record the apex of thrash, the moment when the genre transcended previous limitations and smashed creative gates, giving Metallica and other artists more room for creative expression. However, for Ulrich, the record was an effort to escape from being labeled as anything other than a metal band.
"If you take the extremes of [the] album, which to my mind would be 'Damage, Inc.' and 'Orion' – the amount of ground we cover is so big, so vast, it really pisses me off that anybody would want to stick us with one label," he said in Enter Night. "Yes, we do a few thrash songs, but that's not all we like to do."
It seems insane in retrospect, but when Master of Puppets was released it only debuted at No. 128 on the Billboard album chart. Even so, it sold 300,000 copies in its first three weeks – according to Billboard – and peaked at No. 29 thanks in part to tremendous exposure they gained from a tour opening for Ozzy Osbourne.
"[Touring with Ozzy] was a huge break for us," Ulrich told Wall. "A the time, Ozzy was perceived as one of the most controversial metal stars in the US – he drew a really extreme type of crowd… Here we were as this even more extreme up-and-coming metal band that Ozzy was giving his seal of approval to by taking [us] out on tour with him."
The only snag during the North American tour happened on June 26 when Hetfield broke his wrist in a skateboarding accident. Hammett called Anthrax guitarist Scott Ian to see if he could fly out to fill in for Hetfield, but his band was about to enter the studio and he was unable to make it happen. Instead, Hammett's guitar tech John Marshall, who played in Metal Church, was able to perform on tour until Hetfield's wrist healed.
Master of Puppets remained on the Billboard album chart for 72 weeks and on Nov. 4, 1986, Metallica had their first gold record. Tragically, Burton didn't live long enough to receive the award. On Sept. 27, 1986, Burton died when the band's tour bus crashed and tipped over in Kronoberg County, Sweden. Burton, who was asleep in his bunk at the time, fell out of the window and was crushed under the vehicle. The band was on its way from a show in Solna, Sweden to its next gig in Copenhagen.
After Burton's funeral, Oct. 7, 1986, Metallica decided to continue with a new bassist. They held auditions and in the last week of October, dedicated Metallica fan and Flotsam and Jetsam member Jason Newsted auditioned for Metallica. His was hired soon after and played his first show with the band on Nov. 8, 1986 in Reseda, Calif.
On July 27, 1988, Master of Puppets was certified platinum by the RIAA. And despite Metallica's dramatic musical shifts throughout the '90s, Master of Puppets continued to sell: On March 1, 1991, it went double platinum; June 28, 1994, triple platinum; November 3, 1997, quadruple platinum; November 18, 1998, quintuple platinum; and June 9, 2003, sextuple platinum.
"I remember holding the album in my hands and thinking, 'Wow, this is a fucking great album, even if it doesn't sell anything," Hammett told Wall. "It doesn't matter because it is such a great musical statement that we've just created. I really felt that it would pass the test of time. Which it has."
Loudwire contributor Jon Wiederhorn is the author of Raising Hell: Backstage Tales From the Lives of Metal Legends, co-author of Louder Than Hell: The Definitive Oral History of Metal, as well as the co-author of Scott Ian's autobiography, I'm the Man: The Story of That Guy From Anthrax, and Al Jourgensen's autobiography, Ministry: The Lost Gospels According to Al Jourgensen and the Agnostic Front book My Riot! Grit, Guts and Glory.
Top 50 Thrash Albums of All Time