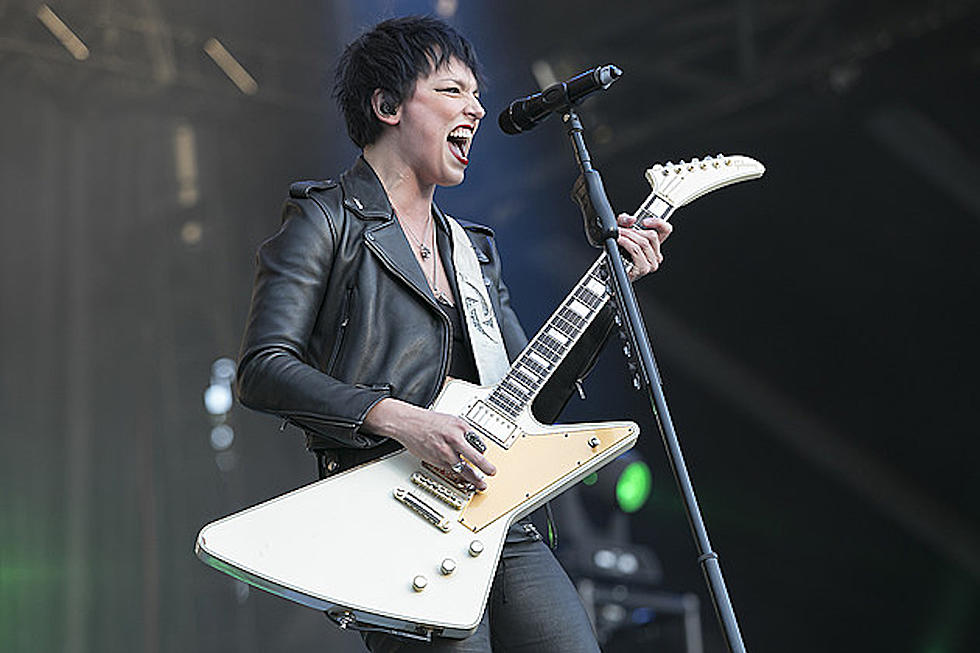 Watch Festival Crowd Sing Happy Birthday to Halestorm's Lzzy Hale
Raymond Ahner for Loudwire
Lzzy Hale celebrated her birthday on Thursday (Oct. 10) and the celebratory mood extended through Friday (Oct. 11) when Halestorm performed at this year's Aftershock Festival. Sirius XM's Jose Mangin led the sold out crowd in a "Happy Birthday" sing-along after the Halestorm frontwoman was presented with a birthday cake.
The moment was captured on video and shared on Hale's Instagram page with the second slide in the post showing a closeup on the cake wishing her a happy birthday with a "we love you" message from Danny Wimmer Presents, the festival's promoter.
It's clear Hale, who was decked out in a sweet white, studded, fringe leather jacket, was caught entirely surprise, exclaiming, "What!?," as Gary Spivack from Danny Wimmer Presents presented her with the cake before the two shared a warm embrace.
Commenting on the surprise, Hale captioned the post, "So this happened!!!! Never before has a festival taken it upon themselves, to not only mention my birthday(10/10) but make it an event!"
Watch it all in the video below and don't forget to check out the cake in the following slide.
In other celebratory Lzzy Hale news, the rocker will be among a group of recipients to be honored at this year's She Rocks Awards.
See If You Share a Birthday With a Rock Star