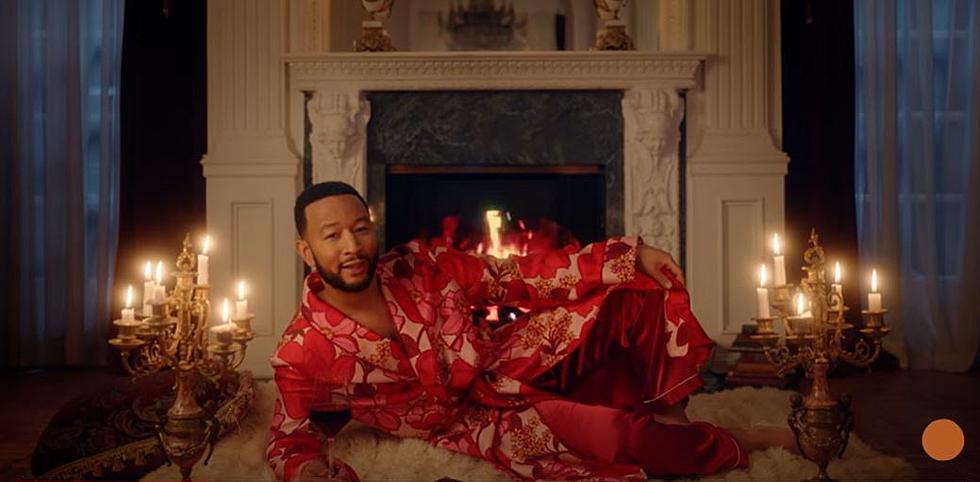 'Sleep With John Legend' New Super Bowl Ad Suggests
Photo: Headspace YouTube
The Super Bowl is this weekend and more commercials are being revealed. Not least among them is a sneak peek of the one from the app Headspace, which is an app designed to help with mindfulness and, of course, sleep.
Fitting for Valentine's Day weekend, the commercial features Grammy award winner John Legend laying on a rug in front of a fireplace with a glass of wine and his phone. He's got quite the offer: you could sleep with him (well, kind of).
The campaign is called "Love Yourself Like a Legend". It promotes Headspace's new sleep content. Legend narrates a Headspace Sleepcast within the app. The Sleepcast is audio that's designed to create an atmosphere to help put you to sleep and maintain healthy sleep conditions. If music is more your thing, there's also an 8 hour playlist geared towards sleep that Legend curated.
All of which sounds excellent. Going to sleep with John's voice would be fine. And how cute and festive are his PJ's?
The American Psychological Association says sleep deprivation can be linked to a litany of problems, including a heightened risk of high blood pressure, stroke, diabetes, heart disease, obesity and depression. They also say you could be cutting your life short if you chronically don't get enough sleep.
"After a Valentine's Day full of giving to our loved ones, we still have to save some love and care for ourselves," Legend says.
In case you forgot, you can catch the Super Bowl is this Sunday at 5:30 p.m. on NBC.
See The Cute Iowa Puppies Who Will Be In The Puppy Bowl
Five dogs from Iowa will be in Animal Planet's 2022 Puppy Bowl as players and cheerleaders! Meet the pups!
Look At These 13 Amazing Athletes From Illinois In The 2022 Olympics
The 2022 Winter Olympics in Beijing are underway! This marks the first year that the Winter Games are in China, and Beijing is making history as the first city to have played host to both the summer (in 2008) and winter Games.
For the 2022 Winter Olympics in Beijing, 13 athletes are from Illinois check out who is competing below.