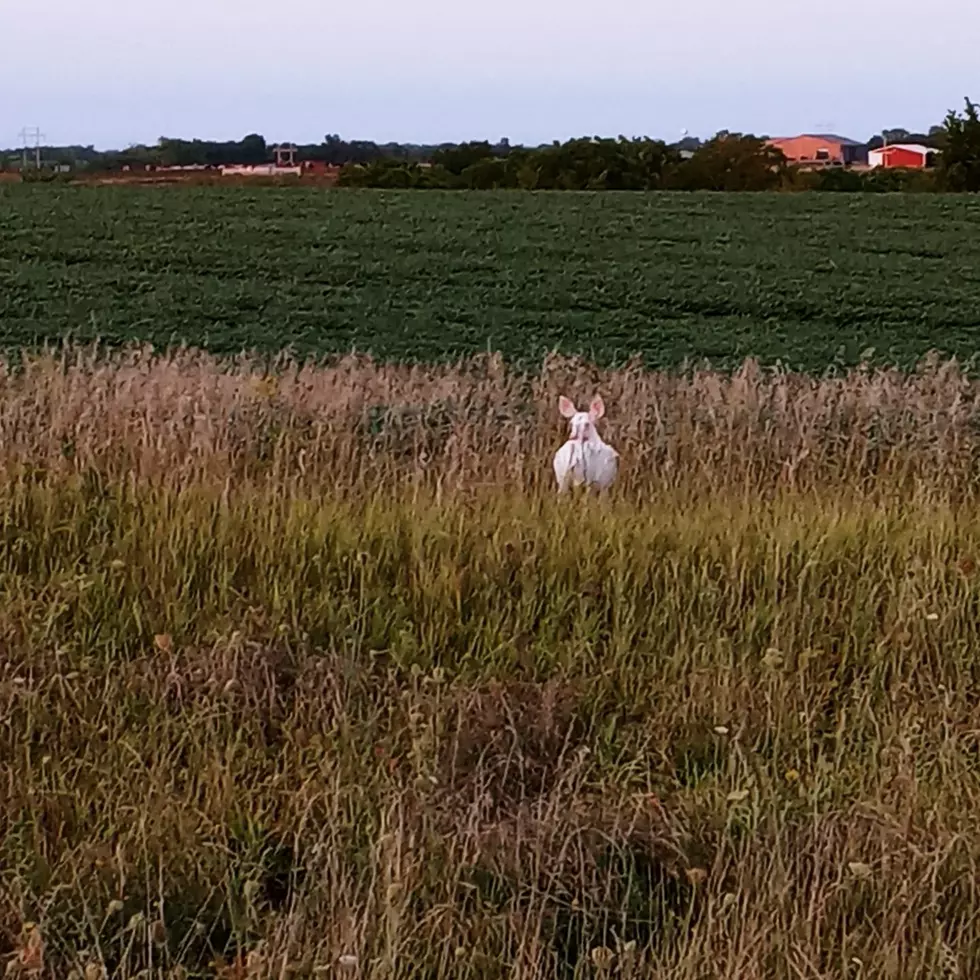 This Rare Albino Deer Photographed In Iowa Is A Beautiful Must See
Photo courtesy Cortney Davis-Davies
We've all seen whitetail deer while driving around Iowa, Illinois, and really anywhere in the Midwest.  But very few of us ever see an albino white tail deer.  This is why the one photographed in southern Iowa is so rare and quite the sight to see.
How rare are albino deer?
True albino deer are very rare.  Only one in 100,000 are born albino.  And, because the deer do not blend into their natural brown surroundings, many don't live very long.  As you can see, they stand out in the field.
Where was this albino deer spotted?
This albino deer was photographed by Cortney Davis-Davies in Lucas County Iowa.  About 3 hours west of the Quad Cities or an hour south of Des Moines.
Cortney says "We saw him Friday (8/26) with his mom and siblings who never left his side.  He is very little and easily disappeared into the beans."
What did the rest of the family look like?
Cortney says his sibling and mom were both normal brown-colored deer.  "The sibling was able to hide very well.  The mom circled around us a few times.  She wasn't going to leave him."
You can only shoot this deer with your camera!
Lucky for the little albino deer he is living in Iowa.  Hunting albino deer in Iowa and Illinois is illegal.  However, if the deer and his family were to keep wandering south they could end up in some dangerous territory.  It is legal to hunt albino deer just as normal deer in Missouri.
A true albino deer vs. piebald deer.
What is the difference between albino deer and piebald deer?  Albino, much like this little guy, are pure white.  Piebald deer are a mix of white and brown.  And while it's illegal to hunt albino deer, it is legal to hunt piebald deer if they are more than 50% brown.  

Thanks to Cortney for sharing the photos.
Cortney shared the photos on the Facebook group "Images of Iowa".  You can check out her post and all the other images that make up Iowa here.
Illegal Pets In The Quad Cities
Every state has laws when it comes to owning pets. No matter how badly you want these pets, you could see some fines for having them.
Iowa Cat Crystals
Crystal Cats Cleansing is all about helping the cats of Iowa. They found a way to do that, and be able to start a business with something they love. You can see some of the crystals they have right now.
More information about adopting a cat or buying crystals can be found
here.