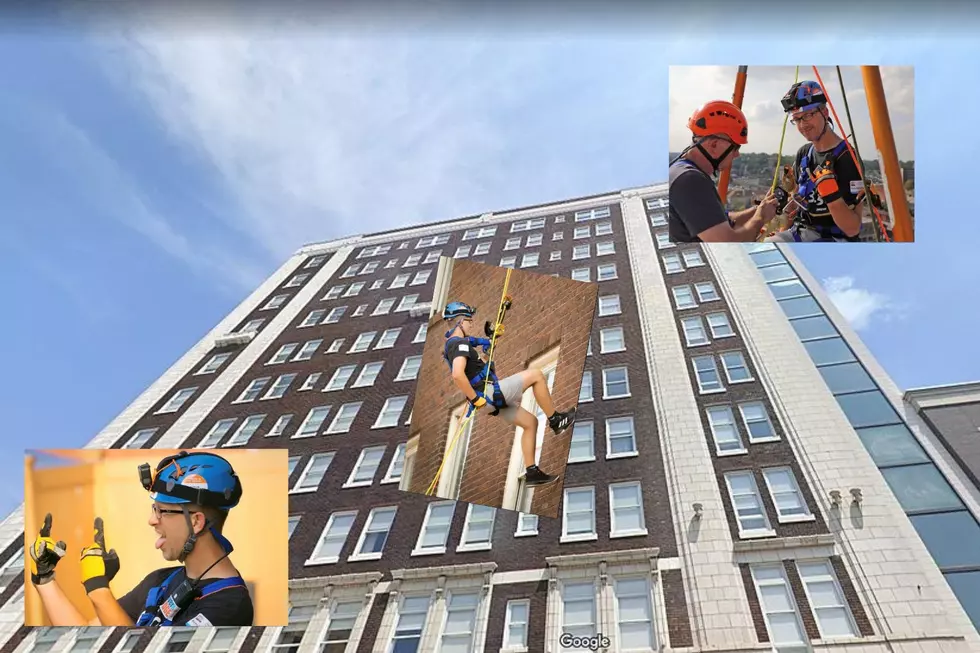 I'm Going Over The Edge Of A 140ft Building To Crush The Other Stations
Google Maps/Big Brothers Big Sisters
Once again I'll be rappeling off a 140ft building for Big Brothers Big Sisters.  But this time, I need your help.  No, you don't get to push me off...as much as you'd like to do that.  What I need from you is your donations so we kick the crap out of the other radio stations that are also going Over The Edge.
Big Brothers Big Sisters Over The Edge
Friday, August 26, and Saturday, August 27 BBBS is hosting their 5th annual Over the Edge fundraiser in the Quad Cities.  Over 100 "Edgers" will scale down the Hotel Blackhawk in downtown Davenport to raise money for Big Brothers Big Sisters Mississippi Valley.  Over the past four years, this event has raised more than $625,000!
You can join in the fun by by showing your courage and rappelling, volunteering for event day or by making a donation. This event has an enormous and immediate impact on one-to-one youth mentoring, providing key dollars to help BBBS grow and enhance its services and programs for children facing adversity in the Mississippi Valley
And yes, I'll once again have fun going over the edge for a great cause.  But what's just as (or maybe even more) important is shoving it in the face of the other radio stations at the Rock 'n' Roll Mansion.  You see, there will also be people from 97X, B100, and US 104.9 raising funds and going over the edge.  Yeah, that's cool.  I'm glad they are helping too.  But, screw them.  The I-Rock listeners are family and we are going to bury them in the number of donations we get.
I'd like to raise as much money for them as possible so any donation will be greatly appreciated.  Click here to make a donation to BBBS and show why I-Rock 93.5 is number one.  Thank you!
I realized as I was rappeling down last year nobody could see the logo on the shirt.  Totally going to wear an I-Rock 93.5 flag like a freakin cape this year.
See you from the top of Hotel Blackhawk on August 26 and thank you for the support.  One more time in case you missed it the first 4 times I shared it, here is the link to help I-Rock 93.5 crush the other stations...I mean, to raise the most money for such a great cause!
Best Quad Cities Area Dive Bars
Here are some of the best 'Hole in the Wall" taverns in the Quad Cities
Bettendorf's Newest Tavern Has a Drink For Everyone in Your Crew
Oak Grove Tavern is now open in Bettendorf!