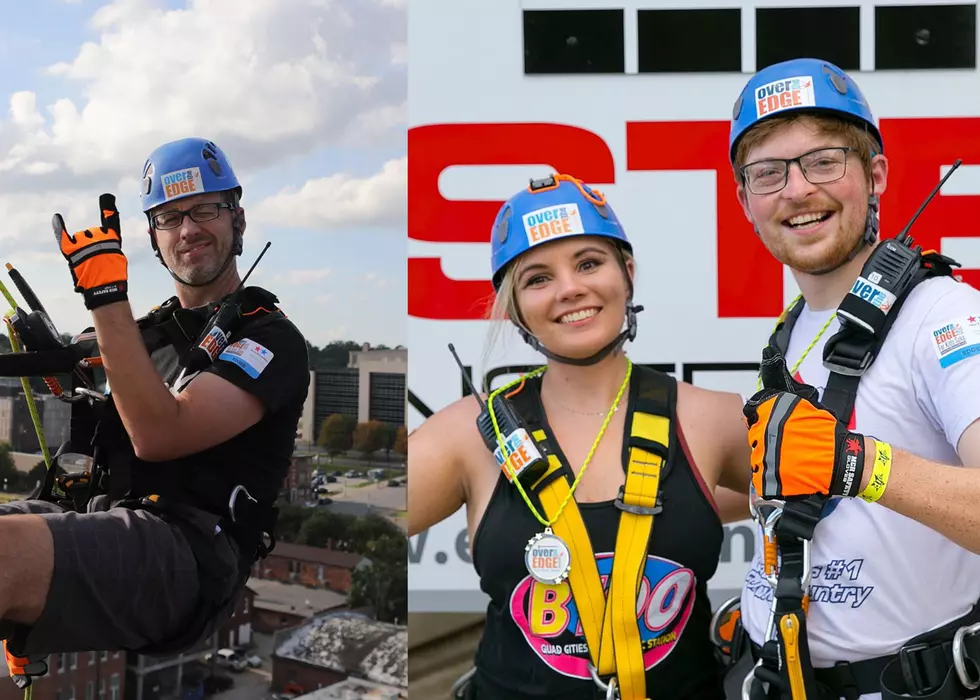 Three Of Our DJ's Rappelled Down An 11 Story Building For Charity
Big Brothers Big Sisters Of The Mississippi Valley
A country DJ, pop DJ, and rock DJ all walked down the side of a building.
Not the start of a bad joke, but we really made our (willing) DJs do it! It was for Over The Edge, an annual fundraiser for Big Brothers Big Sisters Of The Mississippi Valley.
The fearless Townsquare Media trio included Ryan from I-Rock 93.5, Jake in the Morning from U.S. 104.9, and Sarah from B100. They rappelled 11 stories down Hotel Blackhawk to help raise money for Big Brothers Big Sisters and all three agree that it was a blast.
Ryan and Jake were part of this event last year but Sarah was a newbie. And yes a post-rappel cocktail was necessary. Thank you to everyone who donated to our fundraising efforts this summer!
Scroll down to see pics of the rappel!

About Big Brothers Big Sisters Of The Mississippi Valley
Over The Edge benefits Big Brothers Big Sisters of the Mississippi Valley. BBBS connects kids ("Littles") with mentors ("Bigs") to help give the kids a strong adult role model and guidance to carry with them for the rest of their lives, and as their vision says: "all youth achieve their full potential". The Littles are ages 7-18. There are events for Bigs and Littles and also resources to help Bigs effectively mentor their Littles. You can get involved in BBBS in other ways than donating if you would like to and become a Big.
BBBS of the Mississippi Valley has events throughout the year, including the Putt-a-Round, their plant sale, a golf outing, Bowl for Kids Sake, and of course, Over the Edge.
Team Townsquare Goes Over The Edge For Big Brothers Big Sisters
We sent three of our DJ's from I-Rock, B100, and U.S. 104.9 down the side of Hotel Blackhawk for charity.
The Best Places To Watch Iowa Football Games
We have gathered 15 places around the Quad Cities where people LOVE to watch Iowa Football games. Many bars with owners that are Hawkeye fans have specials on game days. Cheaper beer, special dishes, and even free shots when Iowa scores a touchdown.
We asked listeners where their favorite place to watch Iowa football was, and here is what they suggested.
My Precious! Gollum's Cave Is Close To The QC & Less Than $100/Night
An Airbnb in Illinois is designed to be like Gollum's cave from "Lord Of The Rings". Take a scroll to learn more about it and see pics!