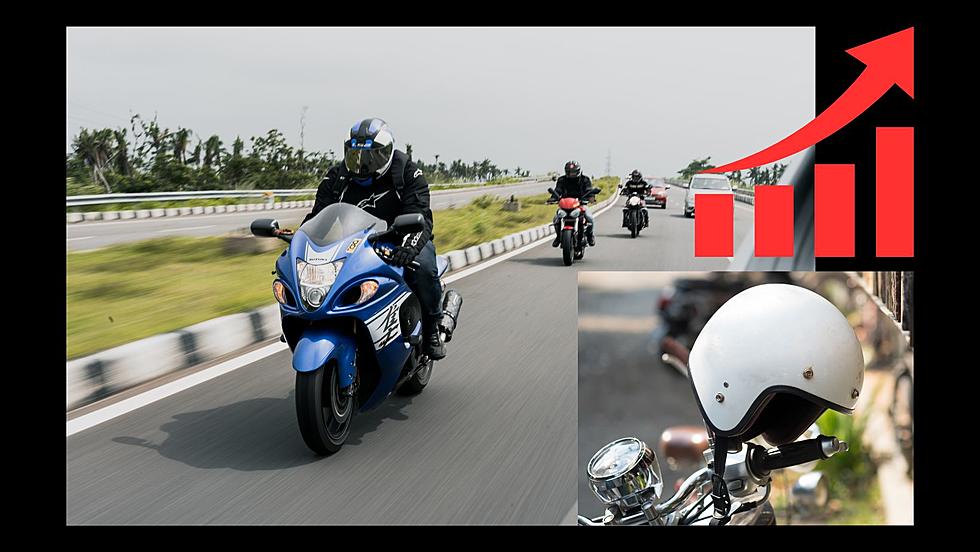 80% of Iowa Biker Deaths Were Not Wearing Helmets in 2022- US Trends
Credit: Canva
I have family members that love to get out on the highway with their chopper, hog, Harley, or any other nickname your motorcycle may have. My In-Laws just took a road trip on their bike to South Dakota; and of course, the Sturgis Motocycle Rally finishes up on August 13th. Long trips or short trips, the freedom a bike can offer you is exciting, but sometimes that excitement occurs for the wrong reasons.
The hazards are numerous when biking. Not only do things like grass or debris on a roadway cause issues for motorcyclists, but the ever-present danger that animals bring, or even worse, other vehicles on the roadway. Heaven forbid they may even be teenaged or elderly drivers (whichever is scarier).
Motorcycles only make up 3% of all registered vehicles and just .6% of all vehicle miles traveled across the United States. However, motorcyclists accounted for 14% of all traffic fatalities, 17% of all occupant fatalities, and 3% of all occupant injuries. And the major trend in related deaths can be as simple as putting on a helmet.
Well, according to recent statistics from the Iowa Department of Transportaion (DOT) nearly 80% of Iowa motorcyclists killed in 2022 were not wearing a helmet. 78% of Iowa motorcyclists killed in 2022 were not wearing a helmet, a 3% increase from 2021, and a 10% increase from 2020. However, the number of fatalities was down from 2021 at 68 to 49 motorcyclist deaths. This year however death rates are on a rebound, at 32 in Iowa so far this year, putting the state on track to see more motorcycle fatalities than last year.
What does the law say about Motorcycle Safety?
As of now Iowa and Illinois do not require a helmet when riding a motorcycle at any age. In Wisconsin, the law only states those 17 and younger need a helmet. Across the United States in 2021, when Motocycle fatalities occurred just 59% were wearing helmets. Other national trends when fatalities occurred included:
On urban roads (67%)
In good weather (83%)
During the nighttime (50%)
In crashes involving two vehicles (53%)
72% of the motorcycle operators involved in fatal crashes were NOT alcohol-impaired
Basically, you don't need "help" to already be in a bad situation when it comes to an accident on your motorcycle.
Fatalities among motorcycle riders and passengers increased 8% from 2020 to 2021, while the rate per 100 million vehicle miles traveled decreased by 2%. Over the last 10 years, deaths have increased 19%, while death rates have increased 29%. The number of motorcycle fatalities now stands at 5,932 (2022), with the rate at 30.05 deaths per 100 million vehicle miles.
Although the number of registered motorcycles increased 38% from 2007 to 2021, the number of vehicle miles driven has actually decreased 8% over the same period. Recently, the number of registered motorcycle miles driven decreased in 2020 and then rebounded strongly in 2021. The long-term decrease in miles traveled explains how the fatality rate per 100 million vehicle miles has increased at a faster pace than the number of deaths.

States that experienced the most motorcycle deaths in 2021:
Florida (651)
California (565)
Texas (515)
North Carolina (230)
Ohio (223)
Pennsylvania (222)
Illinois accounted for 174 motorcycle deaths in 2021, Wisconsin for 121, and Iowa for 68.
Increase your odds of survival by almost 50% just by wearing a helmet. Further protect yourself by following the old adage "dress for the slide, not the ride." I've had friends and family wreck bikes, and skin grafts are no joke when the road rash is too extensive. Always make sure someone knows where you are riding to and from. This is simply a precautionary measure, but it's a fairly efficient way to make sure you don't end up laying in a ditch needing help for hours on end. It's possible to have accidents in ideal conditions, so try to avoid less than acceptable conditions and times, like during rain or fog, or at dusk or dawn, and late at night.
Sources/statistics can be found here presented by the National Safety Council (NSC) analysis of NHTSA Fatality Analysis Reporting System (FARS) data.
LOOK: Here are the states where you are most likely to hit an animal
Hitting an animal while driving is a frightening experience, and this list ranks all 50 states in order of the likelihood of such incidents happening, in addition to providing tips on how to avoid them.
See the Must-Drive Roads in Every State
LOOK: The longest highways in America