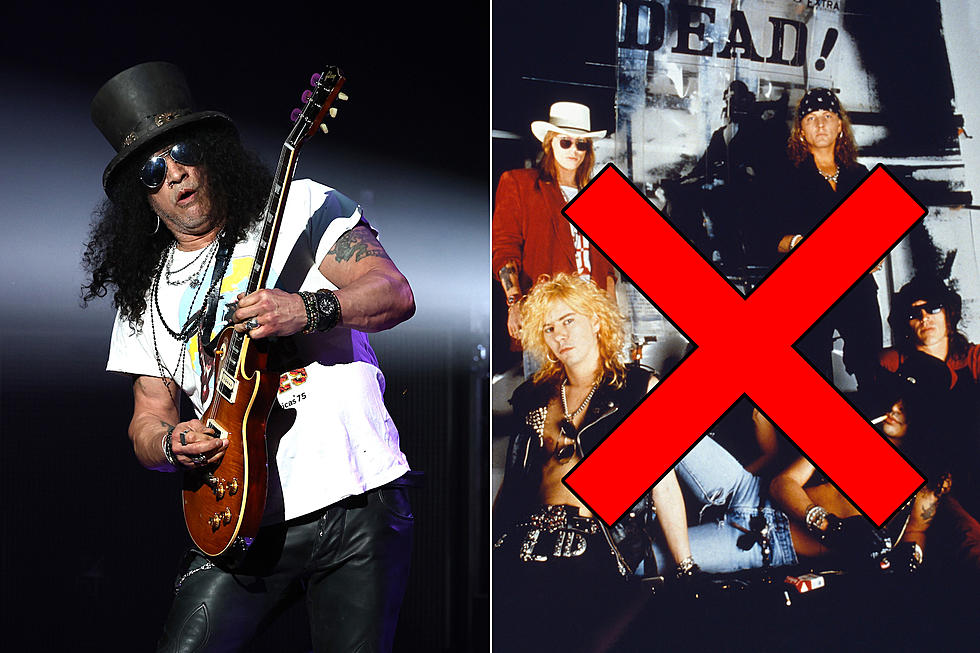 Slash Explains Why He Doesn't Want to Do a Guns N' Roses Biopic
Jason Kempin, Getty Images / Sunset Boulevard, Getty Images
New movies about rock bands are being released and announced all the time, but some artists don't really want their stories to be shown on the big screen. In a new interview, Slash has explained why he doesn't want to do a Guns N' Roses biopic... at least not anytime soon.
Like Motley Crue's 2019 Netflix film The Dirt, which was based on their 2001 biography of the same name, a Guns N' Roses flick would be full of debauchery and other wild moments. Guns, however, don't have an official authorized biography out — though there are plenty of unauthorized books that tell their story.
During a recent chat with Yahoo! Entertainment, the guitar legend was asked whether he likes the idea of doing a GN'R film.
"I just don't see it happening anytime in the foreseeable future. It doesn't mean that it won't happen ever, because who knows? I can only think down the line so far. But I've never been able to envision how you're gonna get... I mean it's one thing to try and find actors to represent the people in the band, but the other thing is all sort of theatrical depictions of life in the music scene and the everyday life of musicians and all that kinda stuff," Slash said.
"It's always some fabricated, over-exaggerated bullshit, and it's very rare that you see a movie that actually feels genuine. And so I don't even want to be a part of all that. I just don't think that it would be done a real justice. I've seen a lot of bad ones, and they freak me out."
READ MORE: Slash Recording a Blues-Based Guest-Filled Solo Album for 2024
Though the rocker isn't too keen on making a movie about the history of his own band, he is in the process of working on a horror film about a rock 'n' roll group, which is a subject he said he usually tries to avoid. He wasn't able to give any further details about the film or his involvement, but he assured that it'll likely be out sometime in 2024.
Check out the full interview below.
Slash Explains Why He Doesn't Want to Do a Guns N' Roses Biopic
Guns N' Roses: A Photo Timeline of Their Famed Career