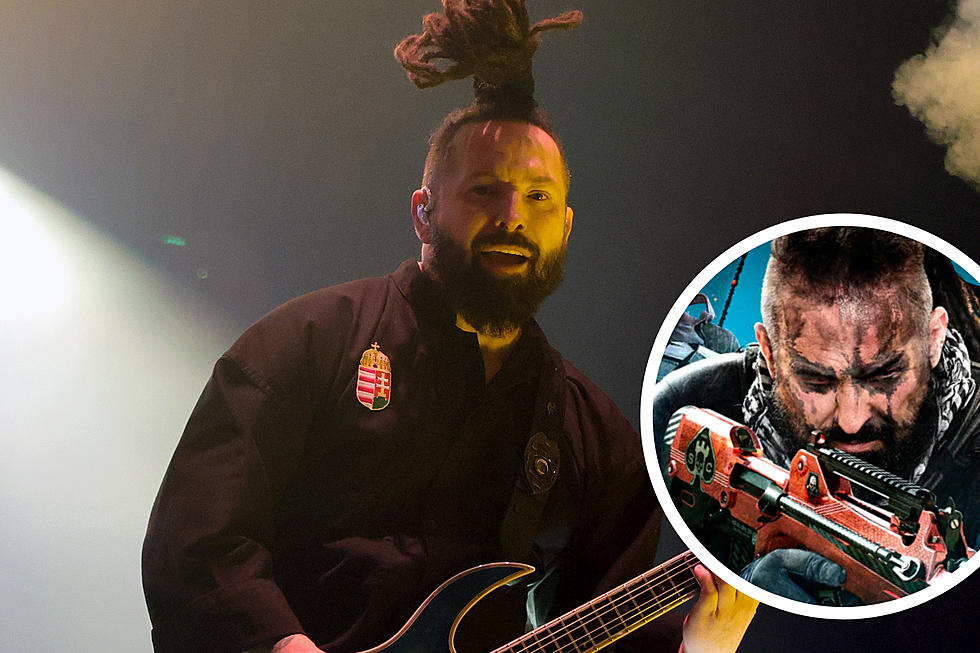 Zoltan Bathory Talks New 'Call of Duty' Character, Metallica + Why He Likes Seeing the Lines Between Country and Rock Blurred
Ethan Miller, Getty Images / Activision
On Aug. 2, Call of Duty: Modern Warfare II and Call of Duty: Warzone unveiled a new playable character—an in-game operator—named Oz. For fans of Five Finger Death Punch, Oz is pretty recognizable: guitarist and founding member Zoltan Bathory.
"It's a pretty exciting moment," Bathory told Chuck Armstrong on Tuesday night's Loudwire Nights (Aug. 8). "Having a character in one of the most popular video games, that's pretty cool."
While some may think being digitally scanned into a game is a simple process that involves a few photos, Bathory was quick to explain it was actually a very intense and detailed process.
"Behind the scenes, it's amazing," he explained. "We had to go to various locations—it took a long time. Various photo shoots, video shoots and then there are a lot of military advisors and former special operators who are there, they're making sure that everything is accurate with the right gear, the right equipment. Everything has to be perfect. I'm talking 15-, 16-hour days of shooting."
While it may seem tiring to some, Bathory wanted to make it clear to the Loudwire Nights audience that he had a blast during the entire process.
"I loved every minute of it. Those special advisors and military guys are my friends, I knew them before, some of them I met a long, long time ago overseas on military bases, so that's pretty interesting that this was also kind of a reunion with those guys."
When Chuck asked him if it's weird for people to not just play as Bathory, but also shoot him, the guitarist laughed; it was clear he had been thinking a lot about this already—even considering who might be excited to shoot him in the game.
"My whole band plays. It's kind of weird. They can't wait, everyone's gonna go, 'Light him up.'"
When Five Finger Death Punch Got the Call to Open For Metallica
A few days after Bathory's character became playable on Call of Duty, Five Finger Death Punch joined Metallica for their first M72 weekend in North America, marking the first time the two bands shared a stage on tour.
"We had a show with Metallica somewhere in Europe," Bathory recalled, "and we met the guys and we were talking about the future. It was really funny because Lars [Ulrich] was saying, 'You know what? It's really bizarre that we never actually crossed paths. Let's not wait another 30 or 40 years.' And then literally a couple of months later, we got the call that this is a possibility. And here we are."
A band like Five Finger Death Punch doesn't find itself opening for other acts too often, but Bathory was confident in saying there was no hesitation to be considered the opening band for Metallica.
"This is Metallica. If the aliens land, they will have to open for Metallica. This is a whole different level. It's not even a band anymore, it's an institution in some way, you know? When this came about, we were like, 'Okay, okay, okay. Yeah, sure. We're doing it, no argument."
Bathory added that it felt good to be in the position where they could accept an offer to join Metallica on a worldwide tour like M72.
"There were years and years and years of 300 days on the road, touring. We played in every bus stop, every small club, anywhere we could put an amplifier on a stage. Eventually, we got here. And you're right, we don't open for bands, but again, this is Metallica. It's huge."
Blurring the Lines Between Rock and Country
The conversation on opening acts led to Bathory and Chuck talking about Five Finger's recent history of bringing country acts on the road like Brantley Gilbert and Cory Marks. While a pairing of Five Finger and a country act may have seemed strange to some, Bathory is still excited to talk about the connection between the two worlds of country and metal.
"The lines are blurring and it's not just music, but culturally," Bathory said. "It's not just between country and rock ... Back in the days when we had MTV, we had very specific channels, our delivery system of music was very genre specific. Once that kind of disappeared, everything is online and you don't have specialized media. The lines start blurring and people are looking at music [differently] ... I look at Brantley Gilbert or Jelly Roll, they're very close to rock music anyway. It's a no-brainer to do these tours, in fact we did a song with Brantley. We didn't do one with Jelly Roll yet, but we would."
READ MORE: Jelly Roll Opens Up About Country + Rock, Shares Details on Next Album
As Bathory considered the blurred lines between country and rock, he admitted to Chuck that he thinks it's an especially good thing for the metal world because metal fans can be very protective of their genre.
"I'm happy about it because I don't think that's necessary and it's kind of ridiculous when you're talking about a genre that's heavy—metal, hard rock—it's not necessarily in the limelight at this moment. It's not the biggest genre in the world, or even close to it, so it's kind of like if you want this particular music to survive, it's important that you don't fight."
What Else Did Five Finger Death Punch's Zoltan Bathory Discuss on Loudwire Nights?
A deeper dive into why Bathory thinks it's good to have different genres blending together, allowing some fans to ease into heavy metal
Why he thinks Five Finger Death Punch are a "gateway" into heavier music
Which bandmate he thinks is most excited to shoot him in Call of Duty
Listen to the Full Interview in the Podcast Player Below
Zoltan Bathory joined Loudwire Nights on Tuesday, Aug. 8; the show replays online here, and you can tune in live every weeknight at 7PM ET or on the Loudwire app; you can also see if the show is available on your local radio station and listen to interviews on-demand. You can get details on Five Finger Death Punch's latest album, __, at this location. Learn more about Bathory's in-game operator for Call of Duty here.
Every Artist That's Opened for Metallica Over the Last 10 Years
These are all of the acts that have opened for Metallica over the last 10 years.
Every Video Game Movie Ever Made, Ranked From Worst to Best