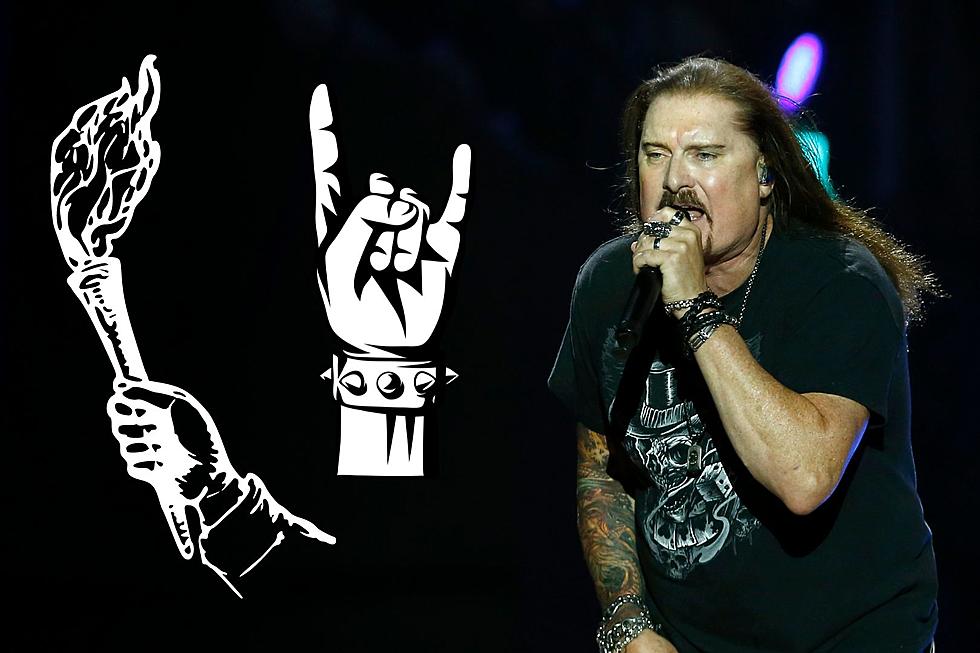 The Two Bands Dream Theater's James LaBrie Says Are Carrying the Torch for Metal
Wagner Meier, Stringer/Getty Images / Canva / incomible, iStock/Getty Images
Dream Theater singer James LaBrie has named two bands that he feels are carrying the torch for metal right now.
One of the biggest buzz topics in heavy music over the last few years has been centered around who the festival headliners will be once our pre-21st century heroes all hang it up for good. And the fact that rock and metal are experiencing a nice surge in popularity lately only makes this conversation more valuable, especially when veteran artists are relaying which younger acts they see as the most promising to secure the future.
Speaking with Revolver, LaBrie singled out U.K. metalcore heavyweights Architects, who have managed to keep their sound innovative and fresh since releasing their debut album Nightmares in 2006, and Periphery, who are leaders of the djent style which they recently declared is not an actual genre (their new album is called Djent Is Not a Genre).
Why LaBrie Likes Architects
"I think Architects are doing well," LaBrie accurately assesses. The band is bigger than ever and even topped the U.K. charts in 2021 with their album For Those That Wish to Exist, which they followed up last year with The Classic Symptoms of a Broken Heart. Currently, they're supporting Metallica in Europe, which is about as big as it gets,
"My son turned me onto them," the prog metal icon continues, "and then they played a couple shows with [Dream Theater]. They went out and did a couple of shows over in Europe with us. They were all fans, and they're like, 'Hey guys, we listen to you.' But I mean, we get that a lot. When we're out, they're like, 'Oh, yeah, man. I grew up,' and I'm like, 'Fuck you. How old were you? Five years old when you started listening?' Anyways, I love the production of their albums. I think it's superior. It's just so well thought-out."
High praise!
Why LaBrie Likes Periphery
Periphery are a band that many prog fans would likely expect to be on LaBrie's radar, especially considering the fact that extreme vocals haven't deterred Dream Theater from touring with bands who utilize them in the past.
"I would say Periphery, too," says LaBrie of metal's torchbearers, "I love those guys."
"Amazing musicians," he compliments, continuing, "I love everything they put out. It's just well thought-out, and it's a great representation of musicianship but at the same time, songsmith. I'm not necessarily always listening to metal music. Believe it or not, I'll listen to Young the Giant or OneRepublic, or even listen to Coldplay and U2's latest [albums]. So I actually purposely get away from maybe what it is that [Dream Theater] represent, with the metal and the progressiveness."
Even so, LaBrie explains, "But every so often, I'll hear a band and say, 'Wow, that's intelligent. That's well thought-of, and good for them. And hopefully they're going to be around for a while.' And if [Periphery] keep writing like that, I can't see why they wouldn't."
READ MORE: Corey Taylor Names Three New Rock + Metal bands 'Carrying the Flag for Heavy Music'
Dream Theater on Tour
Catch Dream Theater supporting their latest album, 2021's A View From the Top of the World, on the Dreamsonic Tour featuring Devin Townsend and Animals as Leaders at these dates and head to this location for tickets.
10 Rock + Metal Albums Critics Hated That Became Classics
What were they thinking?!