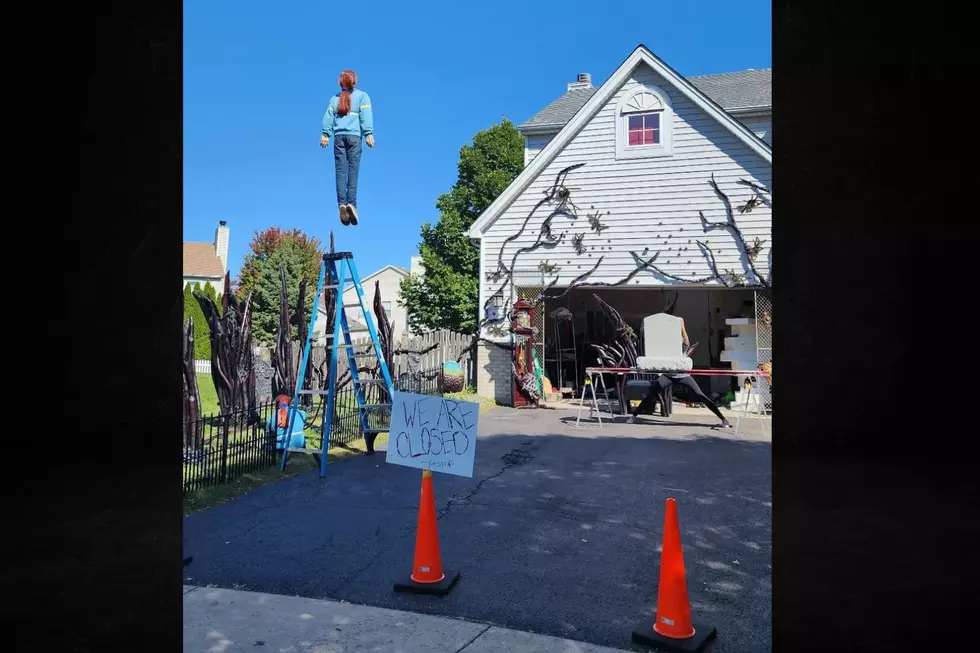 Illinois' Amazing 'Stranger Things' House Shuts Down Due to One Jerk Neighbor
HorrorProps via Facebook, Canva
If you love driving around to see elaborately decorated outdoor Halloween displays, I have some bad news for you; The 'Stranger Things' house in Plainfield, Illinois that recently went viral has been forced to shut down...permanently.
One Illinois Jerk Ruined All the Halloween Fun
If you've been on social media at all in the last week or so, I'm sure you've seen this amazing video pop up on your feed multiple times...
The entire world has been fascinated by how this Illinois couple pulled off the floating Max in their display, but they have refused to reveal the secret so people can come see it and try to figure it out for themselves. Good Morning America even did a piece about it!
Well, that awesome 'Stranger Things'  house in Plainfield was only officially "open" for 2 days before a nasty neighbor ruined all the fun.
The End of Stranger Fun
David Kedzie and his wife Audrey spent over 1500 hours creating their haunted display with the hopes that it would draw a huge crowd and delight their community. They got a permit, and they had police approval, but one of their neighbors still pulled the ultimate 'get off my lawn' maneuver. 
On Sunday, October 2, 2022, David Kenzie posted this message on Facebook;
After posting that message, it's no surprise that David and Audrey received a swarm of support from the community, and it seems like the end of the Stranger fun isn't so final after all.
David and Audrey have decided not to give yet, and posted this message last night to their HorrorProps Facebook;

Will Max live to float again? Guess we'll have to keep a close eye on TikTok on Wednesday, October 5 to find out!
Ummm, can anyone explain why these toys are tethered to an abandoned motel south of Rockford???
LOOK: How Halloween has changed in the past 100 years
Stacker
compiled a list of ways that Halloween has changed over the last 100 years, from how we celebrate it on the day to the costumes we wear trick-or-treating. We've included events, inventions, and trends that changed the ways that Halloween was celebrated over time. Many of these traditions were phased out over time. But just like fake blood in a carpet, every bit of Halloween's history left an impression we can see traces of today.