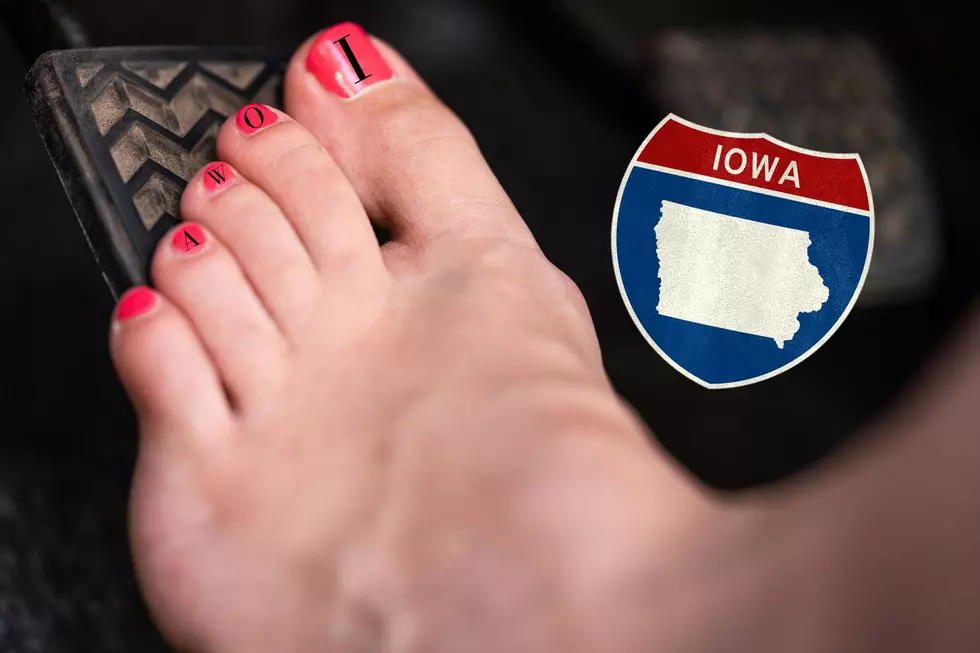 Is It Illegal To Drive Barefoot In Iowa?
Canva, Getty Images
When you think of people driving barefoot, you probably think of it being summertime. People are wearing flip-flops, leaving the pool, beach, or boat, and getting into the car to drive home without shoes.
But if you're like me and forget to pack shoes and socks that match your lazy Sunday outfit, you're probably driving home barefoot. I drove from Clinton to Davenport on Sunday without shoes on and it got me thinking, "is it illegal to drive barefoot in Iowa?" The answer may surprise you.

Iowa, Wear Shoes While You Drive
When you have shoes that easily slip off, it's tempting to take them off and drive with the little piggies out. It is very important for you to wear shoes and it could be very dangerous if you don't wear them.
GetJerry.com lists many reasons why you should wear shoes while driving.
Bare feet can slide off the pedals more easily, especially if your feet are wet from a pool or the beach.
You can't apply the same amount of force when you brake or accelerate.
Driving without shoes could be distracting if you step on something sharp or stub your toe.
But I'm A Better Barefoot Driver!
That's a weird thing to say. If you think you drive better barefoot, I bet you're really good at texting and driving, right?
Let's say you are a really good barefoot driver. What happens when you get into an accident? Or, your shoes try to betray you? Here are a few more good points as to why you should wear shoes while driving:
If you get into an accident, you could severely hurt your feet from broken glass.
You'll be that person stinking up the car with your dirty feet.
If you leave the shoes near your feet as the driver, the shoes could get stuck under the brake pedal which could be very dangerous, if not deadly.

Can I Drive Barefoot In Iowa?
If I really haven't convinced you to wear shoes while driving, then I should just give you the answer you want to hear.
There is no Iowa law that prohibits you from driving barefoot. According to MetroMile.com, it is legal to drive barefoot in the Hawkeye state but it is deemed unsafe.
Don't be stinking up the car, Iowa. And don't put others' lives in danger. Put on the shoes, remember to pack shoes, and get to your destination as safely as possible.
Quad Cities 15 Sexiest Halloween Costumes
Halloween is a great time of year. It's a chance for people to dress up to be an entirely different person. Some people take the gory route, others jump in giant inflatables, and some people really want to show off what they have been blessed with. If you're looking to take the sexy direction for Halloween this year, these are the Quad Cities' 15 sexiest Halloween costumes.
Signs a Long Hard Winter is Ahead
Have you seen any "evidence" of a harsh winter ahead? Let's take a look at some Midwest folklore stories that could predict how early or rough our winter will be.