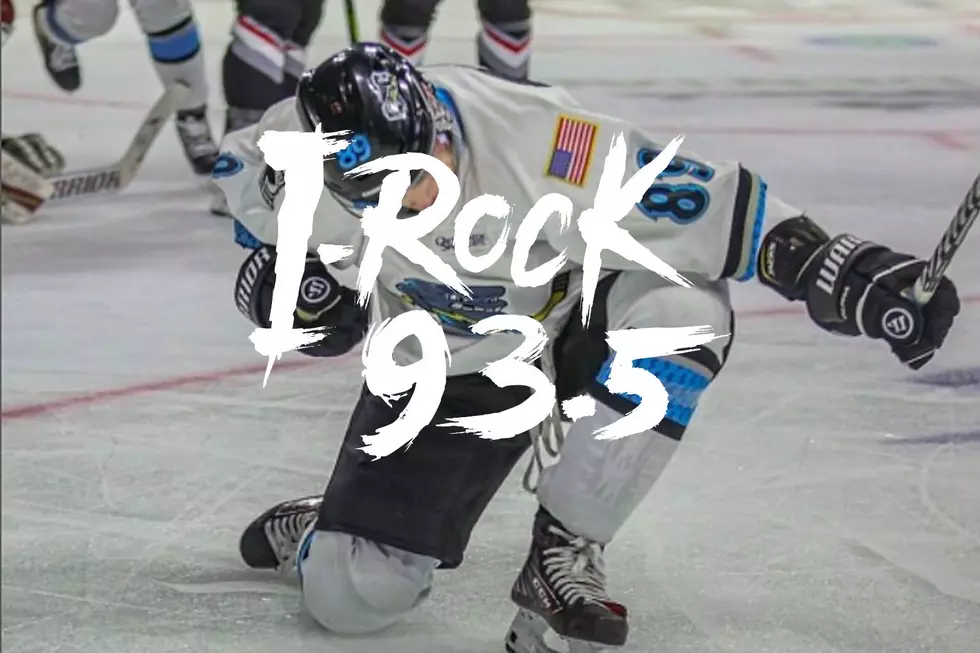 I-Rock 93.5 Is Taking Over An Entire Section Of A Quad City Storm Game
Quad City Storm
It's hockey night in the Quad Cities with I-Rock 93.5.  December 9th we are taking over an entire section of the Vibrant Arena at The Mark with all Hard Rock fans.
There are a bunch of different ways you can win tickets including by signing up below.
Win Your Way Into The Game with I-Rock 93.5
On Friday, December 9th the Quad City Storm will take on the Knoxville Ice Bears and The Storm will have one rowdy hard rockin section on "Peanuts Night" to cheer them on.
But the only way you can get into the hard rockin section is by winning your tickets.
Listen M-F 10am-3pm as we'll be giving away tickets every single day.  Cause an entire section is like 168 tickets.  So there will probably be multiple giveaways each day.  Be sure you have our number (563-362-4762) saved on your phone.  And be sure you have the I-Rock 93.5 app downloaded cause we'll do some through the app chat as well.

Never get lucky by calling or chatting.  Then maybe you are the kind of person that can get lucky at a bar.  On December 3rd we'll be at The Pub in Milan with Santa and his big sack of gifts.  He will have all sorts of tickets to enjoy some hockey with your family and with your extended rock family.
Want the entire section to be wearing I-Rock gear
It's going to be great to hanging out watching hockey with you in our own section.  It will also be really cool to see an entire section of a Quad City Storm game wearing I-Rock 93.5 gear.
When you win your tickets, if you don't already have an I-Rock 93.5 shirt, we'll hook you up with one!  While supplies last...so if you already have one don't be greedy.  Be cool and let's make sure everyone has a shirt.  That way we can show the entire Vibrant Arena how much section 111 rocks!
Sign up to win here.
The Best Places To Watch Iowa Football Games
We have gathered 15 places around the Quad Cities where people LOVE to watch Iowa Football games. Many bars with owners that are Hawkeye fans have specials on game days. Cheaper beer, special dishes, and even free shots when Iowa scores a touchdown.
We asked listeners where their favorite place to watch Iowa football was, and here is what they suggested.
Basketball Gym Turned Into Home For Sale In Indiana
An Indiana couple spent 20 years turning this high-school gym into a home and the house is now on the market for $299,000.
The gym building used to be part of Eastern Hancock High School. It sits on a 3.6-acre lot at the edge of the town of Wilkinson, Indiana. It comes with half of the original basketball court.
The couple Jeff and Christi Broady purchased the gym/house in 2002 for $85,000.
The building is now split into two halves. One half still looks like a gym, equipt with the court, bleachers, and high ceilings. The other half looks like a home, with segmented rooms and two levels.
The owners were able to build walls inside and create new living spaces, such as a kitchen, bathrooms, and bedrooms. They also added windows and doors that led to the other half of the building, where they kept the original basketball gym.
Wilson said he had received four offers thus far. "Not unusual in this market," he said. "There have been well over 20 showings on it."
"The coolest thing is more than half of the gym floor is still gym — the original floor, the original bleachers, the original basketball goal," Wilson added. "I graduated from that gym in 1969. I could tell you where I was sitting."
There is one thing any prospective buyer should know, though: "It still smells like a gym," Wilson said.
Read the original article on
Insider